Once again, Anne was selected to be among the artists showing this summer at the famous Festival of Arts in Laguna Beach. That event has been going on for 85 years, and it's prestigious to be juried into it. (I never have been.)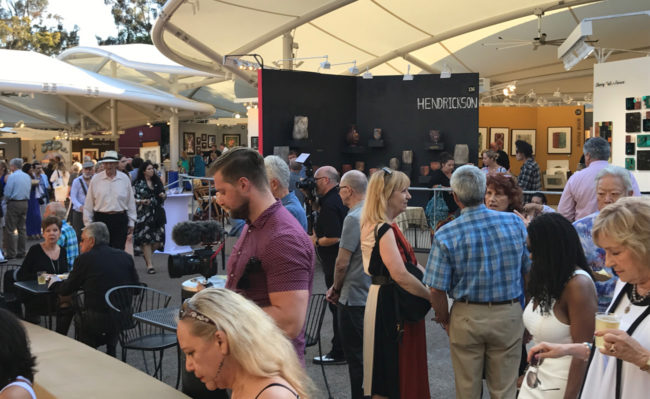 This year the whole venue has been renovated. There are 140 artists displaying and selling. Here's the opening night before the sun went down and the lights came up, making it really magical. Anne's booth is in the distant right with the ochre wall. What you don't hear is the band, making it really festive.
Somebody offered to take a shot of us both, though I get little credit (except marrying tastefully). Notice her book on display, available here.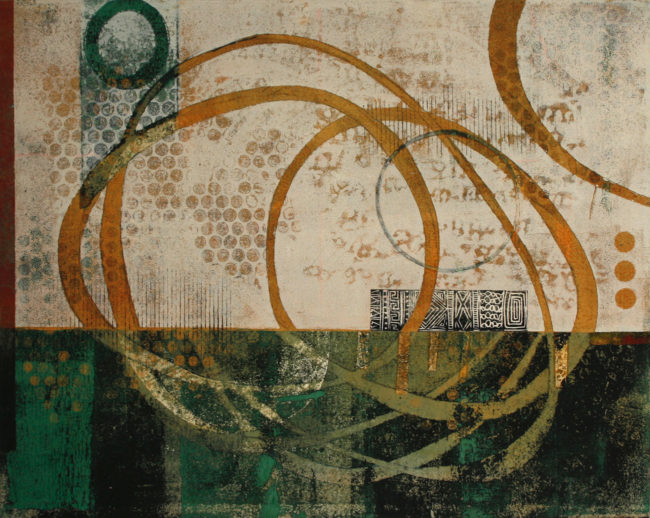 Concealed Consequences, just one of Anne's new works, framed and featured. There's nothing like the Festival to get her motivated to produce new work. The studio has been awash with such elegance of design and color.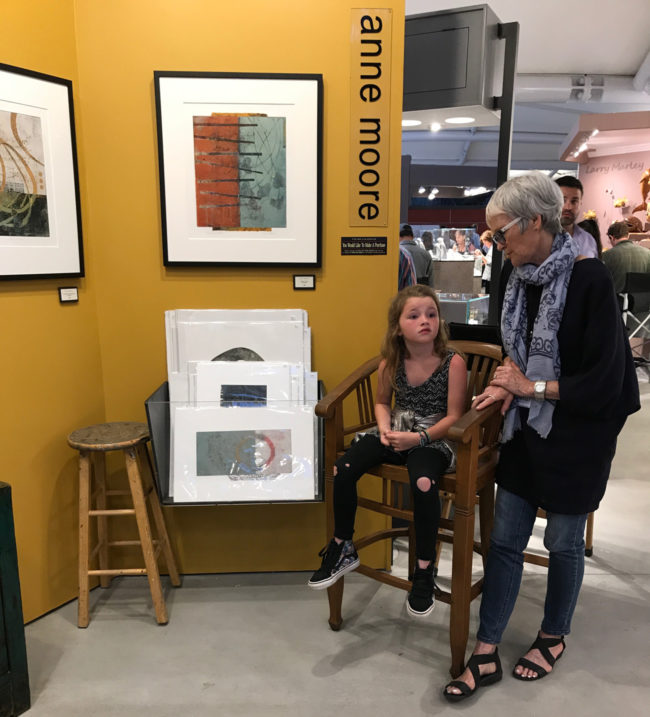 Here's Anne with granddaughter Justine, already fashionable with the mandatory holes in pants. Sorry her expression isn't better. She told me this morning that she'd bought her head.
"What, like in a head shop?" (I didn't think she'd get that.)
"No, in a thrift store."
"How did you find it, without eyes?"
"I just felt around. Then somebody picked one out they thought would look good on me."
"Good choice," I said, "you got a good deal."
Such creativity. It's non-stop.
Cohesive Diversity, another monotype on display at Anne's booth. There are a number of printmakers showing at the festival, all excellent, all completely different, with lots of mutual admiration.
Do you know Pinterest? A lot of people have discovered Anne's work on that site. In fact there are some 200 followers who have boards exclusively dedicated to the work of Anne Moore. Here's a link to Anne's own board.
The Festival of Arts runs all summer, mid-morning through the evening. Anne will be at her booth (Number 130) a lot of the time, but not all. If you're coming and you'd like to see her, send an email in advance: anne@hyattmoore.com.
_________
PS
I've heard nothing more after the story of the ex-con artist featured last time. I've sometimes checked the BBC Channel 4 site. It's legitimate, and they do some interesting programs. But we can't get it here in the U.S. So that, I suppose, is that. I trust I helped him on his way.