Art Under Pressure
Creativity, Discovery, and Evocative Layers of Ink on Paper
by Anne Moore
An overview of the work of one distinguished artist in a specialized field: printmaking. Anne Moore's style and voice is very much her own, her work an evolution of exploration and technique—first under masters in the craft, then set on her own path of discovery. For that's what printmaking is: Only in part "intentionality," much of it rather the result of how the elements react, inked plates subjected to the pressure of a hand press on fine paper. Anne Moore is a master, her work sought after by peers in her field. Art Under Pressure is a unique collection of her work. Also included is an explanation in of the craft, a definition of terms, and an abbreviated step-by-step of how she does it. Part retrospective, part catalog, the book is a useful tool for others in the field, and a treasure for any lover of art, intrigue and beauty.
Purchase Art Under Pressure

8 1/4 x 8 1/4, 120 pages, soft cover
Free postage for US orders.
For others, please order through Amazon.com.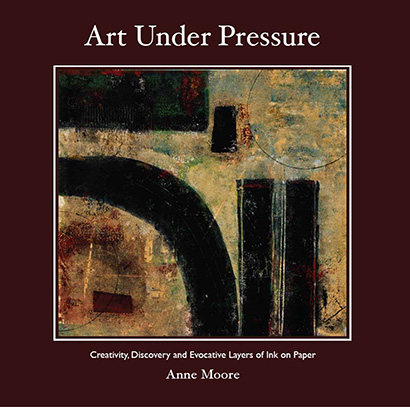 Sample Pages: