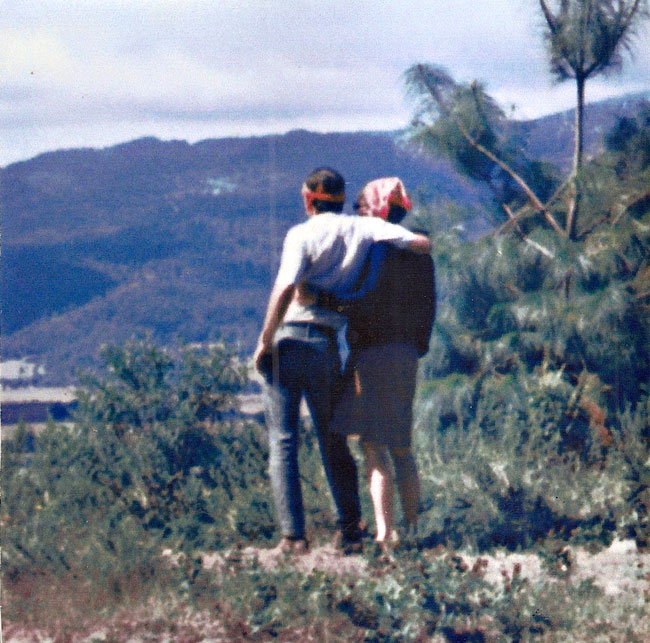 Anne and me in Mexico somewhere, before children. Not sure if this was the same trip in the story, but might have been.
We're back from Tucson. Great trip, and as much for the time in the car. We'll share the art produced in the next e-gallery.
It was on the last such trip, driving down from Oregon, I asked Anne which of our many trips has been the best.
We reviewed some of them, and there have been many . . . both adventures and misadventures. (The latter are always more enjoyable in the later retelling.)
One that comes to mind was long ago, before we had children. We were traveling in central Mexico. Passing through Guadalajara, I was on the lookout for a street vendor for something to eat but didn't find one. We kept driving, down through Ajijic on Lake Chapala. It was late, the town closed up, but we had snacks in the car. The bigger problem by then was gas. We had no choice but to travel on.
Though I cut my speed and began coasting down every hill, in time the tank spurted and gave up its last. Fortunately that '58 Porsche had a reserve tank. I switched the handle and on we went for another 25 miles or so, hoping for "something," only our headlights breaking up the emptiness.
Finally we passed through one lighted junction, a rural bus stop and a gas station, closed. I cruised through, but no further than the next hill when the reserve tank too gave its last. I pulled a "U" mid-highway and coasted back down to the darkened station, wondering what to do next.
As it happened, there was a man at that midnight bus stop who saw our situation and meandered over. My Spanish was poor but I came to understand him saying I could knock on the gas station door. What? Yes, he even took the initiative to tap on the glass, and what did we see but a whole group of bodies asleep on the floor with one beginning to stir. This was apparently the father/proprietor and he sent a boy out to deal with us.
I thought, Great, he'll unlock a pump and sell us some gas. But no, instead he wordlessly led us to another building around the back with two rooms, each with a high bed piled with blankets. He let it be known that we could use one, only one, and that gas would be available in the morning.
It was more provision than we'd been looking for but, really, exactly what we needed. Where else were we going to sleep, miles from anywhere? The only thing that worried Anne a little was that we weren't to lock the door. They were keeping options open should another party need a bed for the night.
No one did, and we arose to the sound of children all around, also calling the gas station home. We got our gas, a little to eat, paid minimal for the room, and were on our way. In the end, we felt well provided for.
That was before we were giving any thought toward God and his care . . . but not, apparently, before he was giving such thought toward us.
It's just one travel adventure among many. But here's the conclusion we came to in our conversation lately, about "best trips:"
The common denominator, we came to see, of all great trips, was and is a POSITIVE DEMEANOR . . . and that particularly between Anne and me.
And, of course, its lack, when there's been a lack, sullied the others that could have been just as great.
It's not the miles, but the mood.
It's true with every trip.
True with every day.
Smile, and have a good one today.