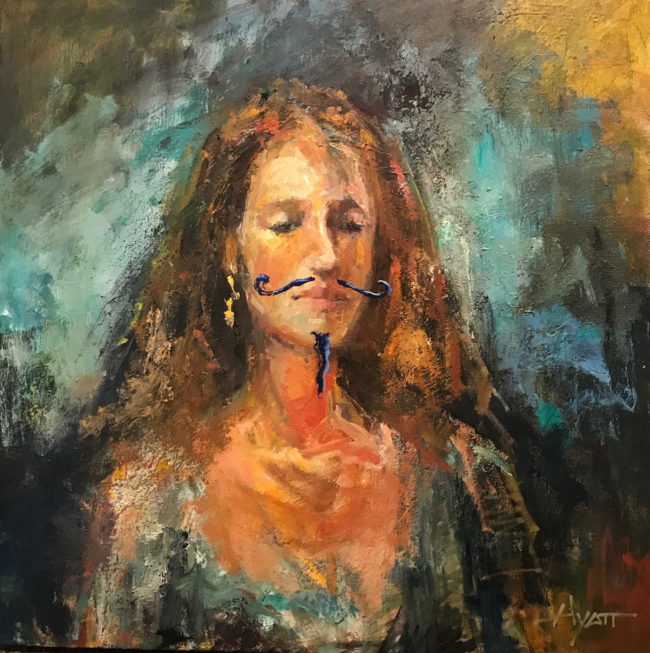 Okay, I needed something quick to illustrate my point. The painting I'd been working on was getting too serious anyway, so here she is channeling Salvador Dali. (Not to worry, she can always shave!)
Sometimes, as he was growing up, I would say to my son, the now Dr. Hyatt E. Moore iv, "Hyatt, you need to learn creativity."
It's not like I had a ready answer as to how, I was just letting him know of its importance. I felt it wasn't something he'd get much in school with all the emphasis on passing tests. He was good at that, but the rest he'd have to teach himself.
Changing subjects here (but not really), one time, in the car, he surprised me with, "Dad, how do you be funny?"
We'd been at a youth event and I'd been called on for some spontaneous ad lib and got lots of good laughs all around. That's what prompted Hyatt's question on the way home.
My first thought was, "Boy, this kid is too analytical!" My second was,"If you have to ask, you can't do it." But I said neither.
"Humor," I quickly thought up, "is the collision of two things that don't go together. What's produced is a small explosion, or a large one, of laughter."
"It's the making-no-sense acting like it does that makes things funny."
Brief example, last week my super creative niece April visiting from St. Louis, asked: "How many Lutherans does it take to change a lightbulb?"
Answer: "Change?"
She could make the joke on herself, being the daughter of a Lutheran pastor.
Back to my definition of humor, I'm aware that it is awfully rational for something that's all about irrationality, but it seemed to work for the moment. It was later, when I saw him rollicking with his friends with brilliant quips back and forth that I saw he'd done it . . . he'd learned the creativity of humor.
So here's the connection: Humor is the putting of two unlike things together, and creativity is putting two unlike things together. They both operate the same way.
And, more: One is exercise for the other.
Creativity, to me, is basically problem solving. If you're not afraid to bring something completely different into the problem's equation, then you're solving it creatively.
Super-creative thinking is inventive thinking, where you think up the problem in the first place . . . and then go to work on solving it.
I'm a painter. Every blank canvas is another exercise in all this . . . thinking up some problem and then working to solve it. But I'm not only a painter. I like to think the exercise cuts across all matters of life. For all of us.
Young Hyatt's strengths, it turned out, were mathematical. He went on with education after education finally earning his PhD in electrical engineering at Stanford. It's all math, and the way he does it, very creative. Now he's doing problem solving all day long.
So there it is. Whether it's in the arts or the sciences . . . or just life . . . creativity is the extra ingredient.
It can be constantly developed. Just start with a little humor.
It'll strengthen those biceps in the brain . . . and it'll lighten your day.
________
PS A friend suggested things could be more interesting if I respond back on your comments. So I did last time, see "Color."