Last post I shared my wonderment about Good Friday and why it's not called Black. Since then Easter has come and gone, but is it really ever gone? By coincidence (if one believes such really exist) I was recently commissioned by a friend, Chuck Smith, to paint a rendition of the Road to Emmaus story. It would be for his church.
Do you remember it? It's part of the Easter story, happening the night of the resurrection. Two men who'd followed Jesus were leaving Jerusalem where all the bad stuff happened, heading for the town of Emmaus, seven miles distant. Jesus joined them, keeping himself from being identified, and asked them what they were talking about. Before long, still without revealing himself, he was tell them the whole story of how all this had fulfilled prophesy after prophesy and that it had to happen that way.
By the time they get to Emmaus Jesus acts like he's continuing on, but they convince him to stay for dinner. He does. When he gives thanks and breaks bread, their eyes are opened, they see who he is, and at that second he disappears. They, overcome with wonder, rush back to Jerusalem to tell the others, confirming with others that indeed he was alive, resurrected from the dead.
It's a beautiful story, and I was happy to take it on painting it, but what aspect? So I did a search of how other artists have approached it. For your interest I'll share with you here part of what I found, and at the bottom, how I did it.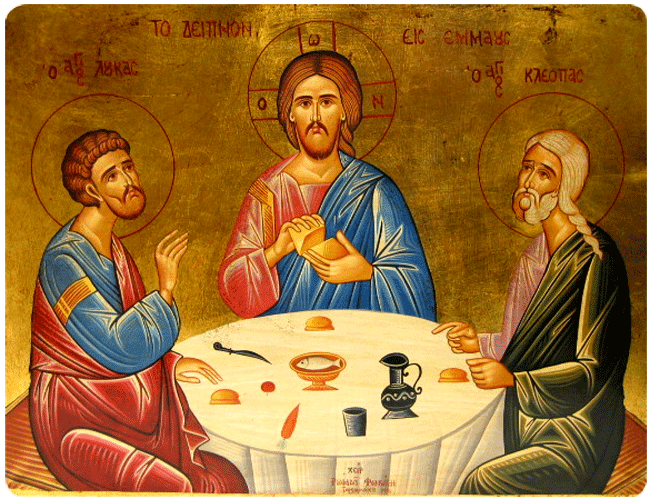 An icon painting of the Orthodox tradition, more symbolism than anything. Note the fish on the table. There's nothing in the story about that, but later in the evening, back in Jerusalem when he revealed himself to the eleven disciples, he asked for a fish to eat, proving thereby that he was not a ghost.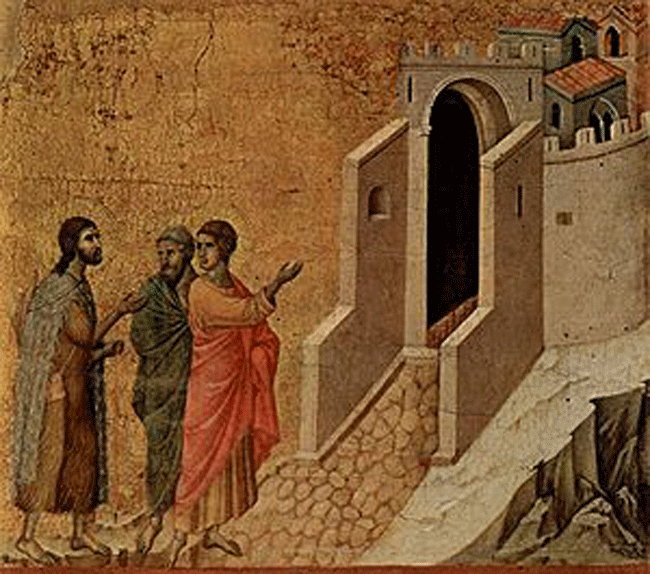 The account by the prolific, 13th century painter, Duccio di Broninsegna. Being pre-renaissance, he didn't have the rules of perspective worked out yet. He illustrates the moment they had arrived at Emmaus and the two were inviting Jesus to stay.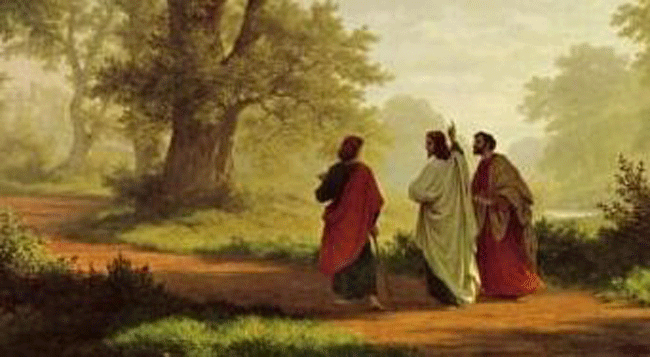 Here's a more familiar take by Swiss artist, Robert Zund, some time around 1900. It's a fine piece of composition and story telling.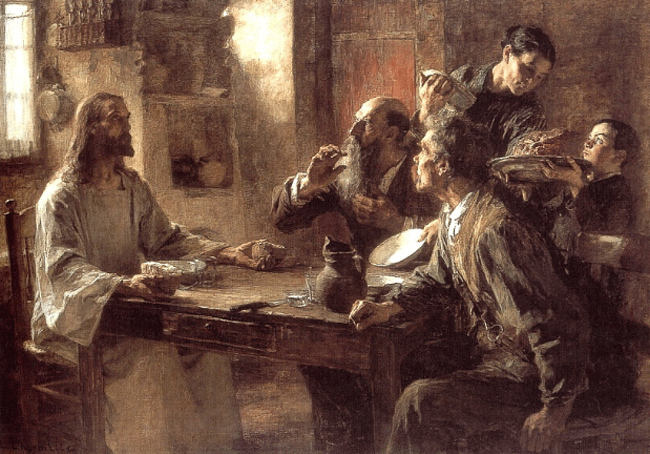 Friend of the Humble, by French painter, Léon Augustin Lhermitte, in the mid-1800s. Though he had access to all the colors of the pre-impressionists, he chose monochrome for the evening-lit room. At this moment, having broken the bread, the eyes of the disciples are opened. Note the wait staff has little idea what's happening.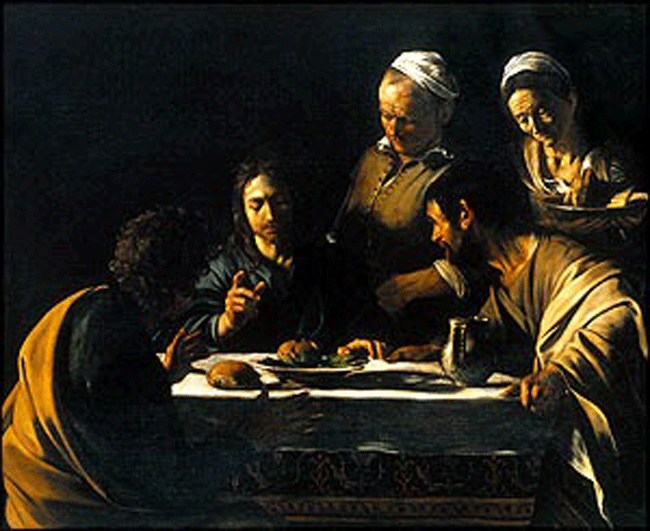 The dramatic renaissance artist, Caravaggio, painted the scene more than once. Anne and I saw his work in person while in Italy. Majestic, incredibly real, full of action and drama. Here the climax of the story is just moments away.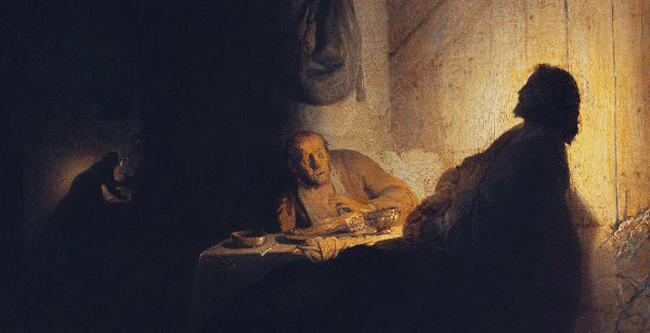 Here's Rembrandt's take, an artist who painted a great deal of Biblical images. Note the extreme dark to light to dark again contrast, the power of the expression as the disciple recognizes who he's been listening to, a split second before, poof, he's gone.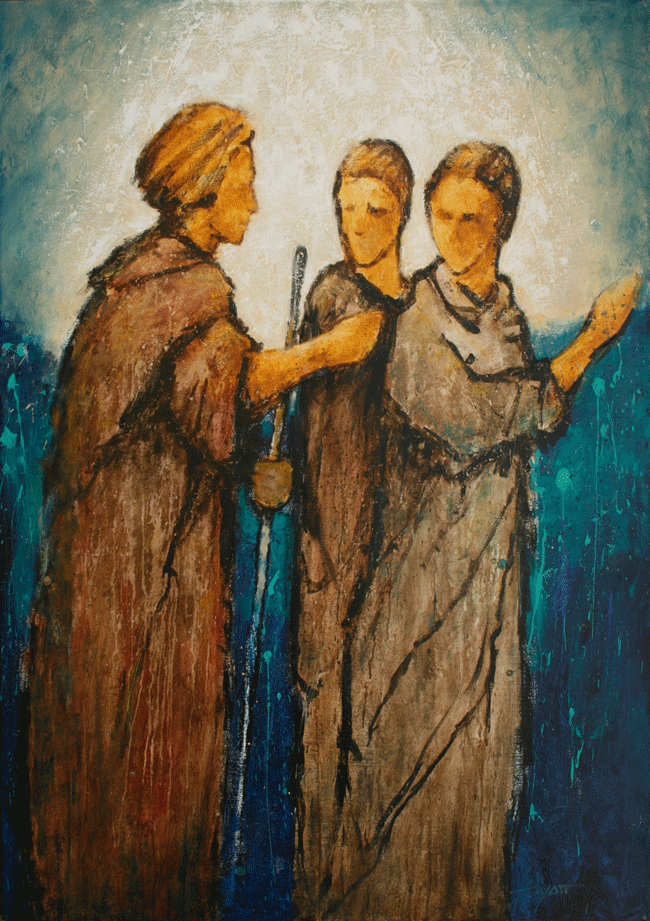 There were more I researched, and many more I've found since. In the end, after consultation with friend Chuck, I went with the moment of arrival at Emmaus, when Jesus was about to take his leave but was coaxed to stay. There's meaning in it for all of us. The Lord has plenty to offer, but won't push himself on us. Still, at our request will stay and dine. Left is a detail of the di Broninsegna piece shown at the beginning of this little art history overview. (Double click for larger view.)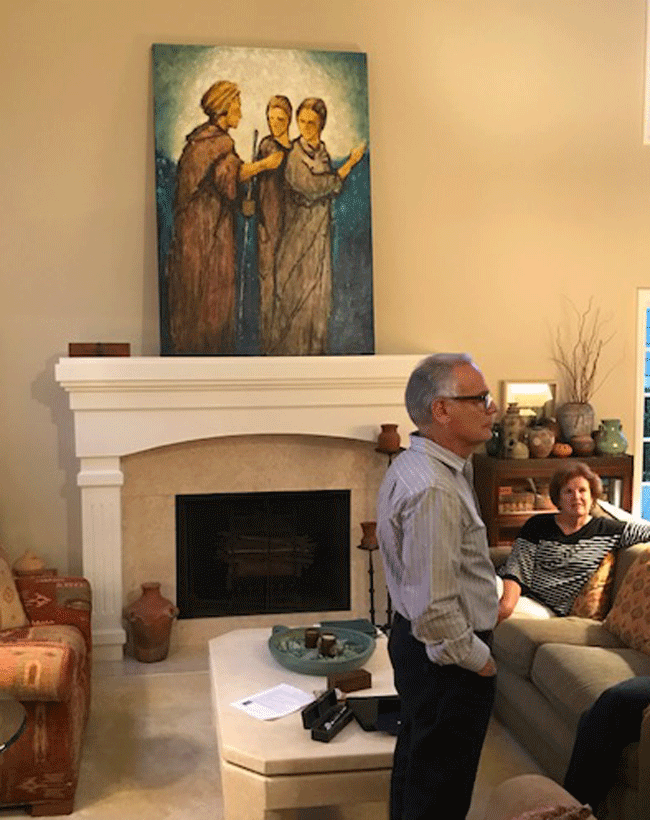 Emmaus Road, oil over acrylic, 67×47.
This, just to give an idea of the size, as I shared the finished piece at a friend's house before delivery. Hope you've enjoyed this sharing of the process. It's a painting to keep the story alive. In a sense, it's always Easter.