At first I had no ideas when my pastor friend from Anchorage asked if I could paint a rendition of The Beatitudes. The famous and succinct introduction to Jesus' Sermon on the Mount is all conceptual. How do you paint it? Then ideas started to flow. What follows is some of how it was made, the result, and a brief panoramic video at the end.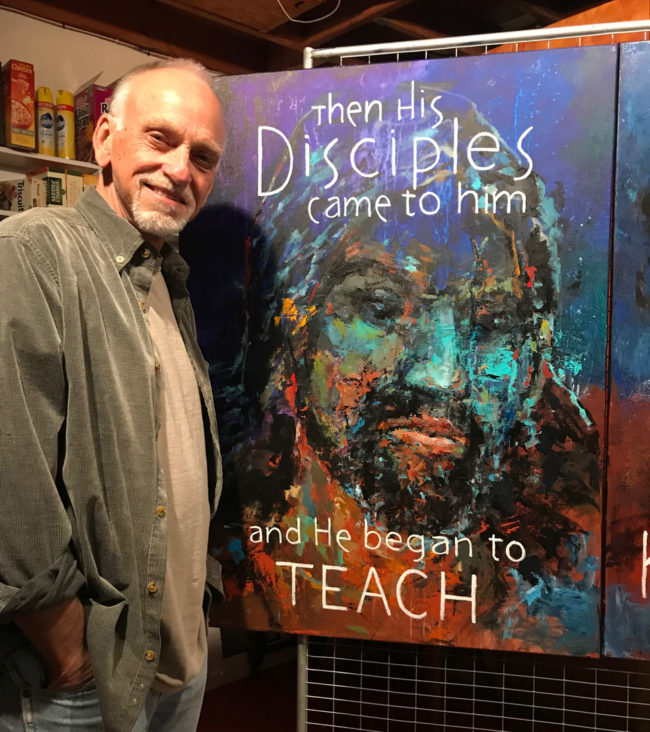 Here's a shot, just to get us started: the painter with the master. As with all, click to enlarge, maybe twice.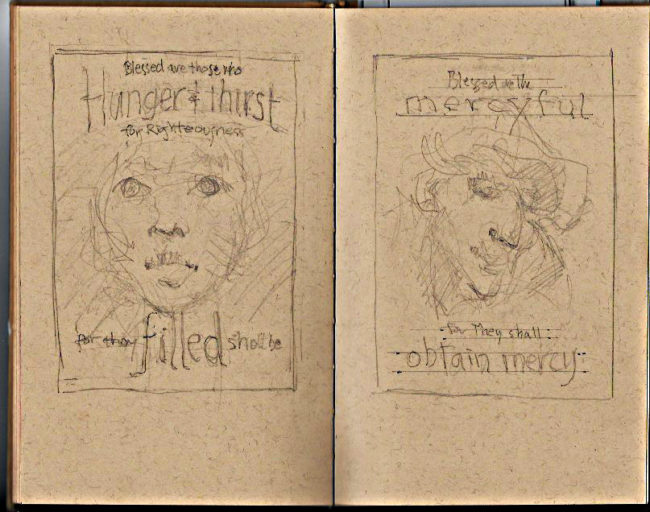 It started with sketches in the sketchbook, getting ideas, changing them, correcting spelling (eventually).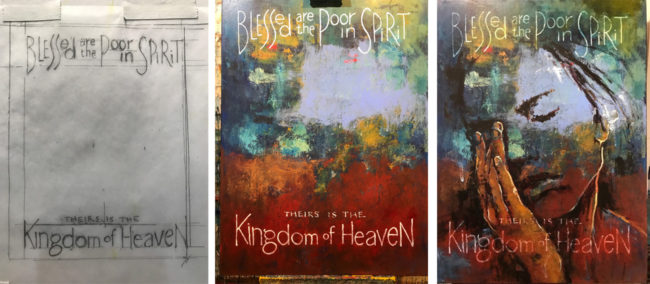 Then it was a matter of working out the lettering (left), painting the abstract background (middle), finally placing the face with just the right emotion (right). Sensing guidance, that first abstract was one I already had, just turned it up side down. (Click to enlarge and you'll see my signature at the top.)
I was already started when the idea came to use the complete color spectrum for the background colors. It was an artistic solution and a strong metaphor as well . . . a complete visual range and a complete body of truth.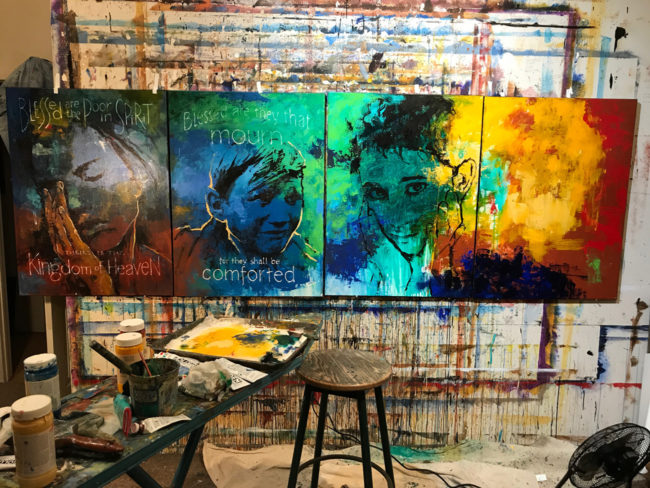 Here's a progression in the studio. Four canvases were all that would fit, sitting on nails in the studio wall. As I went I'd move a new one on and a finished one off. The paint is acrylic, fast drying and good for lots of overlaying.
Finally I moved to the garage where I could see them all together. There I adjusted color, went over (or reworked) the lettering, and fine-tuned any pesky parts. All the time I was listening to music or, more edifyingly, Internet teaching on each of the beatitudes. Was great!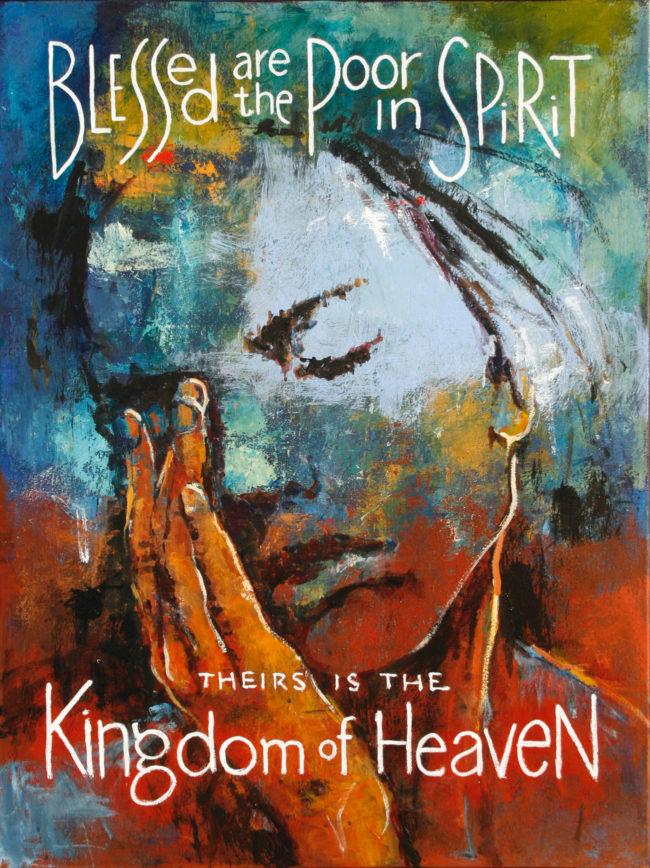 Okay, here they are, the first reveal, each at a time. It's Jesus's take on transcendent living, always counterintuitive, aways right.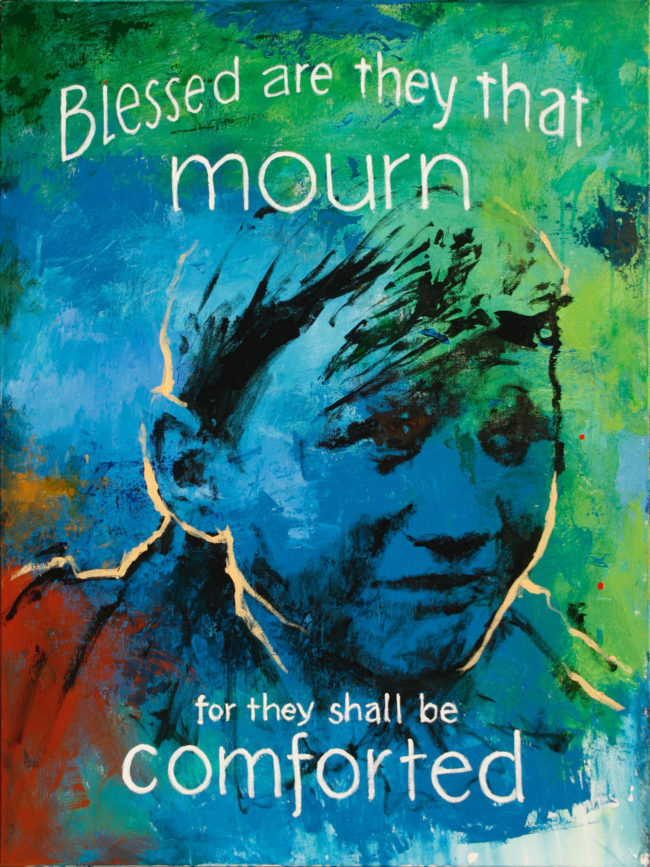 Every painting, stylistically different, like each of us. And on each, a blessing.
Be meek, just accept things; know that in God all works out.
If I have a favorite, this one is close, both in message and visage. Excuse my artist license on the word order . . . it just looked better.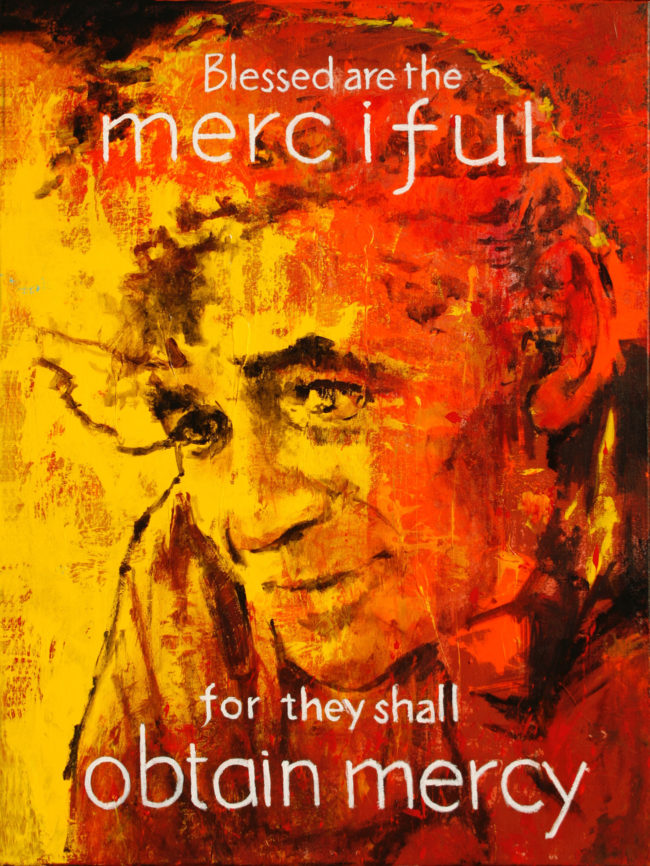 There's a cause and effect in all things, and a just recompense ultimately.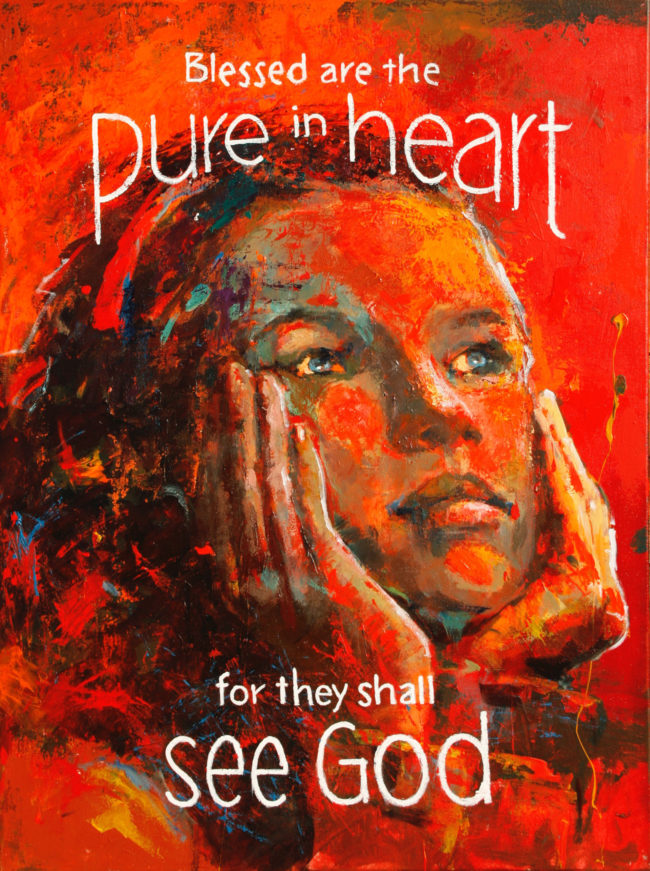 This could be the greatest promise of all, potentially on a daily basis.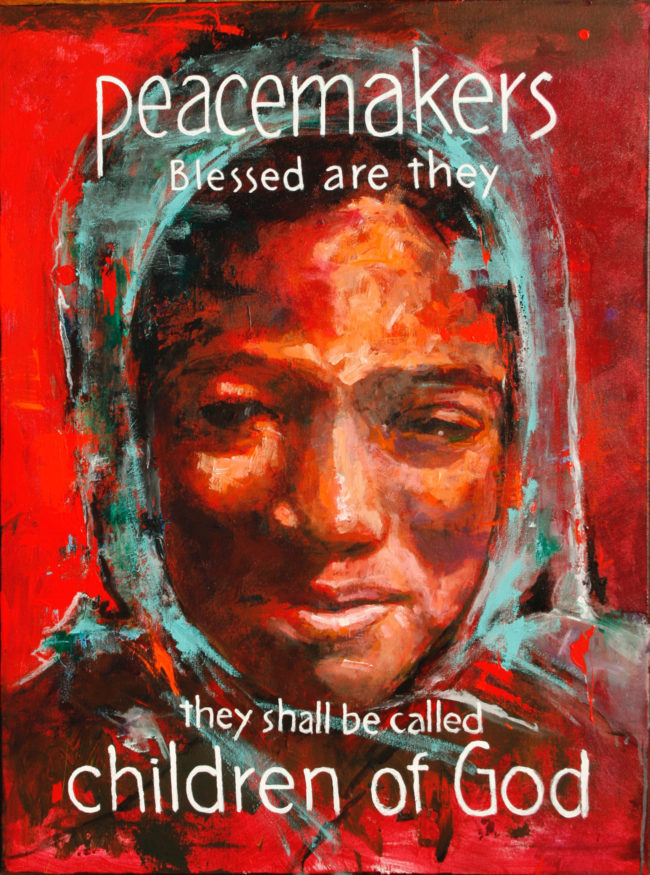 Messengers of the Prince of Peace, does the world not need more?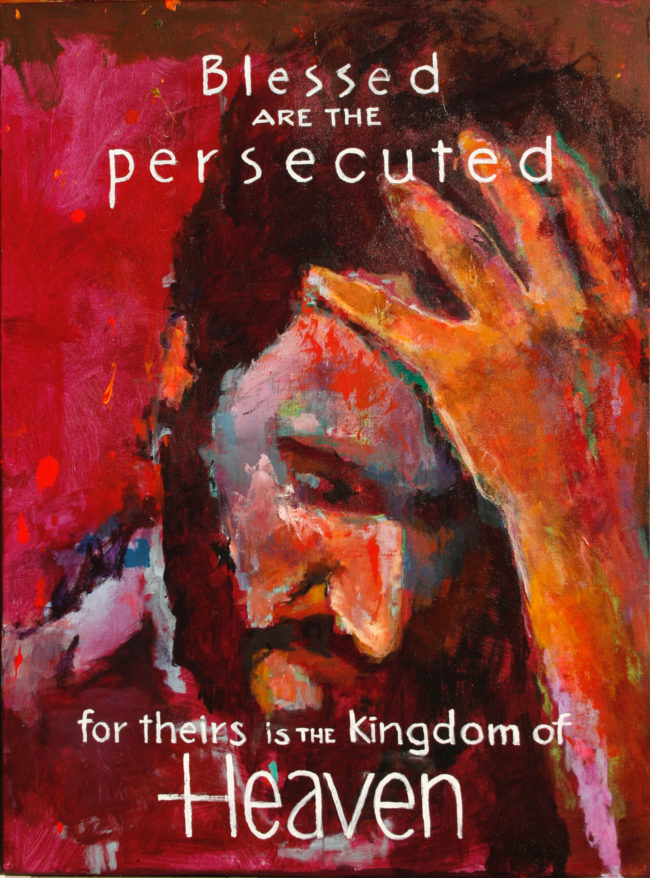 There's a lot more of this going on than we know. Here's the great consolation.
In the series this is first, though painted last. It's always a little intimidating painting Jesus. I went over it three times. It's wild, I know, but then, he's been treated worse. Here, as in life, he's of the same manner and substance as the others, just a little more beaten up.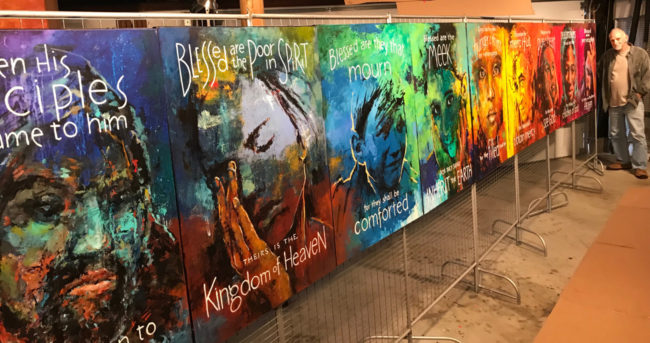 Each piece is 40″x30″ making the whole 22 1/2 feet long. To date I have no photo of the whole series straight on. The original idea was to hang them separately, maybe a couple of feet between. They could go either way, together or apart.
It's all headed for Muldoon Community Assembly in Anchorage. They have a number of my works, including the largest I've ever done (12 ft. x 60 ft., here.)
I posted a video on my Facebook page and received so many heartening comments. I'll post it here too. (Enlarge to see it better.)
People ask what else might happen to this painting. At this point there are no ideas. I'll just say, "Blessed are those who commission paintings, for they shall have art."
As for me, I'm grateful for it all, and not a little humbled working with these fathomless words.