As we've been doing at least annually for a number of years, we just took an art-making retreat. This time it was in Crestline, in the mountains just above San Bernardino. Instead of a day's drive away (or two), it was just two hours, giving us all the more time to work.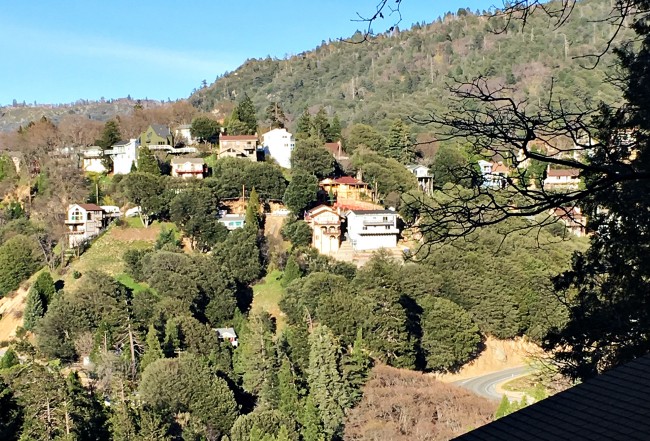 Built on steep slopes, many structures are three-storied.
Who knows how many of the homes and cabins around the lake are full-time residences, and how many are vacation retreats? We just know we benefited from the category of the latter.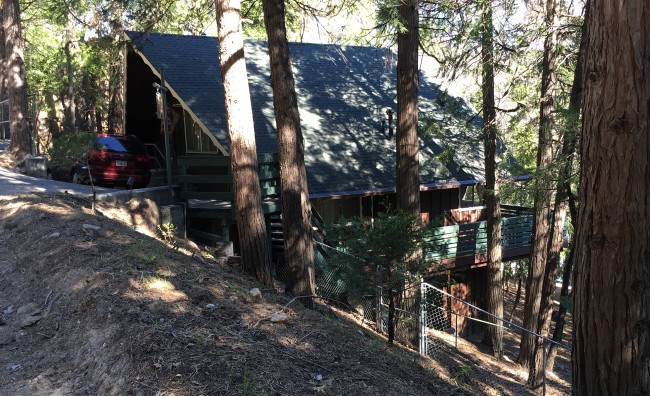 As with all these photos, click for larger view.
It was through the generosity of friends Bruce and Sandy Wegner that we had the use of this little gem, tucked among the trees. That's our van in the drive, which, with all rear seats removed, serves like a Conestoga wagon for our art-making equipment and materials, plus all provisions.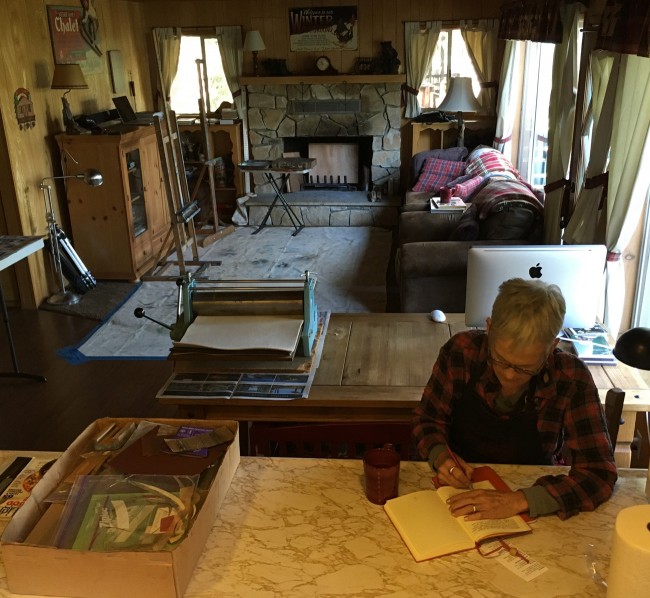 Anne, starting things off with a little journaling.
I didn't think to take an "as is" picture of the living space before we started rearranging it. When we came, it was a cozy environment with abundant seating for many guests. We wanted a studio, so we stowed much away in a spare bedroom. There's Anne's press set up on a sturdy table along with one of our computers. Behind is the drop cloth covering the cabin's carpet in what would shortly become the painting half of the studio.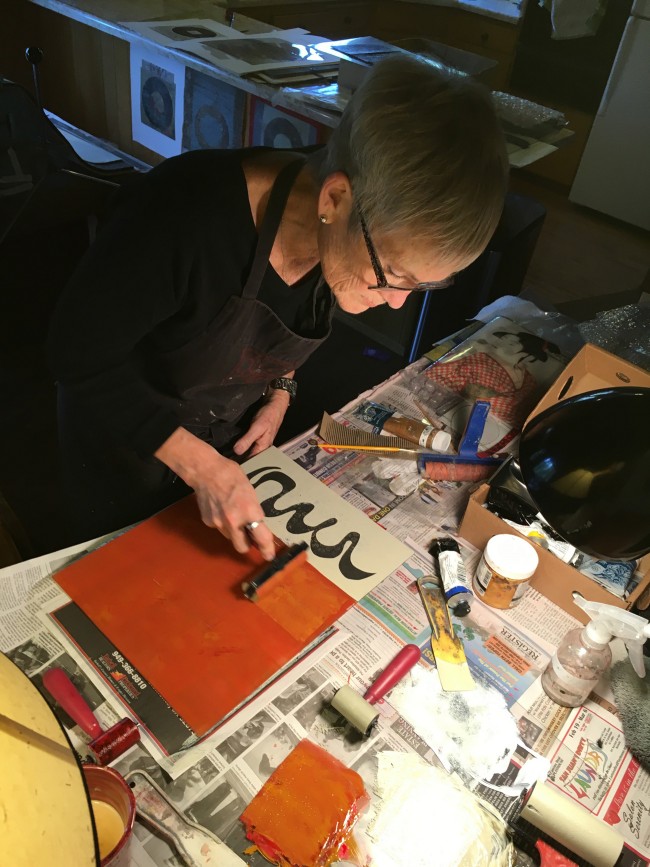 Apply ink to a plate . . . layer upon layer of creative application.
In the cabin we found a guest book, added to by grateful guests over the years. To that we added our own, copied here in segment:
We came, we saw, we (were) conquered . . . by the serene beauty, the essential quiet (but for dogs, who don't care), the Rim of the World Drive, ongoing heartbeats, and 47 other wonders.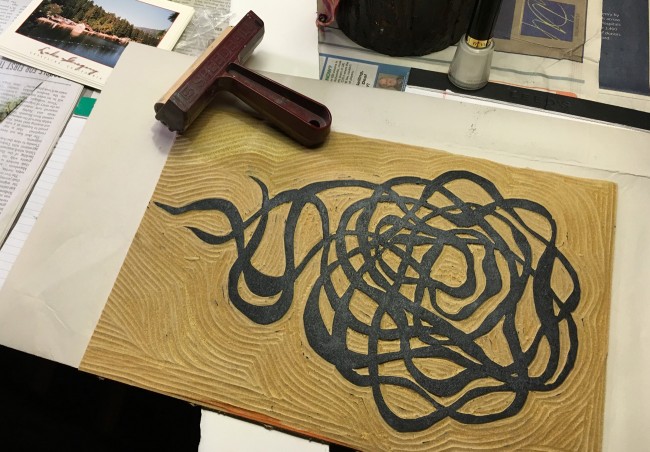 Another evocative design drawn and cut in linoleum by Anne's hand, with postcard of the lake.
The weather was perfect, unless one wanted snow (which I did . . . but so be that). I dubbed the place "our Yellow Submarine," of pine-paneled walls, hidden below the road. We met no one, had all our meals in . . . black coffee in the mornings, red wine in the evenings, great soups, salads, salmon and burgers. Started the days with God, finished with movies (mainly Matt Damon).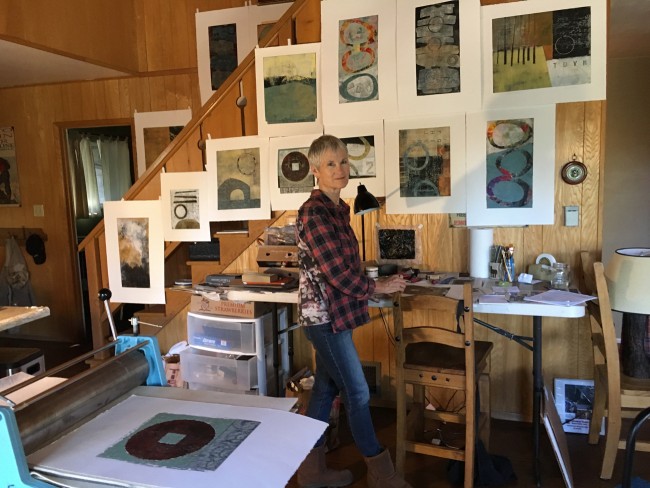 The last day, with an array, but not all of Anne's completed works . . . with piles of incomplete in the room behind.
Daily our own still-wet works went up on walls, shared with relics and posters already there. The hours, besides our introverted industry, were patterned with periscope walks, conversation, online sermons, music, an engrossing 14 hours of "The Iliad" (checked out from the Crestline library), our own brought books, the books in the cabin, plus more walks and more talks.
I should have added the after-dinner games of Rummikub, with winner getting a back rub ;-)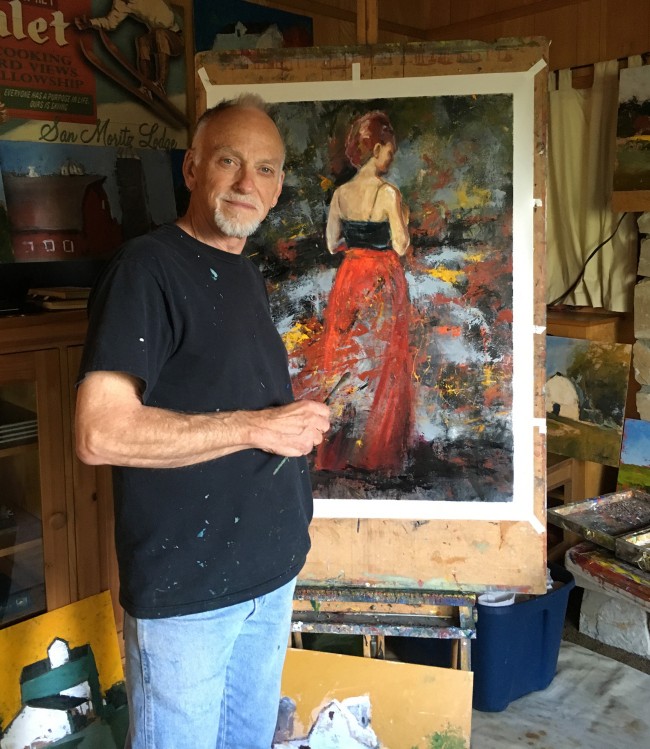 I worked in oil and acrylic, with toe dipped in water color. Here's the only large piece I made.
I told Anne I don't know anybody else who does this. All who remarked in the guest book marveled at the pleasure of "doing nothing." That's good for some, and for all sometimes. But when your work is both your life and your love, and there's time to do it without interruption, for us it's fresh-baked pie with ice cream, home-made.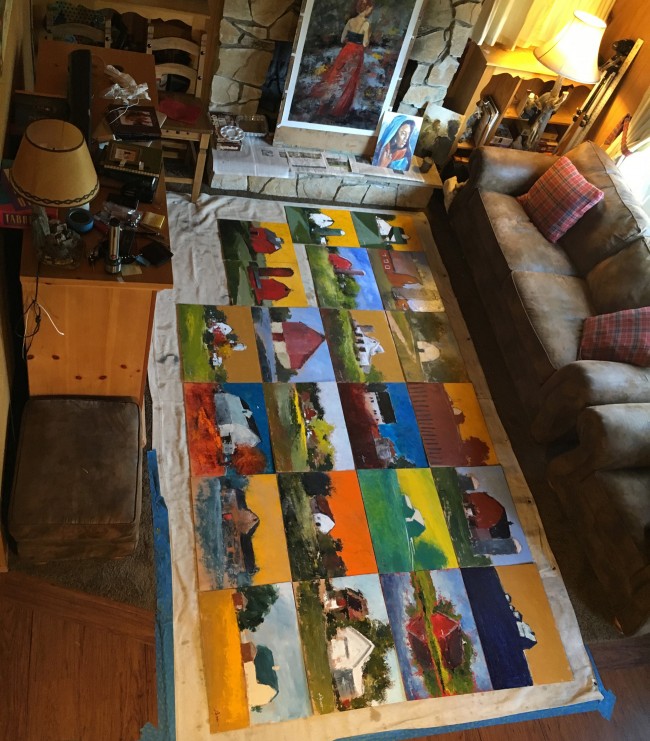 The paintings laid out and displayed on the last day, during clean up.
Again on this trip I also worked on, and actually completed, the year-long commission of 100 barns for University Best Western in Ames, Iowa. They were fun and fast, and allowed for experimentation in a genre I don't usually explore. But why not? I ask myself. Again, click to enlarge, twice.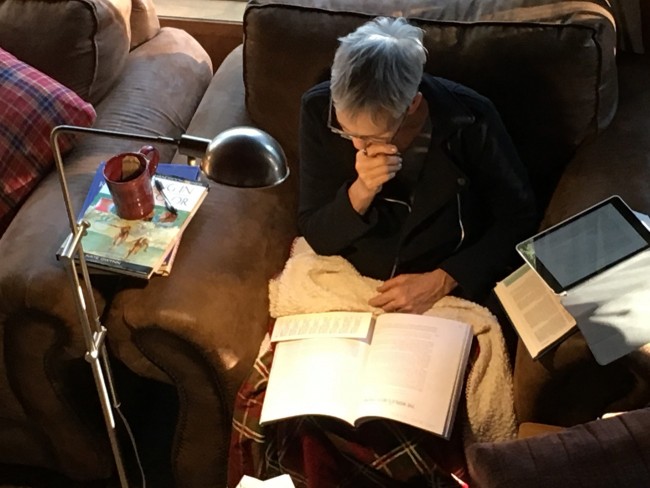 Morning tea and thought under woolen warmth.
Anne will say I've got too many pictures of her in this post but here's another chance to show that it's not all work. Days always begin with with reflection and study, sometimes one or the other of us sharing insecurities and doubts . . . as art, and life, is not all confidence and self-knowing. Prayers often follow, for wisdom (what is art if it isn't wisdom?) and just the needed presence.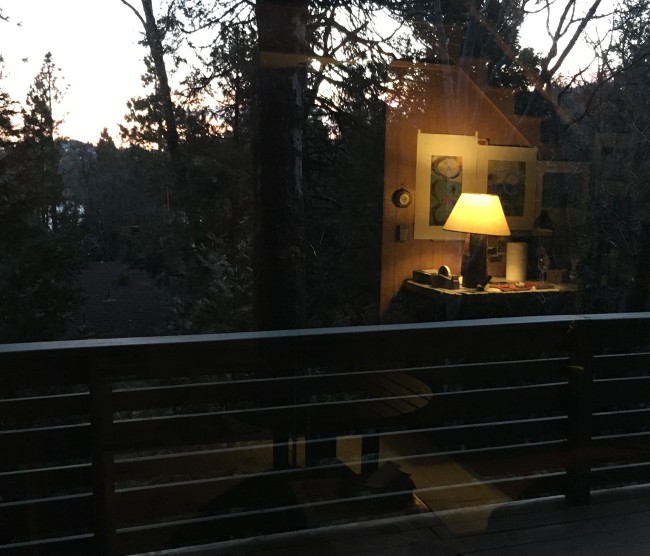 The end of the day.
The distant lake barely shows across the deck and between the trees, with here, a glassed reflection back into the cabin with work table and art.
In all, it was a productive time, and satisfying. As I signed off in the guest book:
I was here with my girlfriend . . . of 50 years.  Loving all.
.
Next:
Sandstone Gallery Show

For the month of April my work will be featured at the Sandstone Gallery. The opening is during Laguna's Art Walk, Thursday evening, April 7th, 6:00-9:00.
384 A North Coast Highway, Laguna Beach.  One block north of the Laguna Art Museum, near the corner of Coast Highway and Jasmine.
.
Speaking

For any interested, I'll be speaking at Heritage Christian Fellowship, April 10, at the 8:30 and 10:30 services. My assigned topic: "The Prodigal Son" (a story of which I have plenty of first hand experience).
All welcome: 190 Avenida La Pata, San Clemente.
.
Home and Studio Show, May 7-8

Save the date. We'll be showing and sharing lots of new work, and enjoying the company of all friends at our Spring Studio Show and Sale. It will be the afternoons and evenings of May 7 and 8. That's Mother's Day weekend. Perfect for her, and you!
33752 Big Sur, Dana Point, California.