The Susan B. Anthony Recovery Center in Pembroke, Florida, treats women in addiction with a very high success rate. This is part because of their multiple, tested approaches, their long (six month to two year) residence program, and their commitment to keep the children with the mothers during treatment. This month Anne and I were invited to a celebration of recent graduates.

These are some of the graduates who are already out in the community, working jobs, making their contributions, raising their children. If you recognize some of my paintings on the wall, they were the beginning of the connection between us.
The architectural rendering gives an idea of the size of the place. Not shown are other off-site residences.
Our relationship with Susan B. Anthony Recovery started when Dean Dalbery, the new CEO, wanted to "re-face" the organization did a Google search for abstract images of women and children. A number of my paintings popped up and he contacted me. Basically he was seeking permission to use electronic files of a few pieces for their printed materials.
What he couldn't know was how just that morning I'd been in the Biblical book of Proverbs (11:25)–"A generous man will prosper." It seemed like a basis for a business plan; I committed to look for ways. When this call came, and I got a sense of the solidness of the work they are doing, I decided to give them not just permission, or even a painting, but an gallery of paintings. To experience the results of that, the paintings all handsomely arranged on their walls, was a big part of our being invited to Florida.
For a sense of their excitement about it all, here's a brief video after they opened the crate back in January.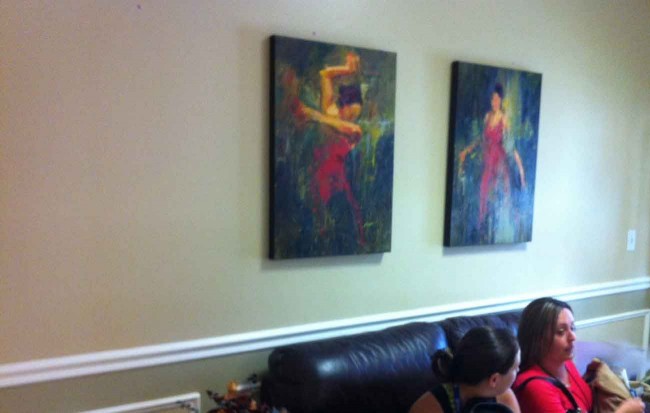 Two dancers, paintings I'd had, even in a gallery, but now have a new home. As with all these picture, click for larger view.
We never did get a photo of the whole gallery, covering all four walls of one big room, down halls and in offices. Here are two as they hang in the lobby. Of course Anne and I received abundant thanks, but we also saw, with them, how the art, and the sheer quantity of it, had truly elevated it from a basic institution to a place of beauty with even a touch of elegance. Both the staff and the women being served tell how they feel fed by it all at a soul level . . . some seeing themselves in the paintings. Beauty is indeed something we need.
I've posted their paintings on my website. Though they're not for sale, being owned by the Susan B. Anthony Recovery Center, they can be seen here.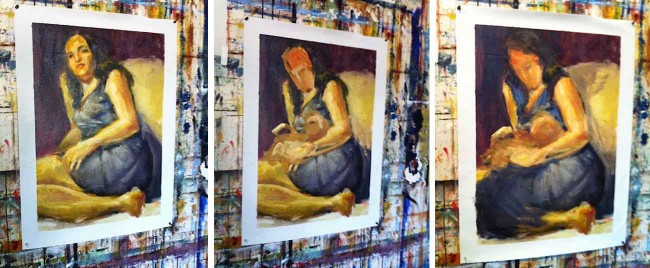 Baby Bundle, in progression from sitting model to mother.
Among the paintings I sent, a number I already had, a few more I painted for the occasion, one big one I finished, and others I altered. This one, and the couple that follow, were originally paintings I done from a live model, on unstretched canvas (thus the wide borders). With a little imagination I figured they could be turned into mothers with a child.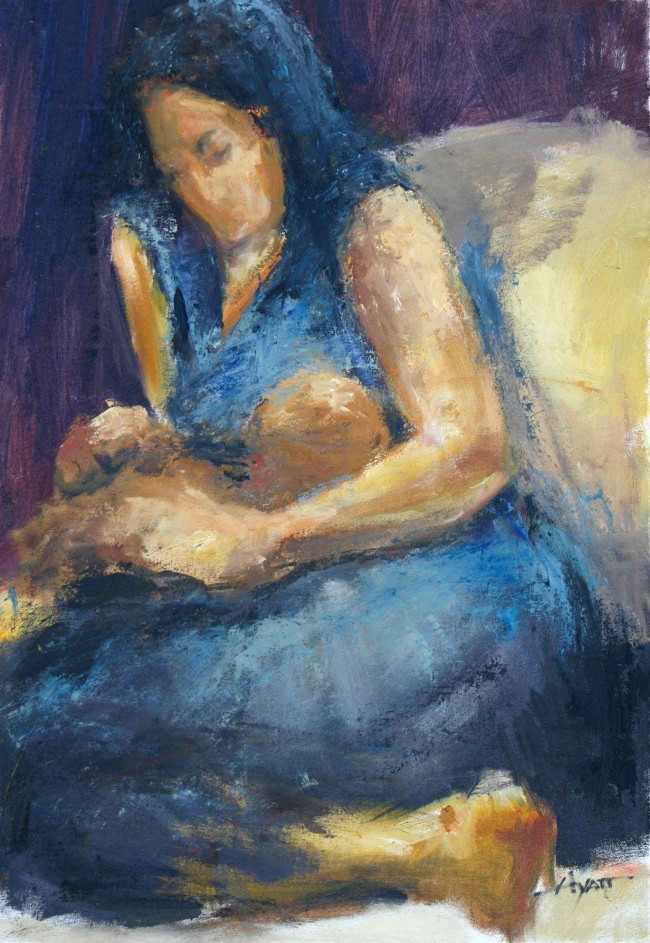 Here's the result, Baby Bundle, oil on canvas, 28″x 18."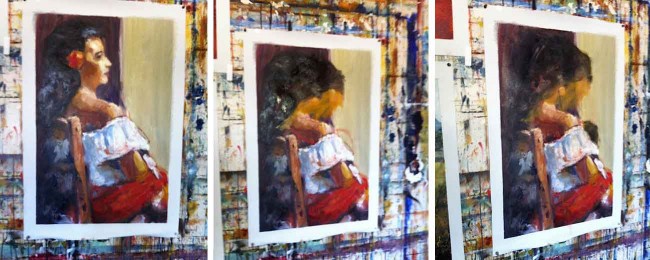 Another progression–a single woman to mother.
It was the same with this one, a model I originally painted from a number of angles, but liked this three-quarter rear view best. That was months before. For this purpose it was merely a matter of tilting her head and suggesting a baby at her breast. (Looks like I forgot to give her that flower back in her hair.)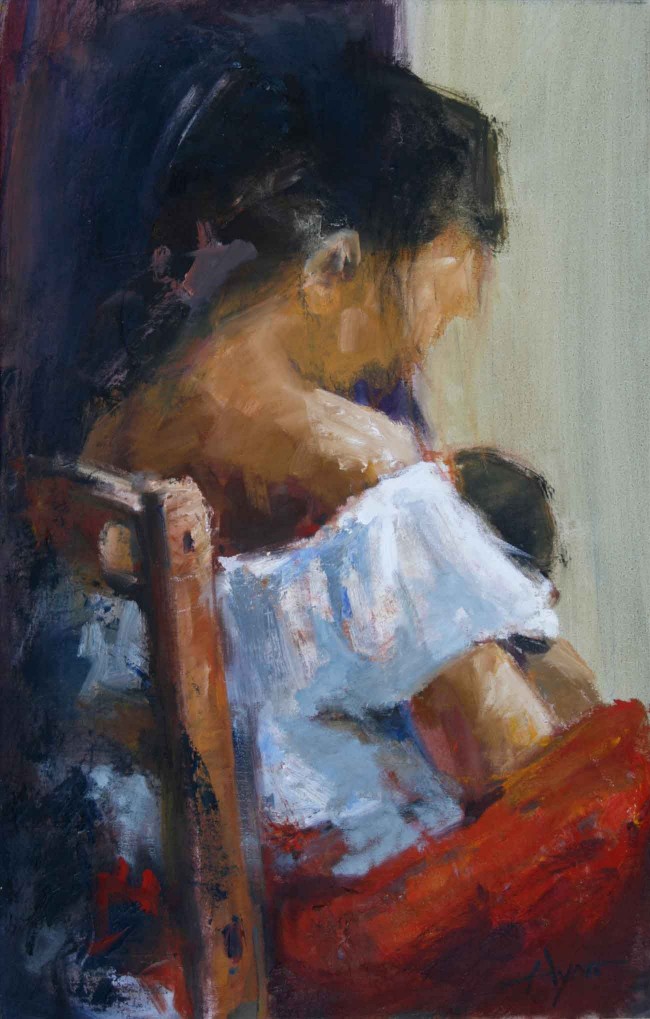 The result: Break for Baby, oil on canvas, 28″x 18." To me, it's a better painting with the changes, now showing a relationship.
Again, click the pictures for enlargement.
In one case, during all this, I attempted something quite unusual . . . to put an imaginary baby in the lap while painting the model. (I expect the other painters present wondered what I was up to, but nobody asked.)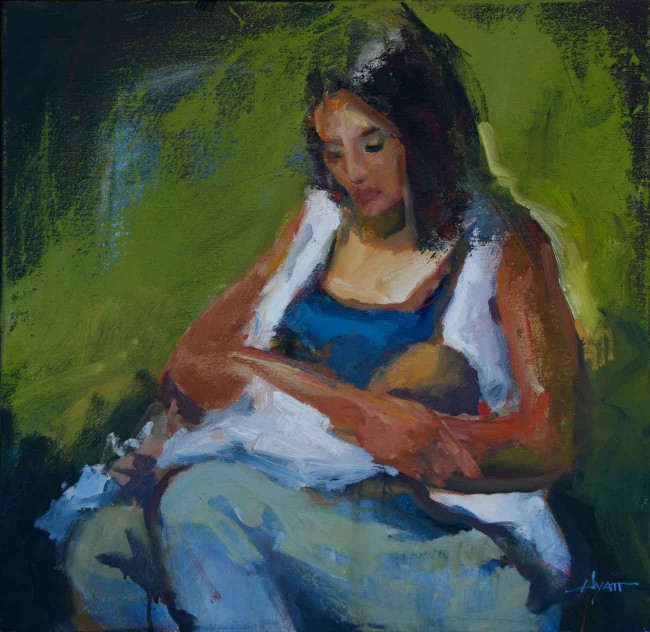 I did the finishing touches in my studio later, getting rid of that unnecessary chair, etc. The result: Babe 'n Jeans, oil on canvas, 28″x 28."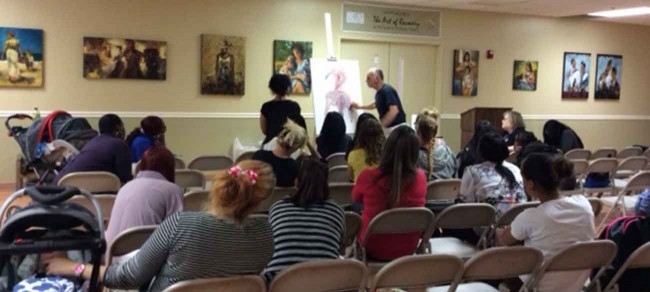 Showing on the wall is about a fifth of the paintings they now have in their gallery.
As "art therapy" is on of the activities they offer, they asked if I'd do a demonstration. I don't know anything about art therapy, though I suppose I'm doing it all the time. The agreeable model was Tule, one of the staff, with unusually interesting hair (from an artist's perspective). She was positioned so she could also watch the progress.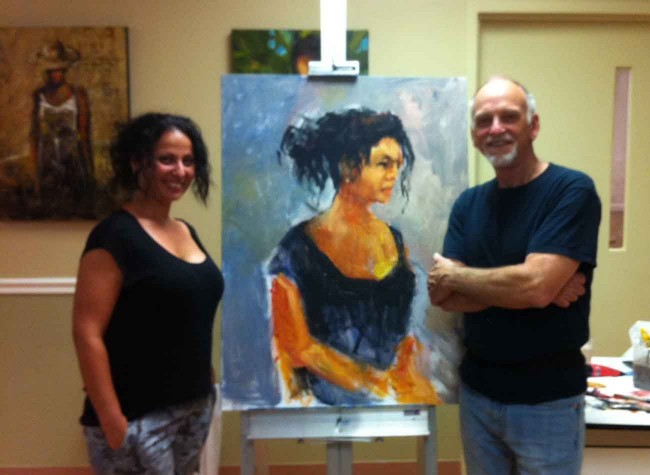 Here's the result after an hour and a half's painting, lecturing and answering questions–and sharing a lot of laughter with the group.
A flyer for their upcoming anniversary.
Here's an example of the use of my art they originally had in mind, from a piece I'd painted earlier. Incidentally, that's our daughter-in-law Nicole, with one of her four children.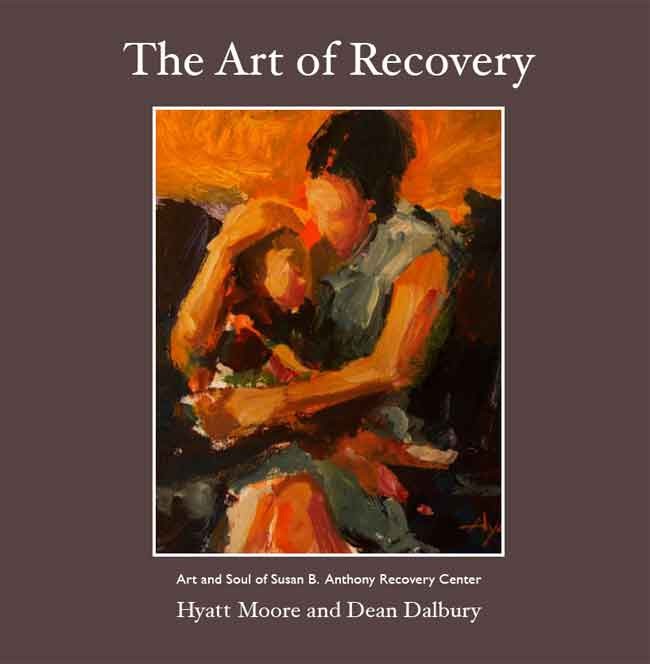 The new book, about to be released.
One more thing: It seemed to me that besides a gallery of paintings they should also have a book. So I put the graphic together, included all the 31 paintings, and they contributed the words . . . inspirational and informative. The cover painting happens to be of our daughter Acacia, with one of her four.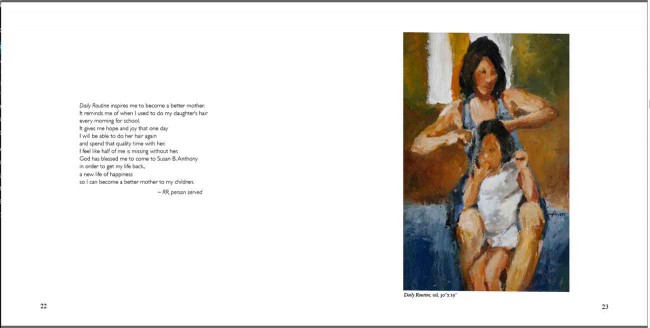 Click on the picture and you may be able to read the quote by one of the women being served.
The book is 68 pages, 8 1/4″ square, the same format as my recent others. It'll be available shortly from Susan B. Anthony, from my website, and Amazon. Once again, that's Nicole, doing with the painting is named for, "Daily Routine."
In the end, we've been well rewarded for all this. I return to the passage in Proverbs: "A generous man will prosper." How that will work out, I don't know. I do know I'm getting a lot of work of late. Some for pay, some not. But it's all quite rewarding. I'm grateful.