We went to Oregon for three weeks of painting and printmaking. We knew it would be rainy, but it didn't matter as we'd be working mostly, and inside. As it happened, however, there were plenty of sunny moments, just not when this photo was taken.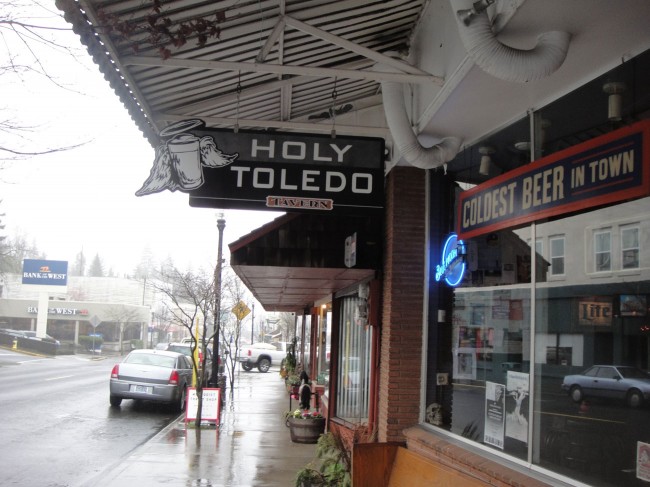 The Holy Toledo Tavern, not a place we frequented, but couldn't resist the photo.
"Holy Toledo" is an exclamation of surprise that apparently comes out of Christian Spain after its liberation from the Moors. Not that we learned that bit of trivia there. But we were in the small Oregon city of Toledo, where these Moores felt quite welcomed. We walked daily, rain or shine, found wonderful places of discovery and made numerous friends, including a surprising number of fellow artists. There was also plenty of time for reading and meditation, making it all "holy" indeed.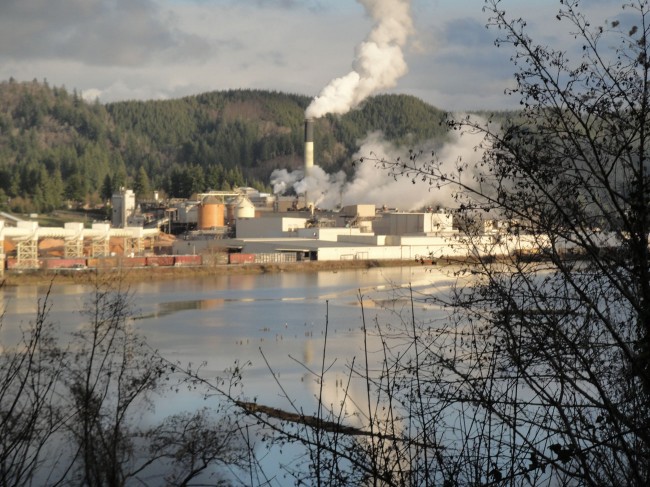 The river runs to the coast at Newport, just a few miles down.
Toledo is a mill town which fairly breathes and belches and coughs, sounds heard particularly in the night or between rains. There's much more to it than the Georgia-Pacific pulp mill but this gives a sense of part of the town's personality.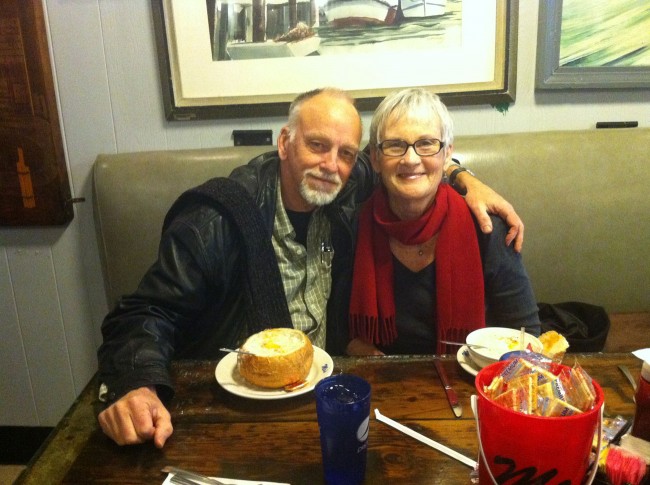 The day before our 46th anniversary, trying chowders.
(As with all these photos, click for a larger view.)
One of our self-assigned challenges was to find the best clam chowder on the coast. Here we are at the famed Mo's in Newport. Actually, the chowder at The Sea Hag up the coast in Depot Bay was the best we found. There it's so thick you can cut a trough in it and it holds its shape, like with Moses and the Red Sea.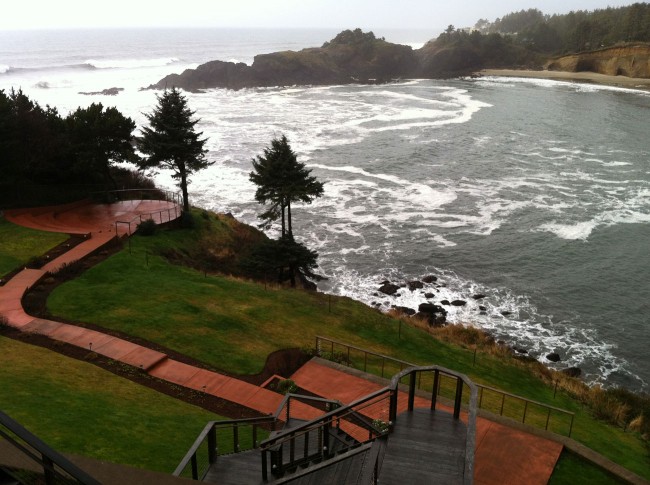 Whale Cove, just up the coast from Cape Foulweather, so named by Captain Cook.
For our anniversary proper, we went to Restaurant Beck at the Whale Cove Inn, a most majestic place, with the water below ever wild and restless. We reflected on the quality of our lives, thanked God, and ate great scallops and Ling cod with farro "polenta," foraged mushrooms and greens. Ah, life!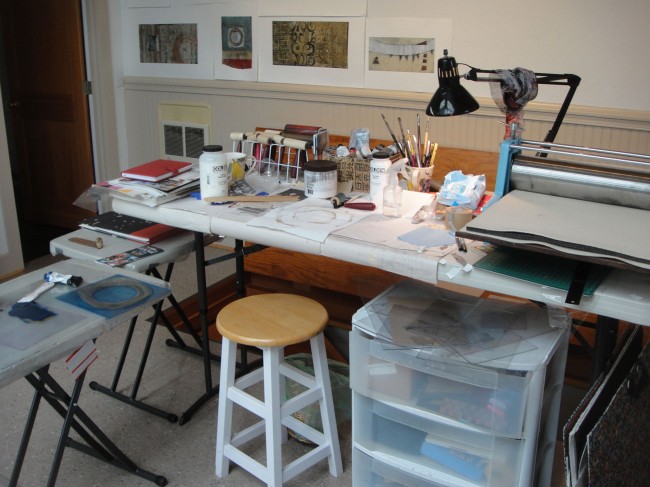 Anne's half of the studio, renovated space in the former Justice of the Peace quarters.
But we came to work. Of course, work for us is what a lot of people would call "play," and all of my life I've not known quite the difference. One of the great things about the trip was Anne being able to put in focused time, hour after hour, day after day. It's something that doesn't happen at home what with "everything else."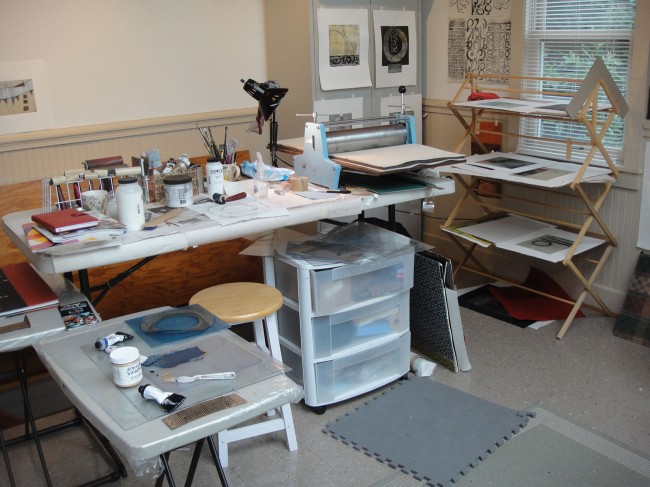 Another view: The hand press and work in process, drying.
One of her goals was to bring a lot of her unfinished pieces along and finish them up. It's been years for some and many reached handsome completion. And many new ones were begun.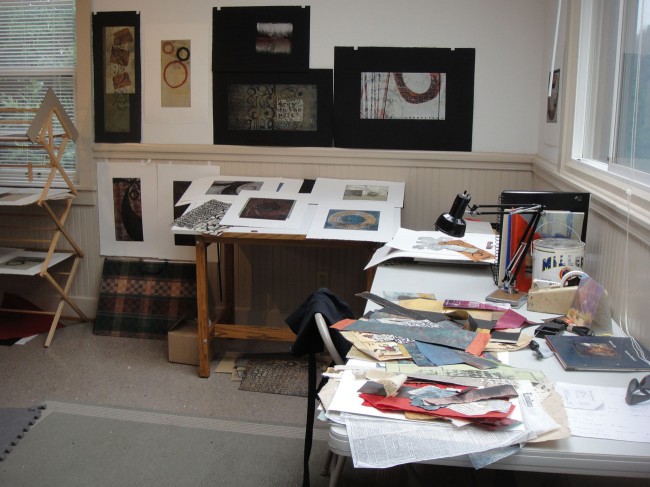 Yet another view of Anne's side of the room. (Again, click photos to enlarge.)
As shown by the blest mess in the foreground, completed pieces can be made up of a lot of parts, interesting and unusual papers picked up on travels, printed segments torn or cut from less successful beginnings, and scraps of found ephemera. All that, plus the aesthetic eye, can produce wonderful art.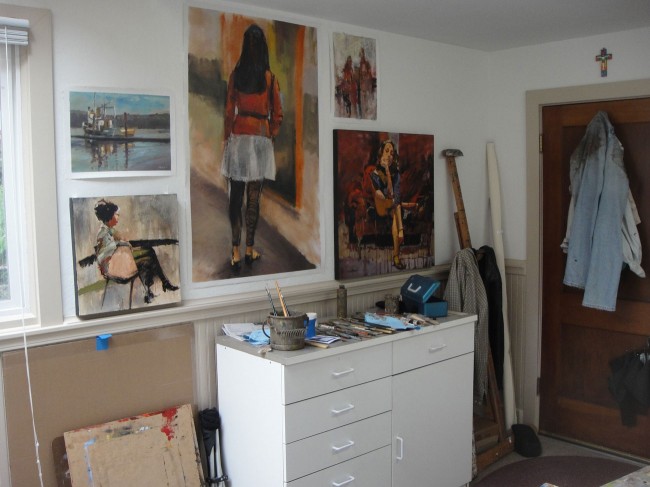 Hyatt's side, one view of two.
While the time was unusual for Anne, giving her more days and hours per day to focus, my life wasn't so different. I tend to paint part of every day at home, and continued to do so here. Writing was another occupation, plus more reading than usual. Then, for both us, there were the excursions out, the occasional movie, continual listening to music, computer glitches, conversations. Life!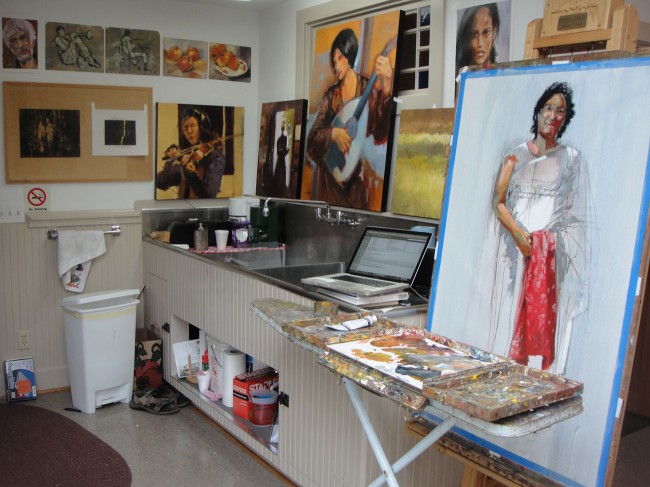 The sink side, with three weeks of "finished" art on the easel and three walls.
While Anne brought unfinished pieces to complete, I brought only blank canvas. But, as I told Anne, sometimes I like my paintings better before they're "completed." She suggested I start new ones before I'm done. So I did, and I may have found a new way of working. It's another example of how opposite personalities can influence each other.
(For discussion on the beauty of "incomplete" work, see the most recent Blank Slate blog post, "Strong in its Kind," on this website, or here.)

The lower level, where we spent half the hours.
Here's a panorama of where we spent the rest of our hours . . . the kitchenette, the writing table, dining table (tucked under the stairs), reading chair (near left, barely shown) and bed. Anne thought to bring one of our Guatemalan bedspreads to make it feel more like home. It made for a nice touch.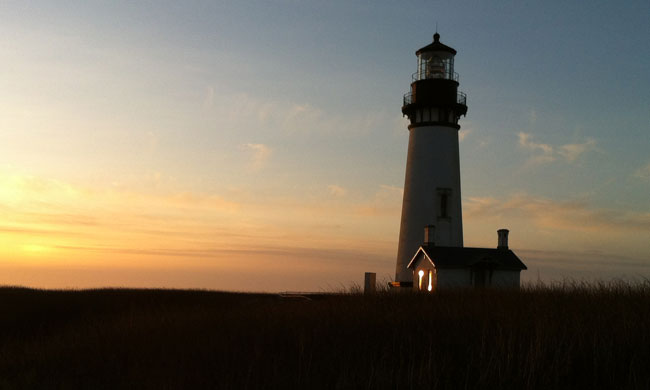 The famous Yaquina Head Lighthouse.
This old lighthouse is just one of the highly photographic sights along the coast. We took many pictures, of boats and rivers and harbors and houses and hills, but this one seems a good touch for signing off. It was a wonderful trip, all work and all play, just the way we like it. We've already put in reservations for next year.
_________________________
The Oregon Studio
Anyone interested in renting the Justice of the Peace studio discussed above can contact artist Michael Gibbons. Click here.
Blank Slate
The new blog, Blank Slate features musings and meanderings, insights and entertainments, and words rather than brushes for the art. Back issues are viewable on this website, above right.  To subscribe, click here.
Moore & Moore Art Gallery in Dana Point
Open by Appointment
949-240-4642
Semi-Private Coaching for Painters
Offering 2-hour sessions on Mondays and Wednesday and Saturday mornings
in the Hyatt Moore Studio, Dana Point.
For more info click Art Coaching Flyer.
Or call  949-240-4642
Printmaking Classes
In the Anne Moore studio, Dana Point
To see more of Anne's, work go to: www.annesprints.com
Call 949-240-4642