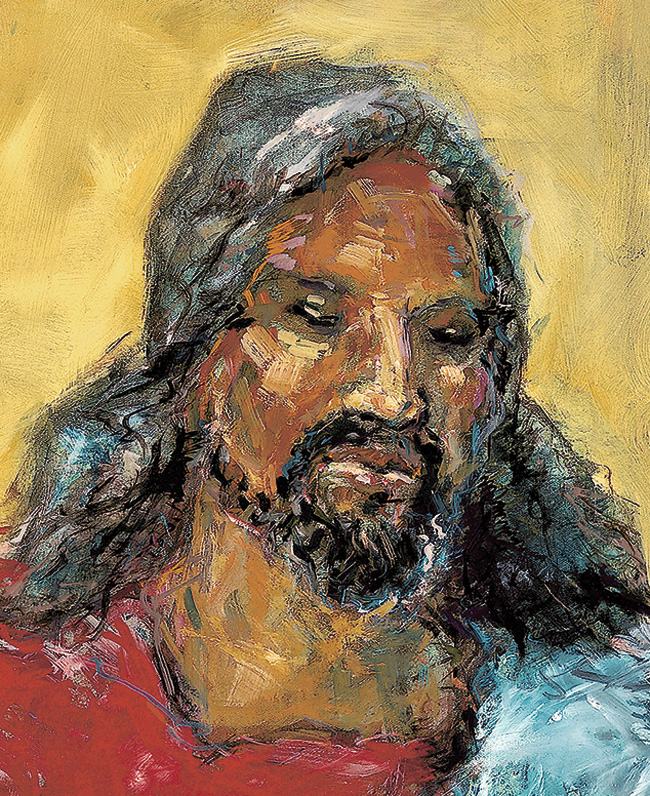 Detail from The Last Supper with Twelve Tribes, Oil on Canvas, 4.5 ft x 20 ft.  Full description on website.
It's the time of year to commemorate that which can just as well be commemorated every day. Above is a detail of what has become my most famous painting The Last Supper with Twelve Tribes, sometimes now called The Next Supper. I did it for a missions conference in Vancouver some years back and immediately people wanted prints. It's now available in many sizes and editions, from giant, full size reproductions, to limited editions on canvas or paper, to framed editions, to posters and bookmarks. Besides that, it's become a meaningful presentation for churches as I share the platform with the full 20-foot original and tell of the motivation, the process of painting it, and its meaning.
And now there's even an abbreviated version of my talking about it on YouTube. It was produced some time back by my friend Joe Class with recent aid by Emma Clark. Check it out.

Click on the picture for a larger view.
That's a ten-minute version. I've given the full-length version twice in the last two months, and will twice more in the next two weeks. It's a message that keeps going out, with no reason to stop, while I have voice.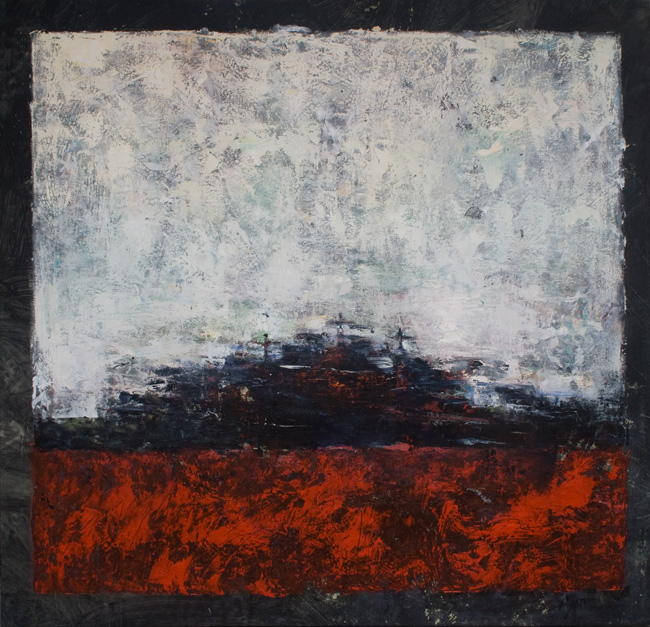 Here's another take on Easter. I didn't see this one coming. I was down on the floor working on this large abstract with virtually my whole body when I discovered what seemed a cross on the top of a hill. From there is was just a matter of following the story, though not too literally (this sky is white, but hell is still red). For a time I called it Golgotha, but in the end preferred Between Worlds, where it all took place.
Here's another I didn't see coming. It was a different painting to begin with, one I had on my website and even would have sold, but through some strange irony, by the time the collector called I had to confess I'd painted over it. Aspects of the old are still apparent but it became a completely new painting, and with that, a new title suggested itself. Again, don't try to interpret it too literally. Remember, it's art.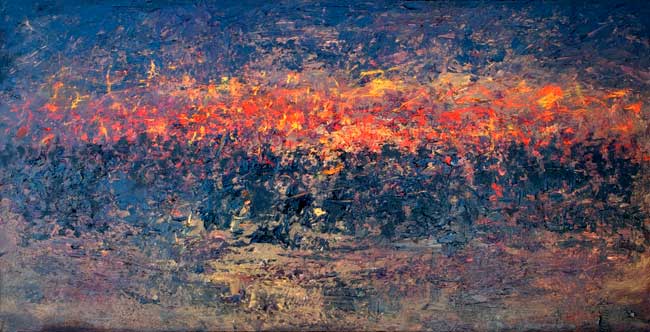 Pentecost, Oil over Acrylic on Canvas, 24 x 48.
Sometimes I'm asked to make something for the church, but when I was approached to make a painting to represent the Biblical book of Acts, I had too many ideas. My sketch book began filling up with studies of characters, all interesting, but no one of them representing all. So I took the abstract approach of the coming of that which the believers had been waiting for…even if they had no idea what exactly they were waiting for. A mighty wind. Fire in the air. Amazing how these things take us by surprise, and change everything.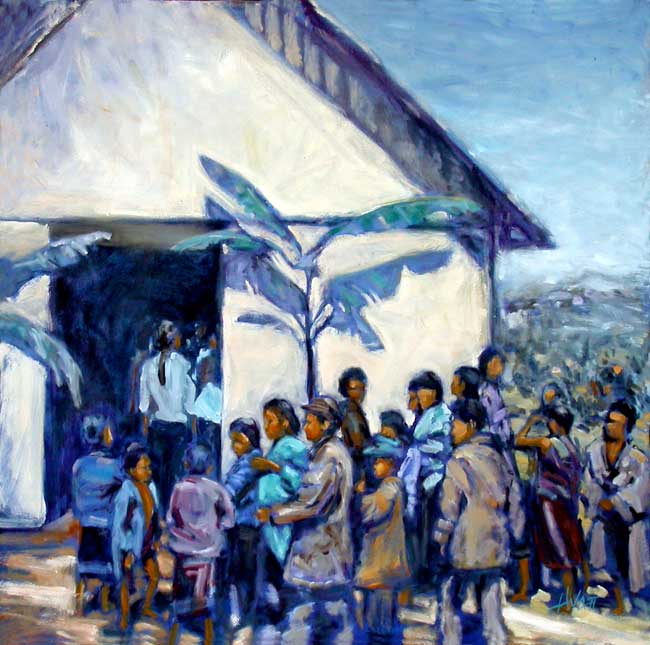 Palm Sunday, Oil on Canvas, 42 x 42.
I hadn't known I was going to include so much abstract material in this e-gallery, but here we are back to something representational. I did it some years ago, and as with all, this one has a story. I'd got the image from a slide labeled "Nepal." So I called the painting Nepal Church. But then a friend who serves there told me if it was Nepal it wouldn't be a church, as the church there is underground. So my daughter came up with the new title, Palm Sunday. It works.
Do enjoy yours. And honor the season.
Below are the upcoming speaking venues for the Last Supper "Big Picture" presentation. Each is also accompanied by a show of other pieces of my art. And don't forget to take a look at the YouTube video. Feel free to forward it on. If you know some group who would like the full story, contact me. It's not something to hide under a bushel.
Speaking Events
Granite Creek Community Church
April 5 (Palm Sunday), 9:30 a.m., 11:00 a.m.
1580 N Claremont Blvd.
Claremont, CA 91711
(909) 625-4455
Vineyard Community Church
April 10 (Good Friday), Meal, 7:00 p.m., Speaking, 8:00 p.m
27632 El Lazo
Laguna Niguel, CA 92677
(714) 425-3738
Loosen Up Workshop
Two days of hands-on stimulation for painters
May 2 and 3
San Clemente Center for the Arts
1531 N. El Camino Real
San Clemente, California 92672
To sign up, call (949) 369-6603
Click here for details.