It's the first of another year. It's a time for "out with the old" and "in with the new."  December 31st had me  throwing out some 25 paintings that never were going to make it to any self-respecting wall. (Last year at this time I threw out 75!) Then, on January 1st, I took half a dozen pieces that still had a chance and hit them again. They're much happier now, as will be their potential walls.
Rainy Window, 16.5×22, Click on pictures for pricing and on the resulting picture for larger views
In the meantime, new ideas and new directions keep finding their way onto our path. One such recently for me was what I'll call "Works on Paper." Actually this is nothing new for Anne, whose works are always on paper. My work, more traditionally has been on canvas or Masonite panel.  But I'm finding that acrylic paint on good, heavy, slightly textured paper makes for a very nice combination. There's nothing new about it; it's how watercolors are done all the time. And acrylic is water-based, so there's no worry about the deteriorating effect that oil based paint can have on paper. By the way, Anne uses water-soluble inks for her print-making so there's the same archival precaution.
Rainy Window was one of a pair I did (appropriately) after a trip to England. The other sold quickly; this one still enjoys a place on our walls. This month it's doing further service as cover on the advertising for an upcoming artists workshop that I'm teaching. It's called "Loosen Up," and will be held the weekend of the 17th, this month, in San Clemente. Click the link for further details. By the way, though the cover painting is of a person, painters at the workshop will be doing whatever subject matter they like. (Some are wary of painting people . . . especially staring right at you like that.)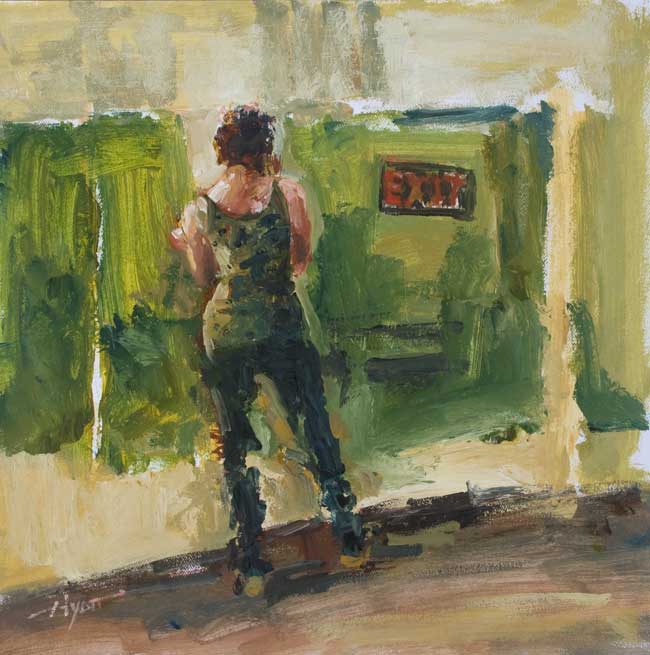 Exit Sign, 16×16
Here's another for the "Women from the Back" series, this one on her cell phone, her mind in another place, but her feet planted just outside a green mesh fence of a temporary construction zone. As I look at it now, it could be the same girl as the one in Rainy Window, in a different season, but it's not.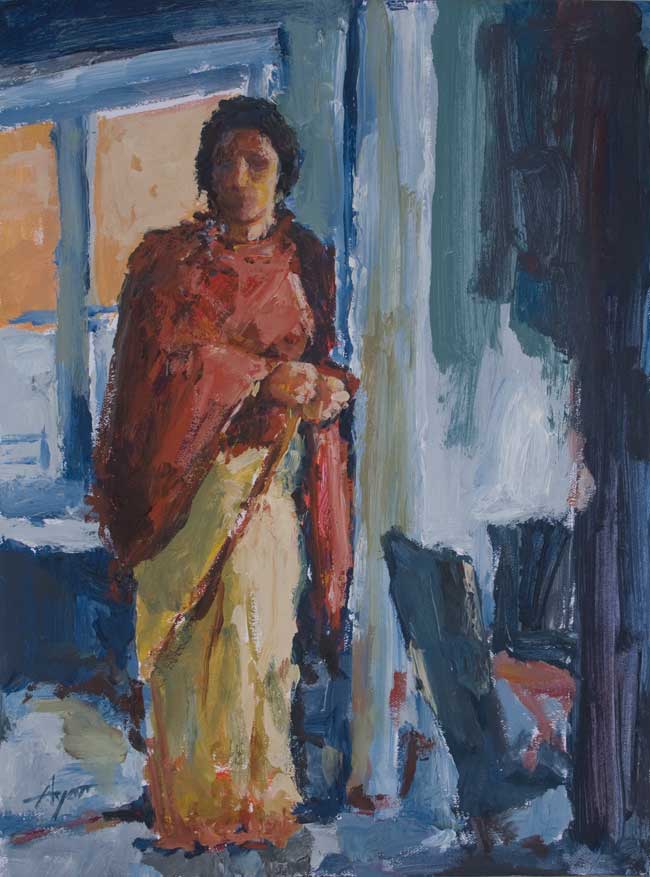 India in New York, 22×16.5
Just to prove there's no particular preference to "from the back" images, here's a frontal view. It's a "mood piece," (but then, all paintings should have mood) of a woman from India, transplanted to a New York apartment, and nowhere near being used to it.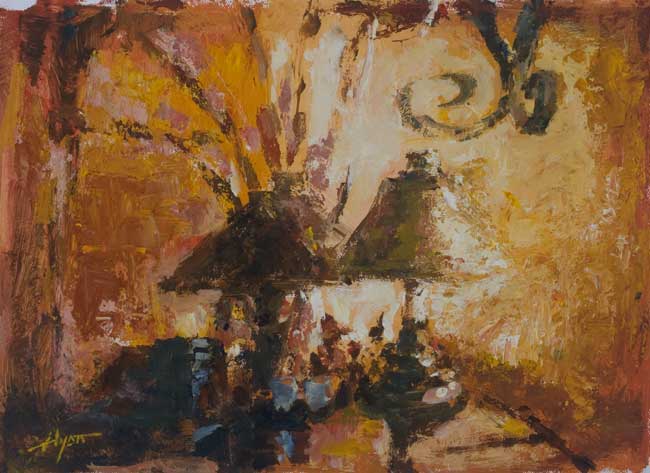 Lamp Shadows, 13×19
A still life works just as well with this acrylic on paper medium. This one, with its abstract elements, is from a photo I took on an early morning in our home. The side rays of brilliant light blast out the detail on one side and cast some very interesting wall shadows on the other.
Lavender Lovely, 15.5×18
Another mood. We can make up our own story about this one. Maybe she's a New Yorker in New York. Maybe the doorbell just rang and she's ready to go, but then finding it best to stay in for awhile. Maybe it's raining out and inside it's so cozy and there's no rush anyway. "Here" is almost always the best place to be.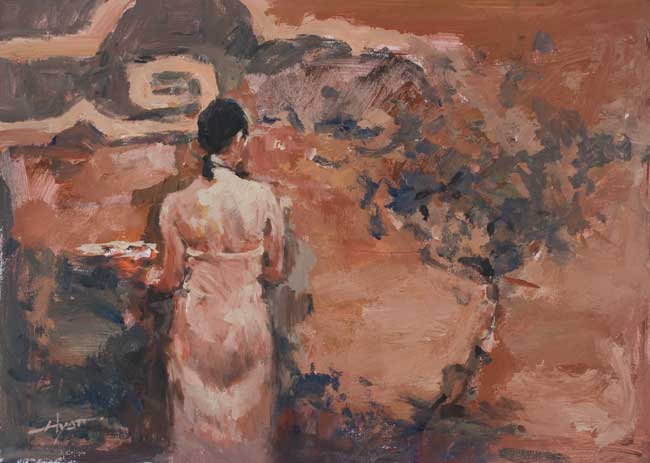 Painting a Wall, 13.5×19
And while we're inside, we can grab a palette, put on some painting clothes, and paint right on the wall. I was going to call this one "The Great Wall of China," but that name's already been taken.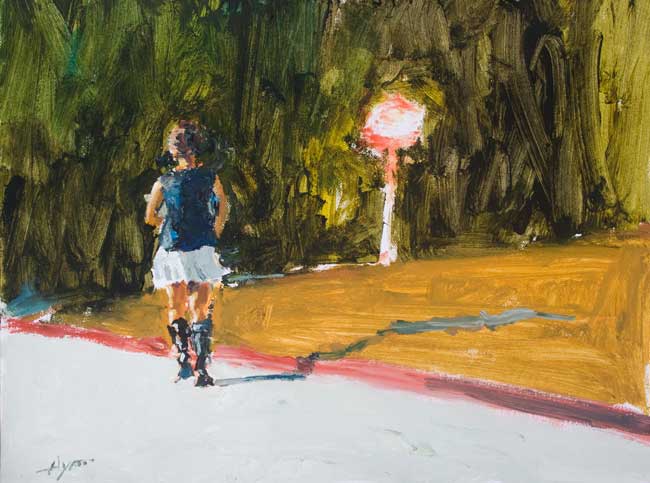 Stop Sign, 16.5×22
Back outside, with no rain in sight, class over, heading for the car parked somewhere beyond the trees. It's a scene of "in between," another place we often are.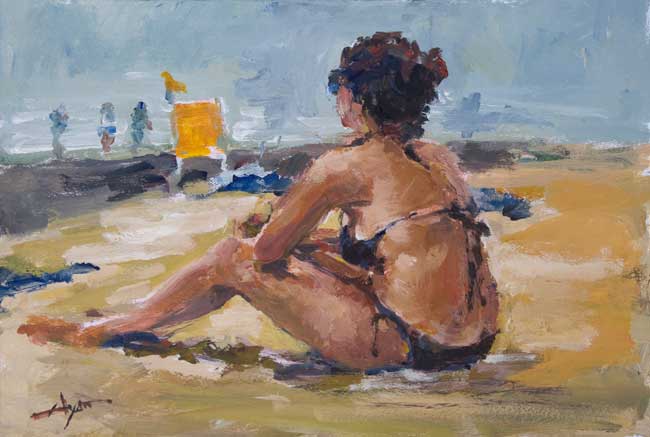 Yellow Sign, 11×16.5
Here we are on the beach in San Clemente last summer. I was painting the pier to the left, which was sitting still, unlike what this fog bather might do at any moment as she waited for the sky to clear. The sign was for surfers, dividing them from swimmers. Curious how three of the eight paintings shown here have signs in them. Directions for the new year? In any case, we close with this nice beach shot to wish you warmth through your winter.
Upcoming Events
Art Coaching for Painters

resumes Monday, January 5 in Dana Point
Call for your two-hour slot, 949-290-8643
Also,

Printmaking Classes

by appointment, same phone number.
Show Closing Reception and Talents Talk
January 10, 4:00 pm
CrossWalk Church
10421 Corporate Drive
Redlands, California 92374
909-796-3000

"Loosen Up" Workshop for Painters

(Click for more details)
January 17-18
San Clemente Center for the Arts
1531 N. El Camino Real
San Clemente, California 92672
949-369-6603