Once again, Anne will be the featured artist at Sandstone Gallery in Laguna Beach for the month of September. The most festive time to see it will be tomorrow evening, during the First-Thursday Art Walk. These events are always very social, the sidewalks overflowing with locals and tourists, pouring into and out of the numerous galleries that line the streets. The pieces below are just some of those that'll be on display . . . all the more impressive in person, handsomely framed, well lighted, and with the artist present.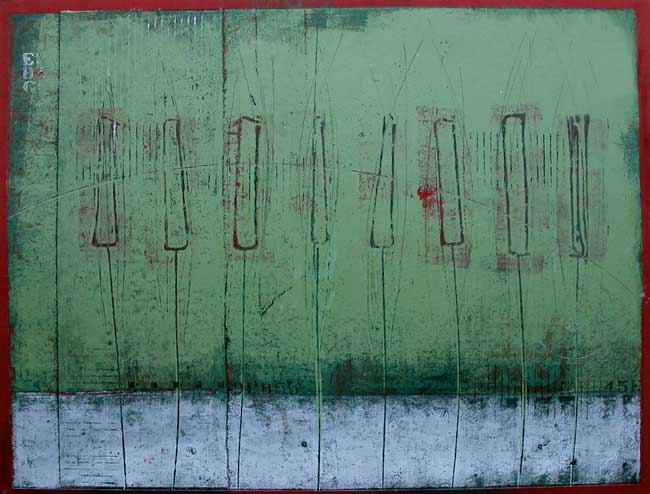 Parallel World, monotype, 19×25, click for more info
Some of these pieces are the same as were featured during the summer-long Laguna Festival of Art. That season has now passed for another year. It was a productive time for Anne, full of high reviews, and a number of people are now happy owners of her work. It's the color that attracts, and the shapes, and most of all, the intrigue of texture and detail and mystery of how this art is made. People always appreciate the explanation from the artist herself. But even then, it's a mystery.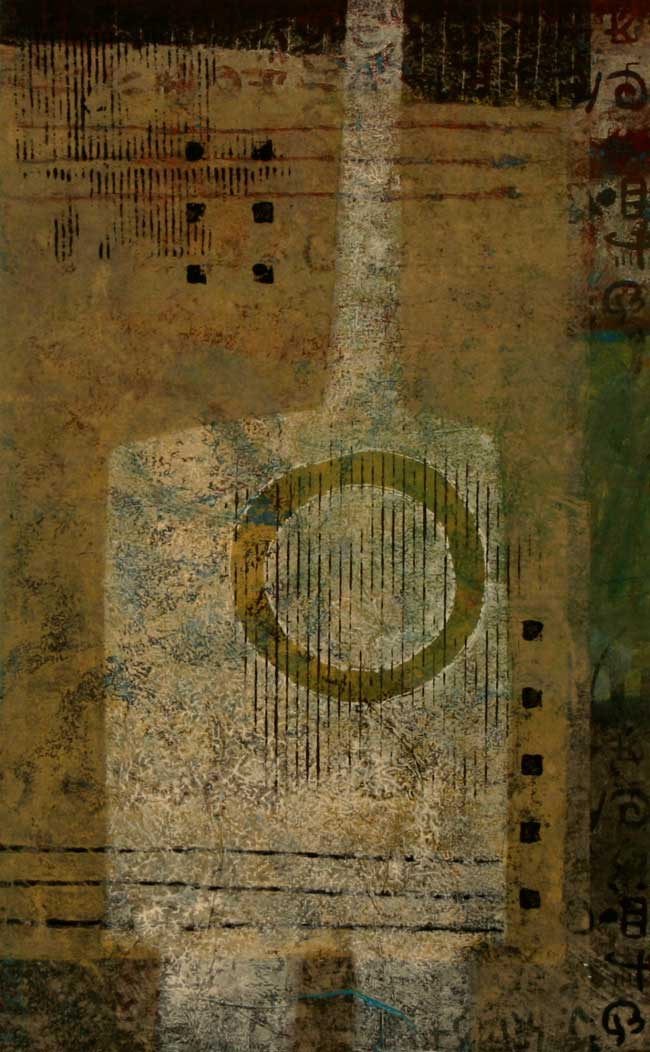 Unfinished Sympathy, monotype, 13.5×8
Don't let the sizes shown here deceive, limited as they are by width of margin. If you'll note the dimensions listed you'll see some are considerably larger than others; often the smaller ones here are really the larger pieces. That's another reason why you really need to see them in person.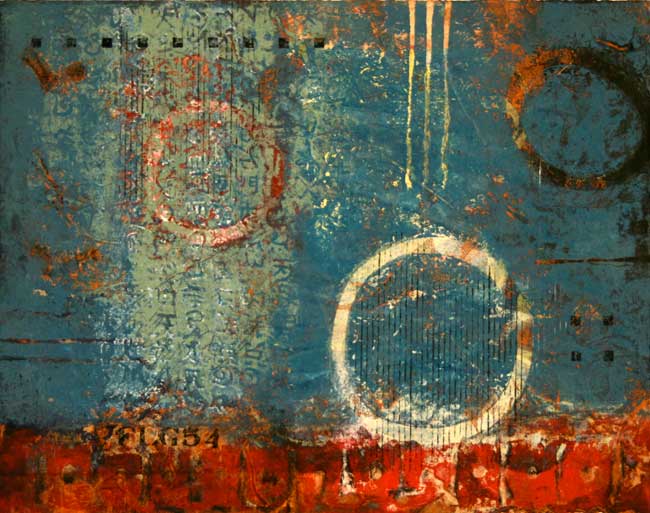 Unexpected Consequences, monotype, 12×16

This one, Unexpected Consequences, is also featured on the home page of Anne's website. For that, and a brief introduction to printmaking in general, click here.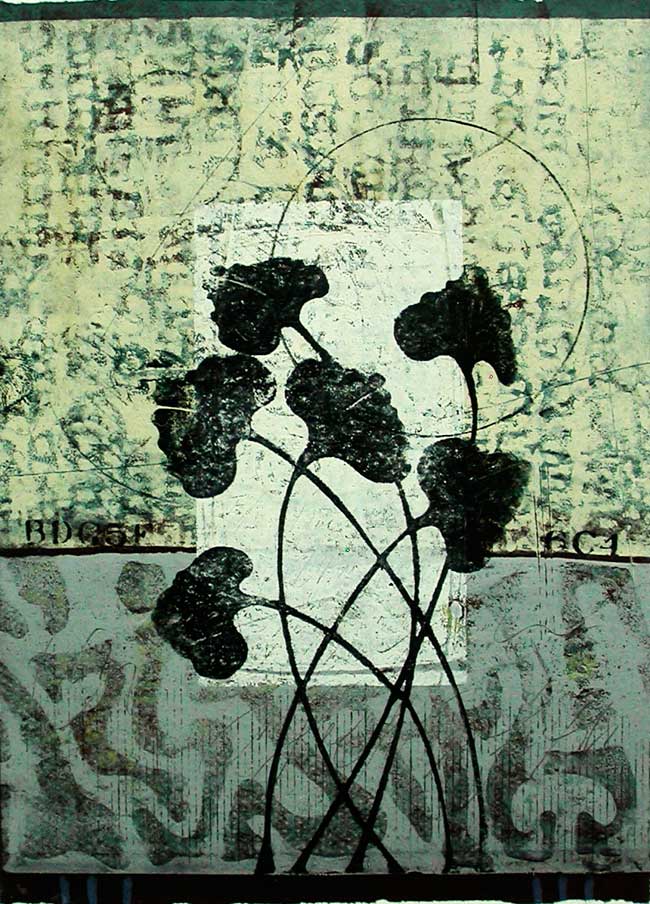 Infused with Grace, monotype, 17×12.5

Again, these pieces of art are best viewed in frames. Such can be as fancy or as large as you like. Anne's normal selection is a handsome single mat affair, with thick mat board so the bevel cut shows up well, then a simple black frame. The postage stamp-size rendition at left doesn't do justice, but gives an idea. The overall dimensions with the frame are 26.5×20. Don't let the color shift between the two photos throw you off either. These things can happen in the photographic process, taken at different times and under different lighting situations. The true colors of the art are somewhere between these two renditions. Quite beautiful, really.
A worthy link
But don't just take my word for it. Ask another "objective" observer. Photographer daughter Acacia Bergin, whose website we've directed you to before, just posted a blog with a quick overview of our art and home. Click on "Art in the Genes" to check it out.
Lecture and Demo Coming Up
On a Sunday afternoon a week from now, your friend and Anne's husband will be featured at the San Clemente Art Association as a lecturer/demonstrator. They've been advertising it actively and I've been told it could be a full crowd. But I've asked if I could invite my friends too, and they welcome it heartily. I still haven't planned the content, but on these occasions in the past I've at least begun a large painting (large, so all can see) and interspersed it with commentary of how I originally got started in all this, and the discovery of disciplines that have carried it to date. I'll also show some originals and have sign-ups for classes and the like. Details below.
Classes Starting
PAINTING. Being September, and the beginning of new things, we are both taking reservations for new students. I call mine "coaching," being intended for people with at least some experience in painting, and because it's individually tailored. They are two-hour sessions, on Mondays, either mornings, early afternoon, or late afternoon.
PRINTMAKING. Anne's classes are tailored to the time people can make them. Students always go away with a piece of art they can frame.
The cost is $60 per session.
If you're interested, contact us at 949-240-4642 or moore@hyattmoore.com.
Shows
Pressing Matters
Featuring Anne Moore
Sandstone Gallery
384 North Coast Highway
Laguna Beach, California
September 3-29, 2008
Reception: Thursday, September 4, 6:00-9:00 pm
Lecture/Demonstration
Featuring Hyatt Moore
San Clemente Community Center
Ole Hanson Room
100 N. Sevilla (corner of Del Mar)
San Clemente, California
Sunday, September 14, 2008, 3:00-5:00