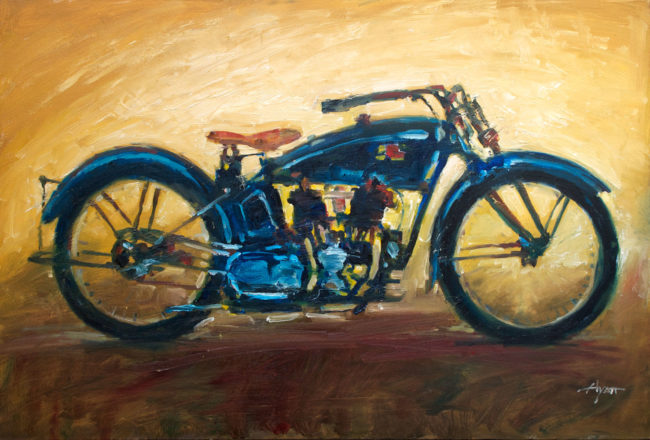 Excelsior, 1920, oil on canvas, 24×36, one of a number of vintage bikes I painted a couple of years ago.
I have a thing for motorcycles. Ask my wife. I can hardly go by one that's parked without going over to it and pointing out something I know about that particular make, model, or era. To her they're rather all the same, or so they would be without my continually sensitizing her to the nuances.
I first learned to ride when I was 14. It was at a family reunion for the Moore clan out in Rawlins, Wyoming. All Dad's brothers and sisters were there: Comer, Sterling, Muriel, Burwin, Melva and Orelle, all great names. Then, of course, there was Dad, Hyatt junior.
Sterling had a motorcycle, a German made Zundap, and Dad taught me to ride it. There was little risk there, out in the wilds of sage brush and jack rabbits and maybe a dirt path. Maybe! But I got bit by the thrill and after that did nothing but pine for a driver's license and with that, a motorcycle.
Actually, I didn't wait and got my first traffic ticket speeding down Pacific Coast Highway on a motor scooter. Happily that one never showed on my record. The reason: there was no record to put it on . . . I was only 15 and still didn't have a driver's license. But that's another story.
In high school I drew Triumphs on my notebooks. When I didn't own a bike, I borrowed one, and over the years got familiar with all kinds.
There was I time I loved dirt riding more than road crusing . . . the risks, the jumps, the speed . . . sometimes the camaraderie of doing it with others . . . or just the joy of being out in the wind and the roar, the surge of power, the freedom. And fun!
These days I can still get tempted to own one again. They can be very beautifully designed; maybe I'd buy one just to look at. And why not? It's what we do with paintings!
But I know I'd ride. And I'd ride too fast.
Life's horizon is approaching fast enough. Why rush it?
________
PS  Speaking of paintings, I've been posting some pretty interesting new works on Facebook of late. Check them out here.