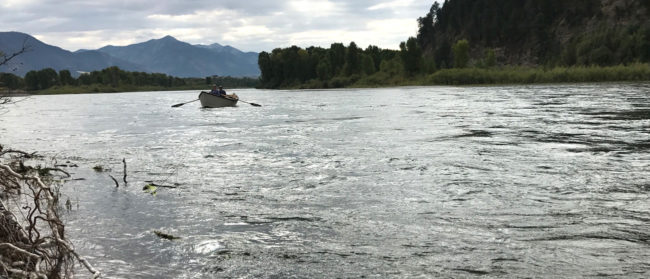 I wrote this blog last week, when we were in Swan Valley, Idaho. Snake River county.
If you missed, or didn't have time for the brief video summary, click here.
I walk over to the river. There's not much other for destination around here. That is, unless you want to take the longer walk down to the corner gas and grocery near the Roadhouse Cafe and the tiny post office. It's just a crossroads of a town . . . but that walk's on gravel road with no tree cover, so the short path to the river is better.
As I approach I smell it. Sorta like fish, or at least the smell I remember when I'd go fishing with Dad. It's the smell of a fisherman's hope . . . and it takes me back to Dad like no photo ever could.
It's the first time in a long time I think of him; I give thanks for him, remember that he was a good dad. And he loved to fish. Mom used to say she never knew anybody who liked to fish like he did.
And he was good at it. He had a reputation for catching when nobody else was, and more, and bigger. When it's that regular, it's not just luck.
All I can come to is that he thought about it. He thought about it before he went, knowing what he'd be after, what the fish preferred, when they'd be hungry . . . like that. He was also a patient man. He liked just being out there on the water, on the shore, on a pier. If they weren't biting, he enjoyed it still.
It wasn't a hobby/sport/occupation that took with me. A mutual friend once remarked that Dad probably wondered where he'd gone wrong, a son that he was happy to invite along, but never really loved doing it as deeply, and less as time went by.
I remember the last time I went out with him for mountain stream fishing. Instead of a pole I brought along a pair of binoculars, just to look around, especially at things right at my feet. I enjoyed that more than fidgeting around with tackle, waiting for what might or might not be happening beneath the water's surface, extracting a hook from the mouth of a squirming prize, or later gutting it . . . though at dinner I was happy to eat the results of the day.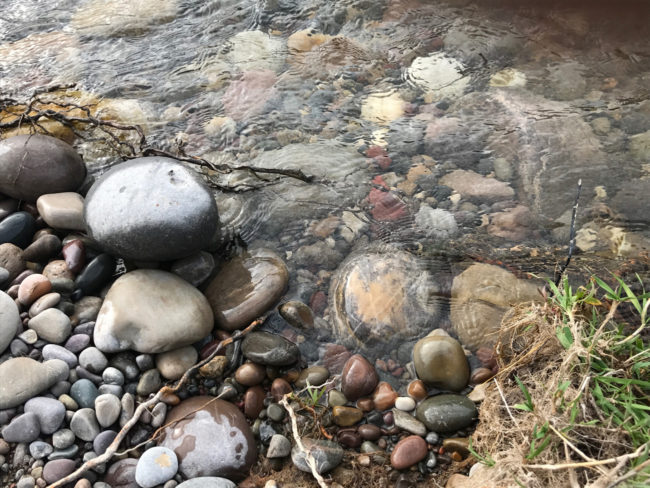 The view right at the feet is almost always just as wonderous as any . . . this one without binoculars. (On both, click to enlarge.)
But though catching fish didn't catch with me, I learned from it just the same. Someone told me once, after I saw it myself but hadn't named it, "FISHING IS A GREAT METAPHOR FOR ALL OF LIFE."
You prepare.
You go.
You wait.
You're active and passive both.
It's part luck, it's part strategy.
Sometimes you succeed, sometimes you don't. You're challenged to be content either way.
When you do succeed you don't take all the credit; there were other forces at play.
When you don't succeed, you don't quit, not if you're a real fisherman.
There are no guarantees.
Except one: If you don't go, you'll never catch.
Anything.
So, thanks, Dad. It was great remembering you today. I don't know what my kids will remember me for. I hope the fragrance is as sweet.
______
PS There are a few photos of Dad (and Mom) in the sample pages of the book I did for them . . . including a classic of him fishing!  Click here.