Before I opened it I recognized the letter and knew its content. Why? Because it's the same form letter I've seen so many times before.
Dear Hyatt, I want to thank you for your time and consideration taken in submitting your artwork to the Festival of Arts of Laguna Beach.  We received numerous applications but unfortunately your artwork was not chosen to exhibit in the 2018 Festival. I wish you continued success in your artistic endeavors, blah, blah, blah . . .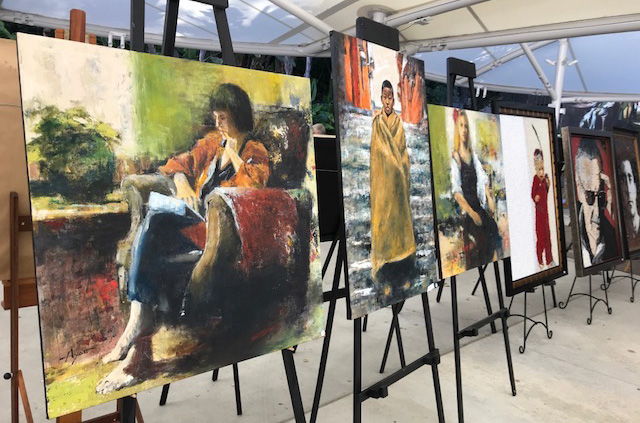 My three oil entries, next to some fine mosaic works.
"Numerous applications" is an understatement. As I was to learn, there were 198 applicants vying for just 28 slots. That means I was one of 170 to receive that letter! Bad news for so many.
I must say there was a lot of good art on display. Every applicant had three pieces, or more if entering multiple categories. So there had to be at least 600 works of art on the grounds: paintings, photography, printmaking, sculpture, jewelry and more. One could almost pity the judges!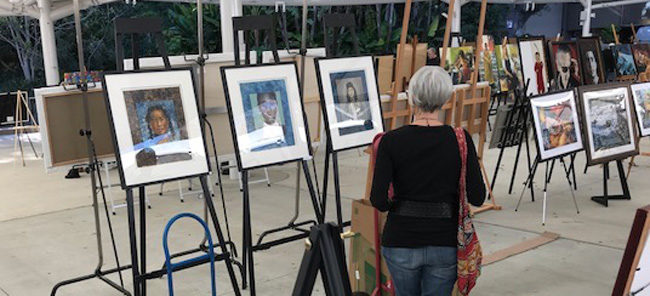 My assistant, Anne, about to remove my mixed media pieces. (Next summer I'll be her assistant again, and happy to be.)
I wanted to get a picture of the grounds to show the array, but it was spread out in various locations and by the time we returned most had already been removed.
This blog, then, is a reporting back after the last one, when I was heading in, full of hopes and optimism. That hope is gone, but the optimism remains. My work is the same, my guidance is clear: For this summer, "not there."
"The race," as I note in my It's About Life book, "is not to the swift . . . time and chance happens to us all."
Life goes on.
Next Events
I'll be the featured artist next month at the Sandstone Gallery in Laguna Beach; opening reception February 1, 6:00 p.m.
Anne and I will be the featured as visual artists with the Dana Point Symphony. The concert is February 2, 7:30 at Saint Edwards church. Tickets available online. The art reception follows.
Next month at the Hilton Conquistador Resort outside of Tucson I'll be doing another multi-day "public painting."
Currently working on an ambitious commission, The Beatitudes, on eight canvases, for a friend's church in Anchorage. I'll doubtless feature that here one day. "Blessed are the meek . . . "
New Venue
As of today I'm in a new venue in San Juan Capistrano. Wildfire is a beautiful western wear and accessories store. Just one of my works is there, but "western" is one of my genres, so we'll see what happens.
The painting: "Cool in the Sun," oil, 31″x45."