I thought I'd let you in on the process of the weekend, regarding my art. This Saturday is the big day when hundreds of artists from all over Orange County will converge in Laguna Beach to compete for about 30 open slots for this summer's Festival of Arts. Anne, as you know, has been in it many times, and will be again next summer. That's already decided. I've never been accepted.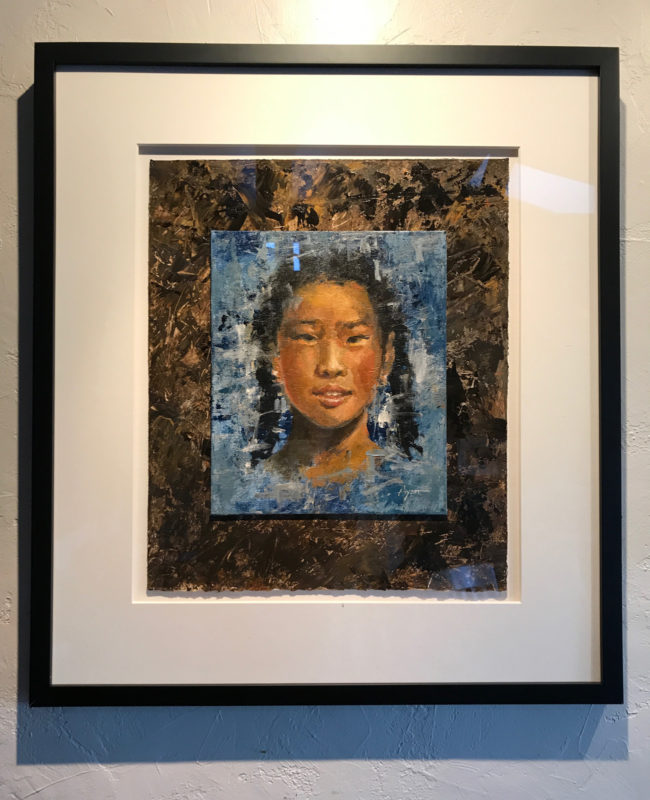 Daughter of Mongolia, oil over acrylic, 27×24 framed.
We don't compete, which is good. And I've always been proud that her work has been deemed at such quality for acceptance. As for me, I've probably entered work for the jurying about ten times and have never been accepted. So here I go again. This time I'm entering in two categories.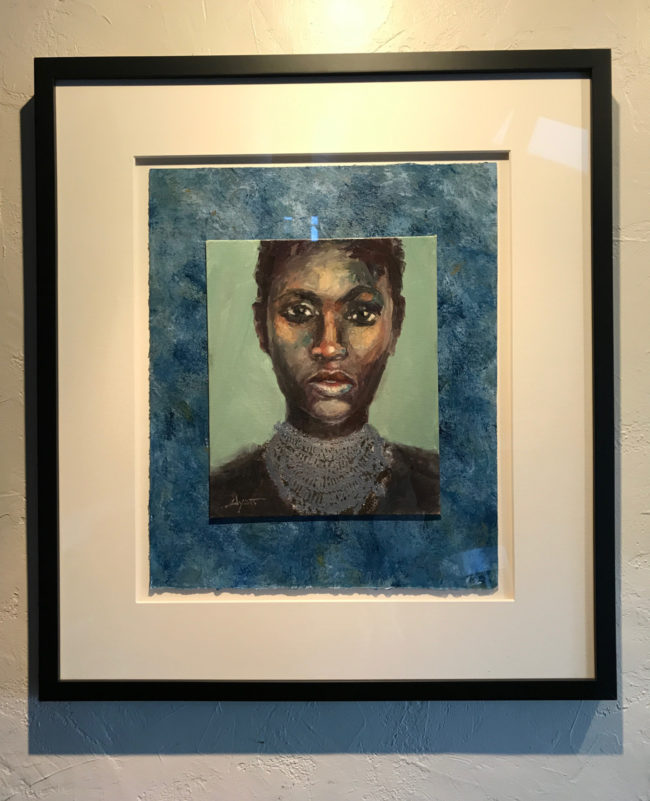 Silver Necklace, oil with silver leaf, 27×24 framed.
For each category, three pieces are entered. The category you're looking at here, with the frames, is "mixed media." That is, they're made with a combination of materials, in my case both acrylic and oil and sometimes gold or silver leaf.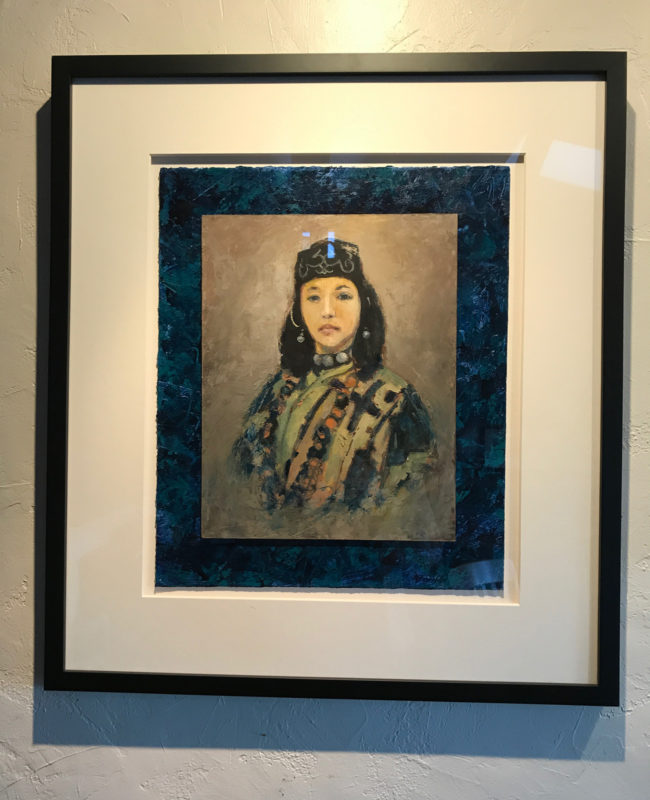 Japanese Classic, oil with gold leaf, 27×24 framed.
With all of these, click twice to enlarge.
To give the paintings a little more specialness, I mounted them on hand-painted abstract backgrounds, "floated" within deep cut mats, then placed in an elegant frame, behind glass. Hope you like them.  Hope they like them.
If they don't, I have more.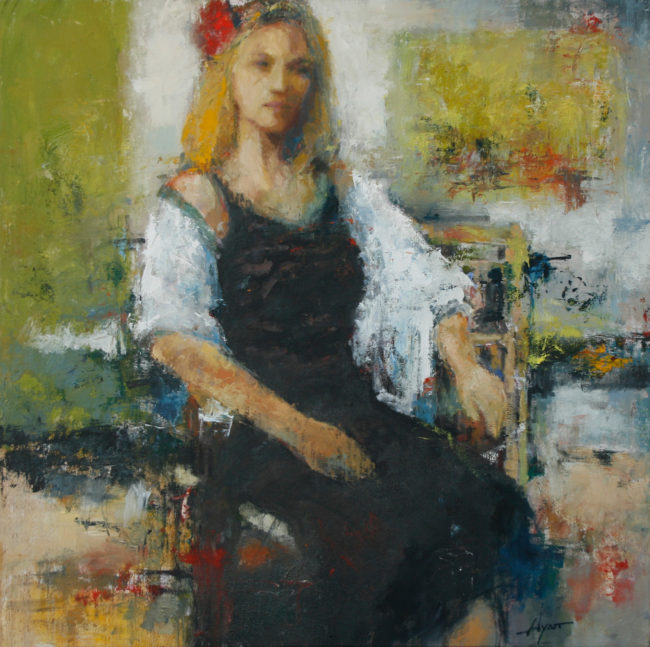 Sharon in Studio 2, oil on canvas, 36×36.
The other category I'm entering is "oils." This is my main medium in any case. I think I've displayed these before, if not here, on Facebook and Instagram. This and the following have an aspects of realism yet with abstract elements. "Sharon" began originally from a model session in the studio.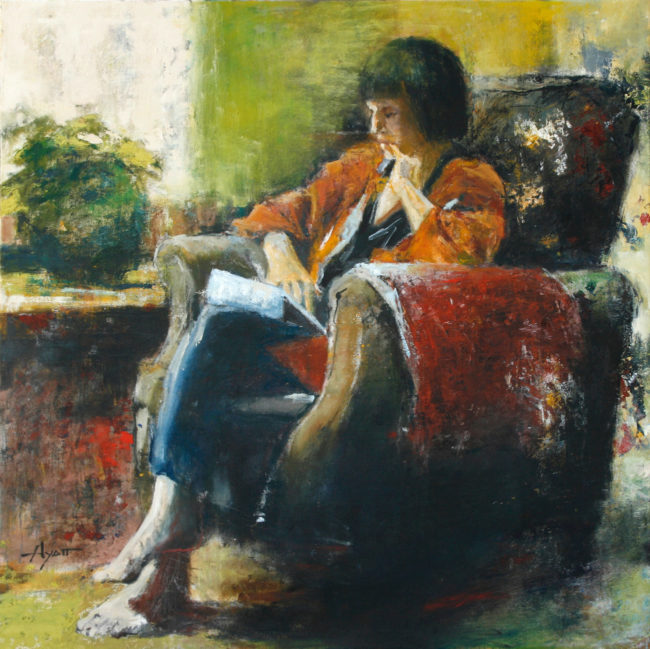 Morning Meditations, oil on canvas, 36×36.
Here's a match, similar style with the abstract touches. The pose came from Anne as she spends the first hour of her day in her favorite chair. I liked the pose but didn't want her specifically, so I changed the face. What I ended up with was a likeness of Anne at an earlier time. I think it's a keeper.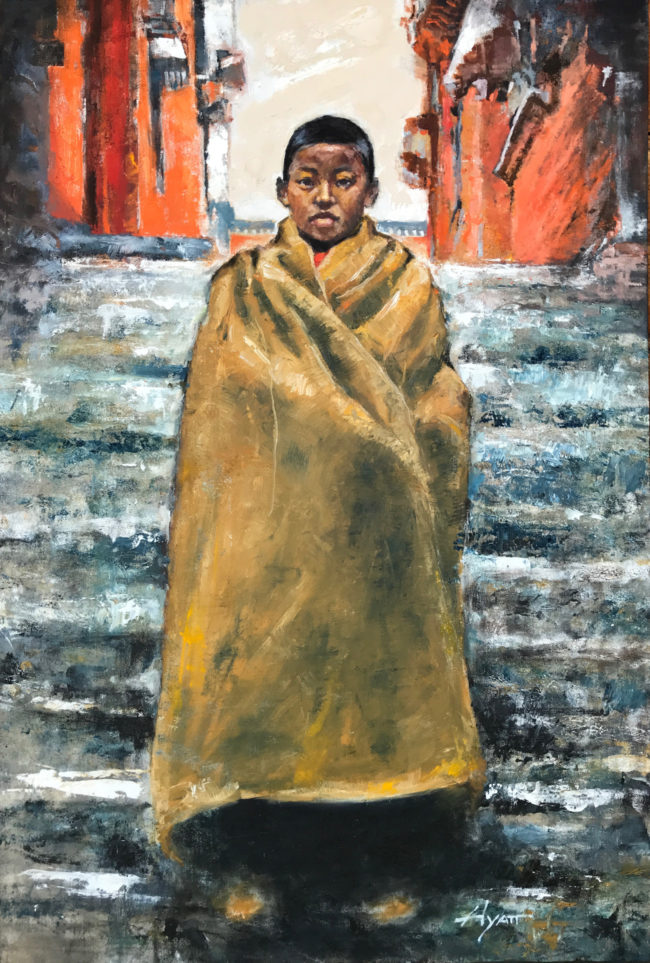 Child Monk, oil on canvas, 44×29.
For the third in this category, I'm submitting a piece done recently on spec. I thought maybe the photographer of the photo would like the painting. He did, but not to buy it. So I have it. As for the judges, they don't have to buy it; just to like it.
If nothing happens, it's not the end. If it does, I'll let you know, either soon or eventually.
Wish me luck.