Anne and I were in Washington, DC this last weekend with several hundred others for an event entitled IllumiNations. Once again, as I've done before at these, I painted live.
Here I am set up at the Mandarin Oriental Hotel, the figures already painted.
(Apologies to those who already saw the development of this on Facebook.)
Mine was a small part of a grand affair. It was a gathering of ten agencies dedicated to translation of the Christian scriptures into the remaining languages still without them. Among the guests were people of both heart and means to help it along.
This time I did much of the painting in my studio in California and sent it across in a mailing tube, stretching the canvas on location. Then, over two days, between attending many of the sessions myself, I completed the painting.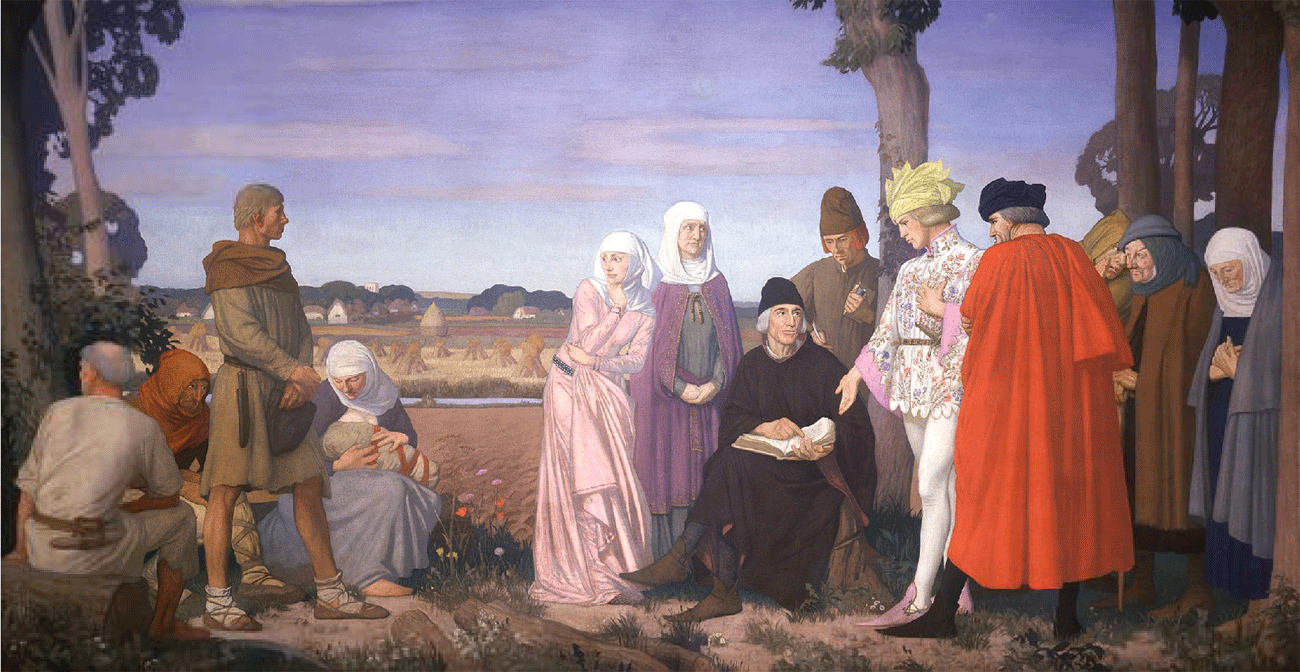 The English People Reading Wycliffe's Bible, 14.5 ft. x 10 ft. All levels of society sought out the teaching.
My inspiration came directly from another painting by Sir George Clausen. In 1925 he was commissioned by Parliament to depict a great moment in British history, the first translation of the Bible into English by John Wycliffe. Considered the "Morning Star of the Reformation," Wycliffe lived 100 years before Martin Luther. Such activity was heavily frowned on by the authorities, thus the outdoor setting and the furtive looks by at least one.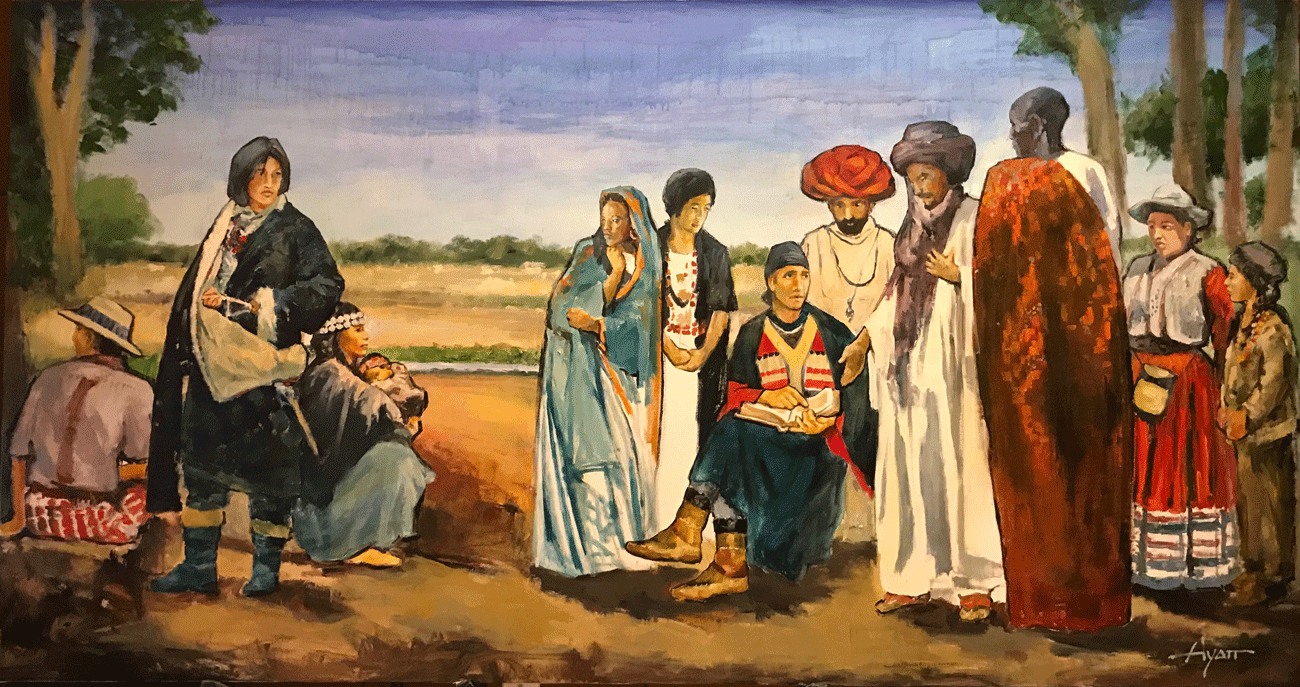 The Work Goes On, 7 ft. x 4 ft. Oil (figures) and acrylic (background). For each, click to enlarge.
You'll recognize compositional similarities between Sir Clausen's and mine. I used images of tribal people in mine to illustrate the languages still in focus. In a great many cases, it's these people themselves doing the translations, with assistance of various kinds. The groups I used are (from left): Guatemala, Tibet, Chile (with child), Kenya, China, Georgia (seated), India, North Africa, Kenya, Peru and Bhutan. My title: The Work Goes On.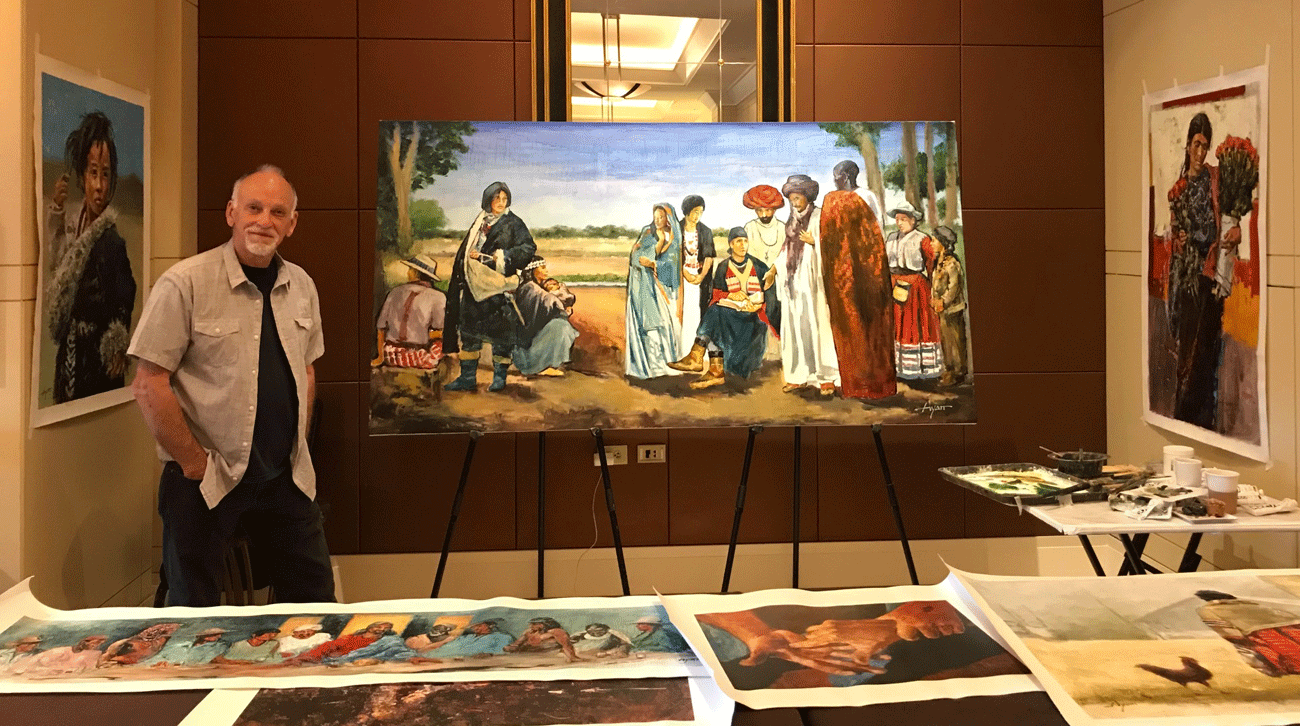 Relaxed at the completion. I was grateful for the small alcove of a "studio."
During breaks people milled around and watched, or I'd take a break and talk. Note the prints on canvas or other originals I brought along. Happily almost all of them found other homes in the process. The mural itself will adorn one of the headquarter offices of the IllumiNations group. All ten of the organizations received a framed print of one of the faces depicted in the painting.
_________________________
Next
This week we'll both have new shows at the Sandstone Gallery during the Laguna Beach Art Walk. That's 6:00 till 9:00, Thursday, November 2 (Anne's birthday, yikes!).
After that we'll travel to Egypt for ten days. More about that another time.
Then, mark your calendars for our Show at the House, the weekend of December 2 and 3. Hope to see you.