Anne and I are both opening tomorrow evening at the Sandstone Gallery in north Laguna. You may know that we are regular members at that gallery, but only once in a while are we the featured artists . . . and this is the first time together. The show will be up all month, but the gala opening is tomorrow, Thursday, October 5, 6:00-9:00.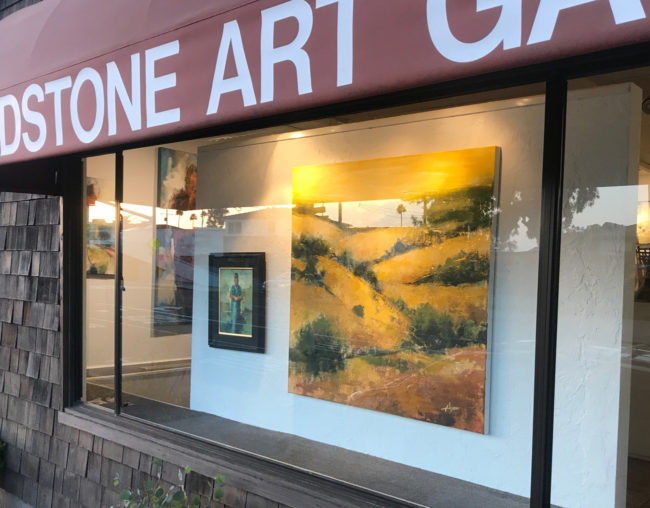 Those are my pieces in the window and behind. Just one landscape is featured, a large impression of the California hills. Sandstone features abstract and semi-abstract artists only, thus this is kind of work I show there (mostly).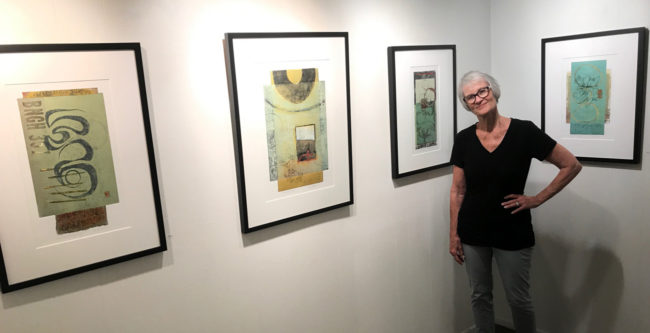 Anne is showing some ten new pieces. Most of these were finished during our recent art making retreat in Idaho. If you missed the video showing that, see the most recent Blank Canvas blog, here.  (Also, click these photos to enlarge.)

These photos were taken as we were finishing up the hanging, with nobody around. The environment is much different on art walk night, with crowds milling through. All the galleries on the street are open, the weather is almost always perfect, and it's just a great time to be out. All the pieces I'll be showing this month are on my website page dedicated to the Sandstone Gallery, here.
As is my wont, I'll be painting live Thursday evening, which is always fun for everyone, especially me. Besides Anne and me, many of the eight other artists of the gallery will be there with their great work.
So, come if you can. You'll love it. And so will we.
Address: 384A  North Coast Highway, Laguna Beach, CA, open daily, 12:00-5:00.
Art Walk: Thursday, October 5, 6:00-9:00.