We've got two shows this month and want to alert you to both, and invite you. The first opens tomorrow, during the Art Walk in Laguna. The second is our show at the house. Scroll to the bottom for details on that one.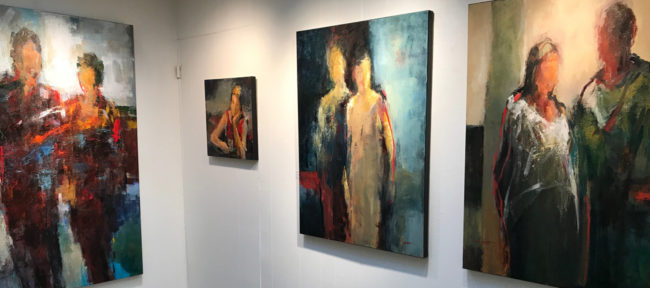 The First Thursday Art Walk is always an artistically invigorating time. And it's fun, with all the Laguna galleries open and people strolling around, checking the art out, and each other, as well as just enjoying the air. Above are four of my pieces on display at the Sandstone, the two on the right being very recent.

As part of the gallery, both Anne and I display work there all the time. But sometimes there's more space, thus: "a show." Though these photos were not taken with posting mind, there's just a peek at Anne's work in the far room. My foreground girls are not new, but have never been shown in a gallery.
(As with all of these, click the photo for a larger view.)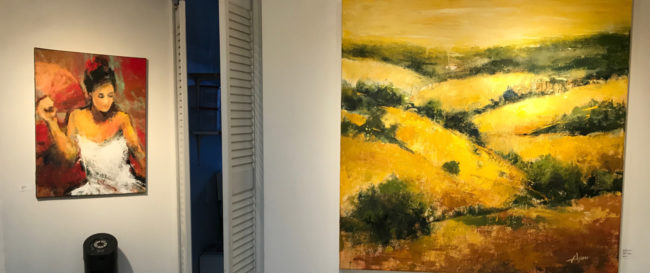 If I'd thought I was taking these pictures to post, I would have at least closed that louvered door. Oh, well. The abstracted landscape is the only non-figurative piece in this show, but it's one I personally like quite a bit (as I do the girl with the fan). The show opens tomorrow evening from 6:00 till 9:00, then runs all month, every afternoon but Tuesdays.
That's at the Sandstone Gallery, 384 North Coast Highway, Laguna Beach.
.
Then, in just three weekends from now we'll be hosting our semi-annual Show at the House. Here's the official invitation.
Come, enjoy the house, and feel free to bring any friends. And don't forget the chance to guess how many paint caps in the jar for a free painting!!!