Thanks to our friends Bruce and Sandy Wegner we had use of their cabin in the mountains again this year. Since Anne was just juried into the Laguna Festival of Arts again, she had plenty of reason to produce lots of good art.
(Double click on photos for larger views.)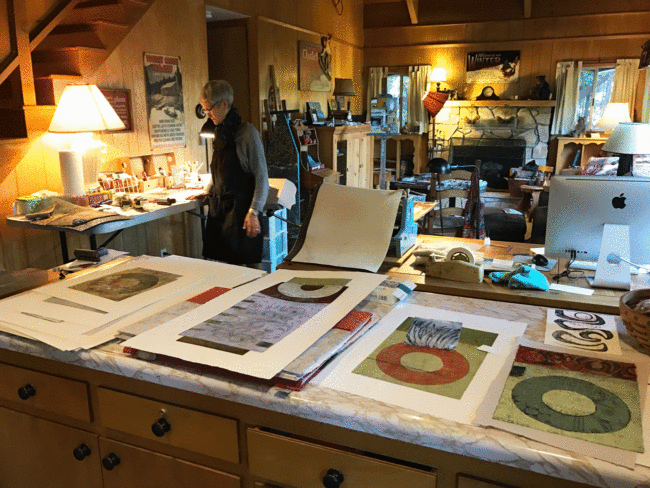 That's the cabin on the left. Sorry its such a small shot. You can see it larger, and our blog on last year's time here. Above is how the place looked after we turned it into a studio and had been at it a couple of days. That's her press on the table (under its blanket) next to the computer, where I spent a lot of time.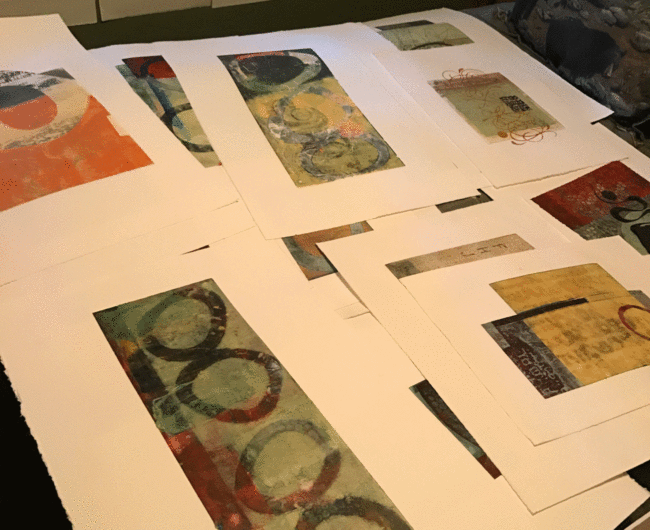 Anne brought a lot of unfinished pieces, awaiting further inspiration and more time to work on them. In these almost two weeks she worked on 40 pieces!
One of the challenges is where to put them all as they're drying. All the walls were used as well as this guest bed.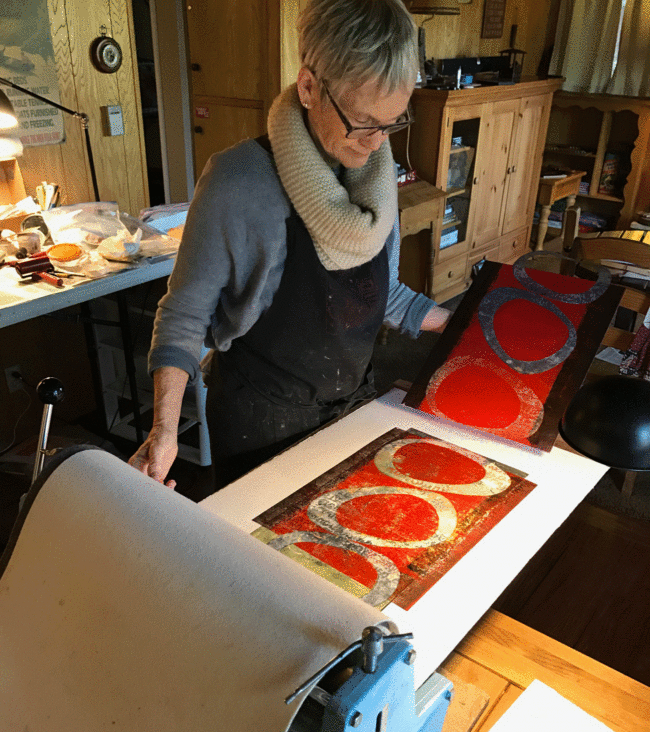 Monotype printmaking, the way Anne does it, involves a number of layers. It's part intelligent design and part discovery of what will happen. Here she's just lifted the plate off the paper after running them through the press. Note where part of the red ink was masked off by those ovals, also of her making.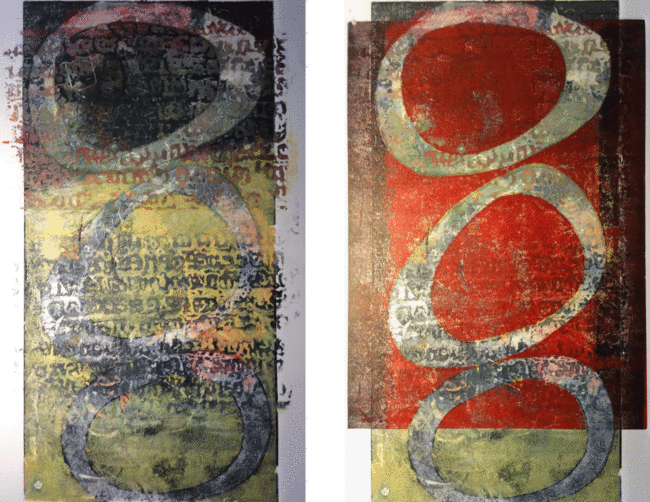 To give an idea how these things can change with every new layer, the above shows the finished product (right) with how the piece looked just before that. Even that one (left) had multiple layers to get to that point.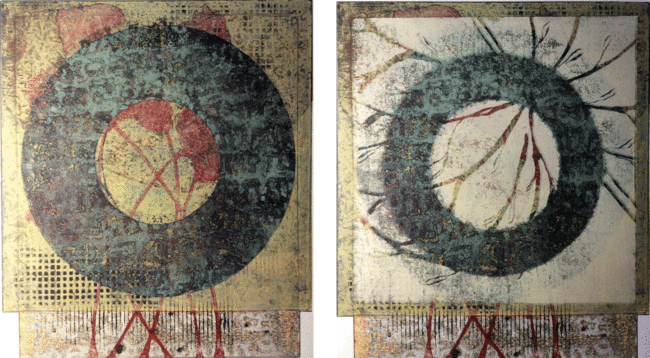 Here's another "before and after." You can see why it's sometimes hard to know when a piece is finished. I'm always looking at her unfinished work and calling it beautiful. But she's not satisfied till she's satisfied.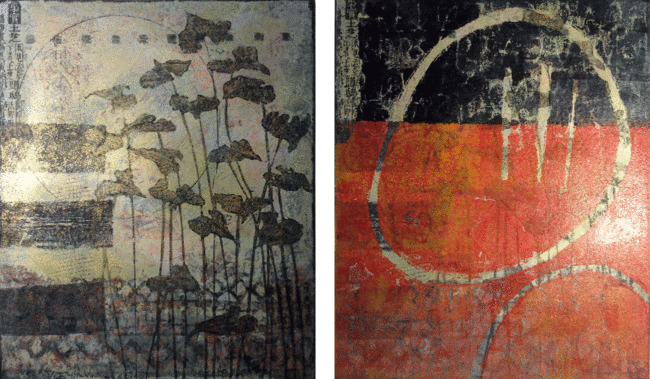 Talk about transformation, here's another. You can hardly tell the one on the left led to the one on the right. But the first is forever gone, serving now only as underlying intrigue for the finished work.
For her book showing many more examples of finished work and how it's made, click on Art Under Pressure at right.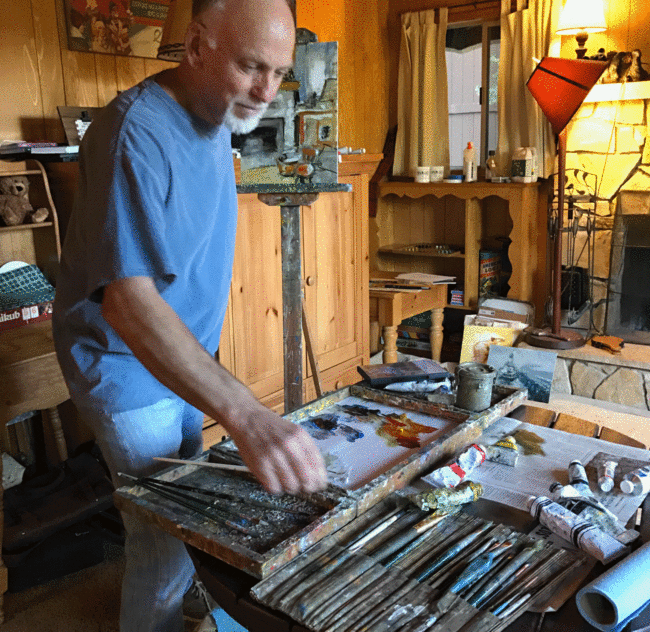 While Anne was super productive in both quantity and quality, I painted very little this trip. Here I am getting started on a little piece I didn't keep. I spent the majority of my time writing, another of my interests/artforms. So at least I wasn't frustrated when the painting wasn't going so well.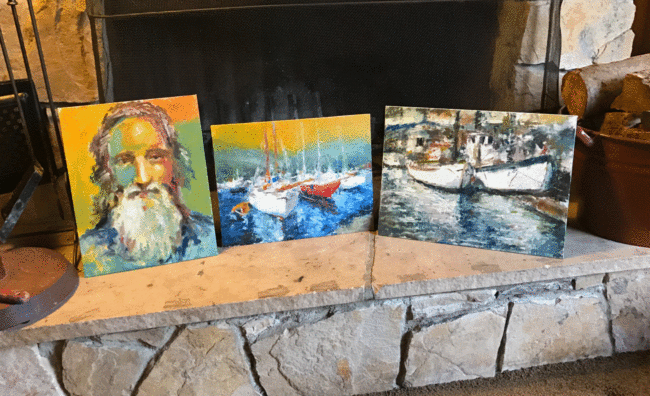 I was trying a new style which I thought would be easy, but wasn't. Here are three small works I kept . . . nothing like the numerous big ones and a score or so of barn paintings done last year. (See the book created from those at right.)
Did I say I was less than pleased with some of my work? Here's how four of them ended up, in the flames. I will say our fireside times every evening, with a book or a movie, were part of the delight of everything.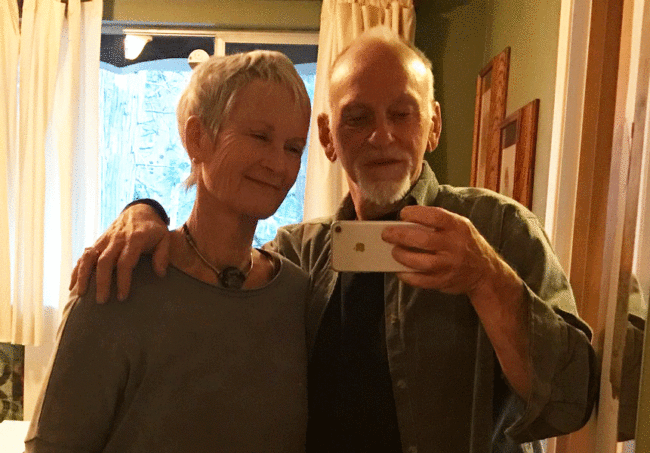 And finally, a selfie in a mirror on our last day, celebrating our 51st anniversary (tomorrow). With five children and 16 grandchildren, most scattered around the country, we're rich. And grateful for all things.