Here's a book full of fun renditions of beautiful barns in their colorful and imaginative environments. And here's an overview of its making.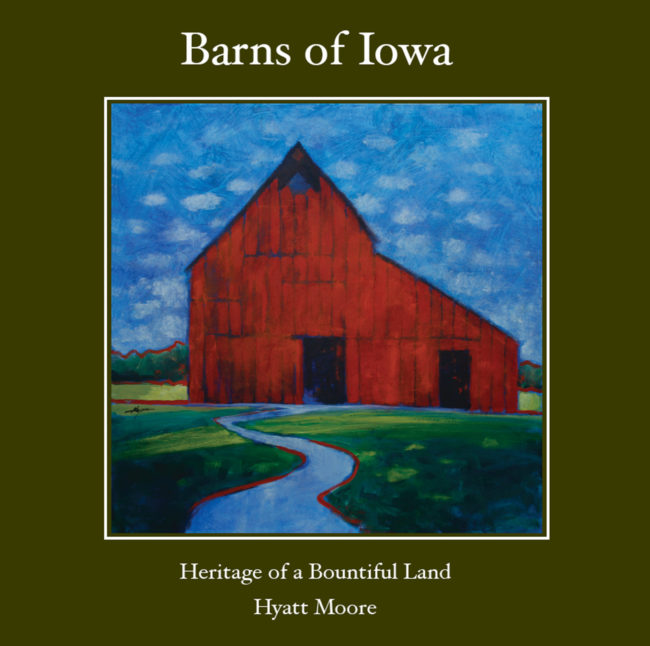 It's another of my 8-inch square series, in full color. The original of the cover painting hangs prominently in the inn's lobby.

For all these photos, click to enlarge.
It's been about two years since the project started. That's when I was approached with making a couple of paintings for the University Park Inn and Suites in Ames, Iowa. They were redecorating their whole operation, new furniture, new fabrics, new colors, everything, all under the guidance of a professional hotel interior designer. From my two or three paintings they would produce prints to hang in each room. But I countered with a better idea. I would make original paintings for each room.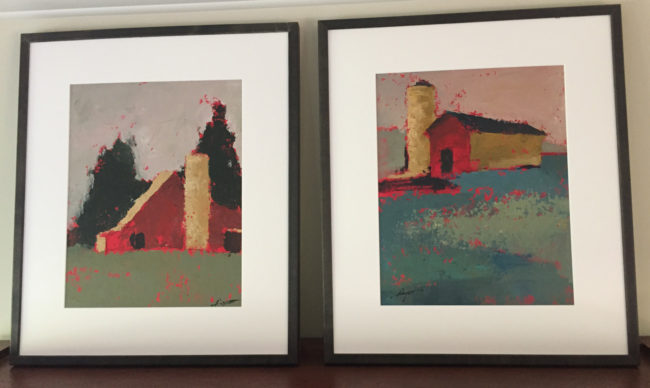 Matted and framed. When there was to be two in a room, I made a matching set.
Of course, the expense of that was a factor, but I proposed quickly done pieces with a minimum of direction coming from them. They would just supply photos, I would make renditions, and they would accept whatever I sent. They agreed and we were off.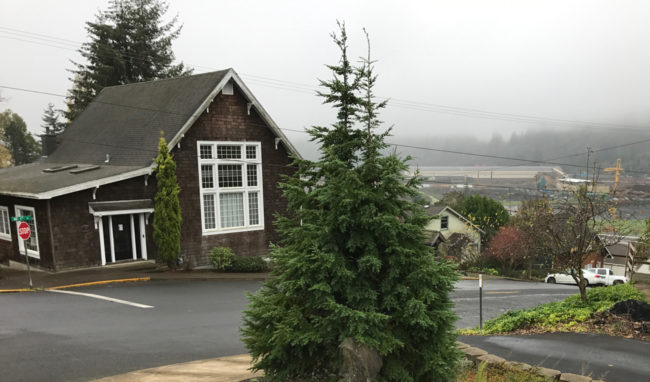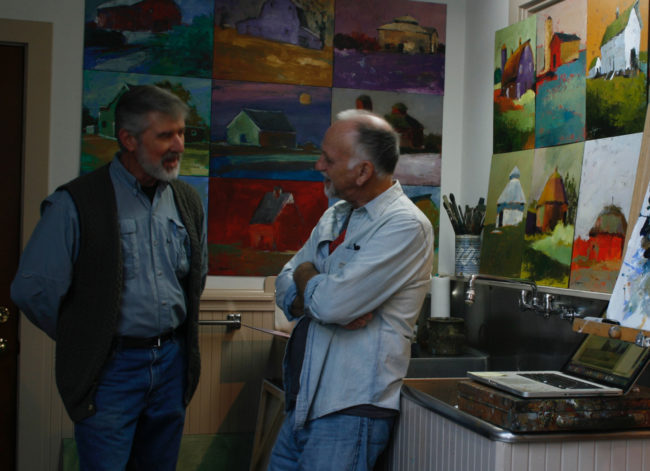 (Top) A view of Toledo, Oregon and (bottom), two painters enjoying life.
As the redecorating of the whole place happened over time, they didn't need everything at once. So I supplied the paintings in spurts, working on them during our various art-making breaks in different locations.
The above two photos are the setting in Oregon where we go every year (and were again last month). That prominent building is not a barn, rather a converted church, the studio of our host, artist Michael Gibbons. That's him chatting with me in front of a group of just completed barn paintings.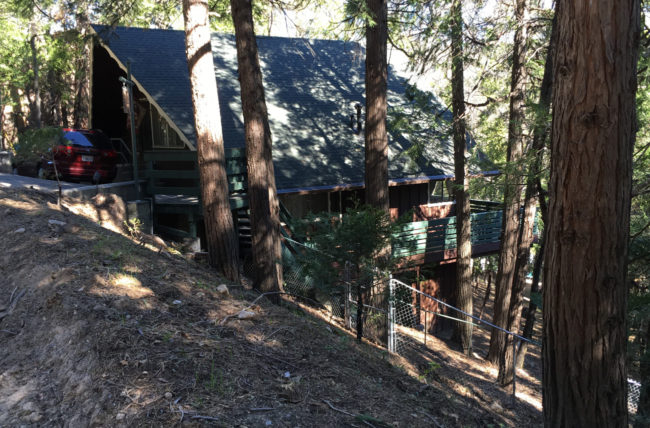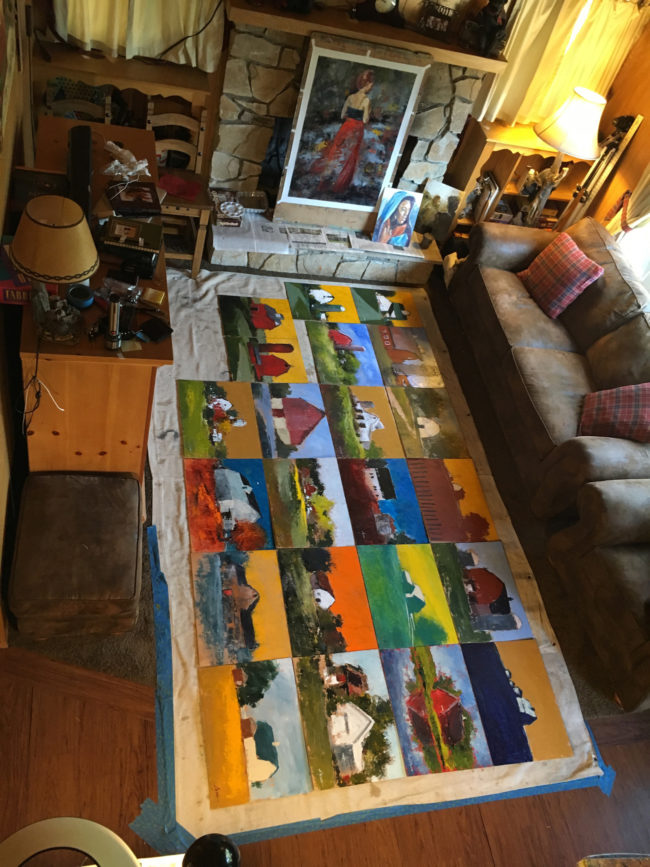 (Top) The cabin in the pines and (bottom) 21 barns produced there.
Some will remember previous blogs that featured these trips. We set up a studio in these various places; Anne works on one side and me on the other. In the end we photograph our production. The above photos were taken earlier this year in Crestline, California . . . a place we will return to again soon.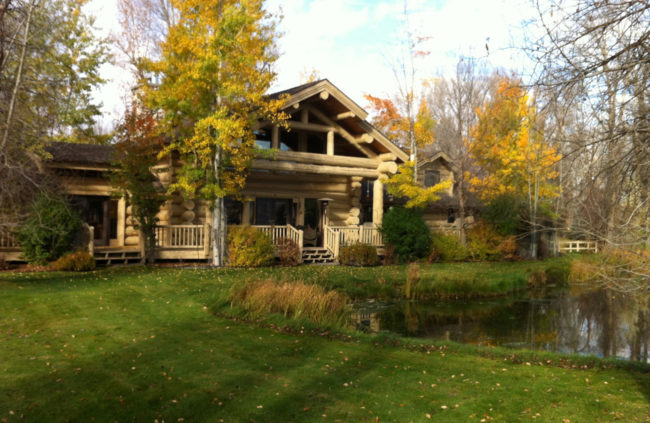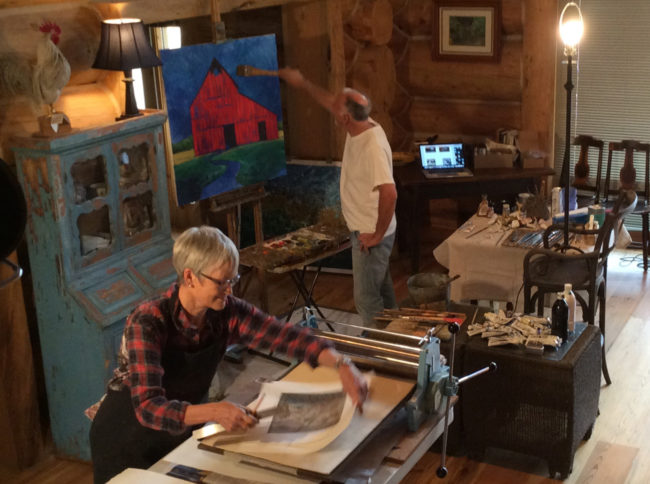 (Top) The secluded get-away in Swan Valley, Idaho with a private trout pond. (Bottom) Two artists at work (never fishing).
Here's another "cabin," this lent by a friend who built it. Quite majestic, no? Here you get an idea of Anne at work too. We take her press along and all of her paraphernalia, as well as all my stuff for painting–acrylics and oils.
Barns are not a subject I'd done much before, more like never. But it's a fun one, particularly when with a worry-less, carefree abandon of anything goes. Well, almost anything.  A few of them fought back at me and I'd have to bear down. But I tried to always keep it light. Here's a sampling of how they look in the book. If you click on the pages you can even read the haiku.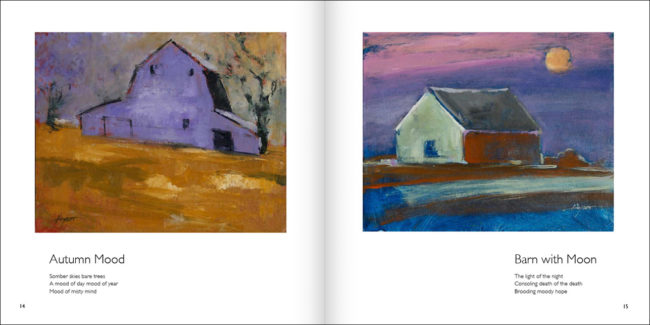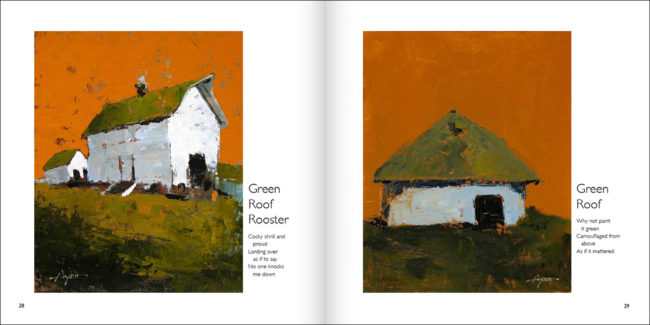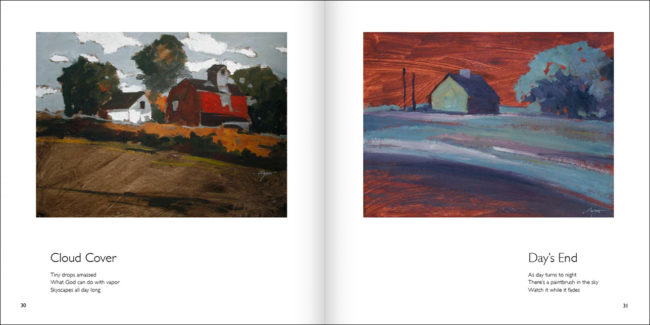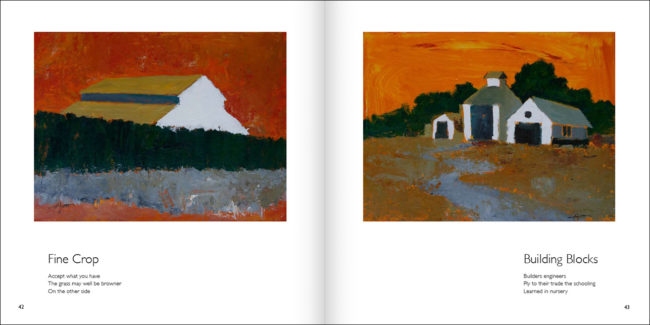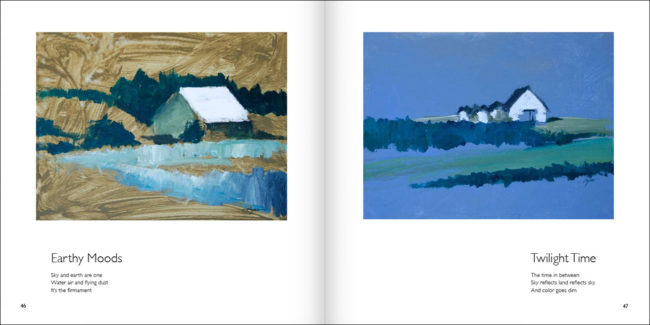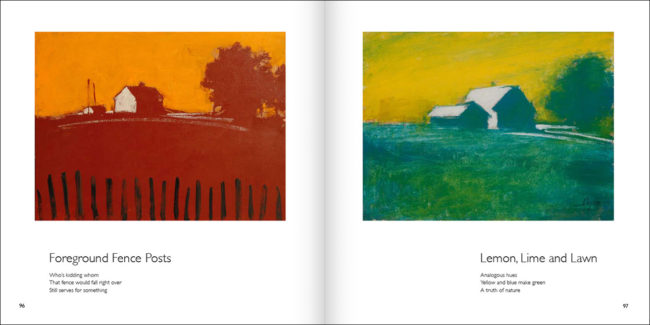 While the inn owns all these paintings, it's only in this book that they can all be seen. The originals are all spread around in the rooms. It makes the book all the more special.
The haiku came late, actually after I had the first draft of the book in hand. I realized it still needed something. So, with the five syllables, seven syllables, five syllables rhythm I let the mind flow and they just came out. Actually, they were written a lot like the pictures were painted, with a light touch and not much worry.
In the end, the folks in Iowa loved them all, the paintings and the books. Here's a quote from the owner, Anne Burgason, after their first books arrived:
"The books, in hand, are so delightful!!  What a fruition (is that how that word is spelled?) of two years of creative, inspirational diligence…and a melding of artist and entrepreneurship.  We couldn't be more thrilled with the gift and tool it is to us.  The poems were the perfect ending inspiration and addition."
So there we are, another book. You can have it too. Good for gifts, and good for you.

For pricing, more samples pages, and ordering info, click here.
For a list of all our books, also great for gifts, chick here.