We went to France, as last year we went to Italy, and once again it was an eye-opening, mind-expanding, foot-wearing experience . . . and beautiful in all aspects. No, we'd not been there before . . . except once passing through on a road trip to elsewhere. We were impressed by many things, not the least the friendliness of the people (regardless of my nil-knowledge of their language), the deep history (basically all through medieval times, and gothic, and contemporary), as well as the beautiful countryside. Then there was the art.
Being an art and art-history tour, with students and staff of Laguna College of Art and Design, we took in a lot of it. We toured museums, often at the rate of two a day, accompanied with on-site lectures by our own art scholars. We also toured towns and many sites with knowledge sprinkled in by local tour guides.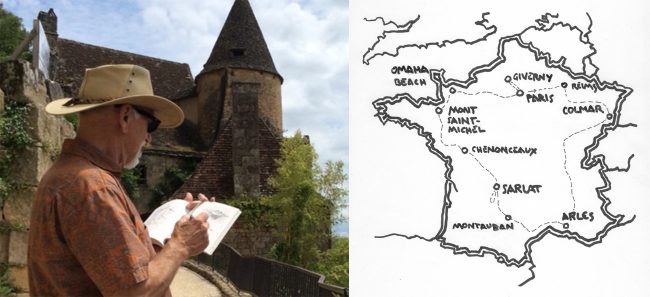 A quick sketch in Dordogne, south of Sarlat. The map shows the extent and route of our tour, starting and ending in Paris.
Being a group of artists, on-site sketching and, for some, water color painting was a value. Once again I filled a book.  Without realizing it, I'd purchased a sketchbook that was thicker than the one I carried with me last year on the Italy trip. Instead of 120 pages, this one was over 160. With the trip being just under three weeks in duration, that meant a lot of sketching every day. You do the math.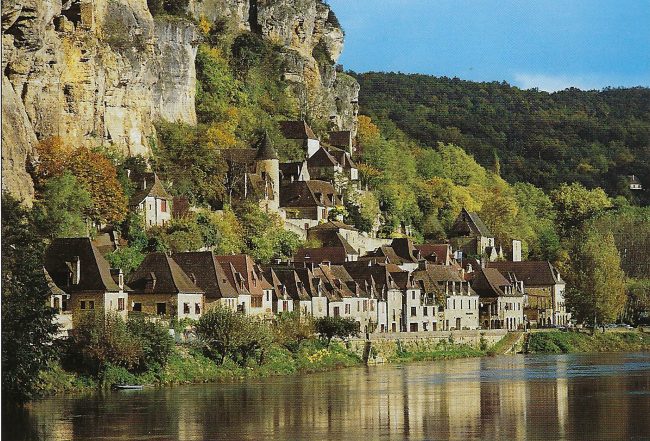 Le village au bord de la Dordogne.
Here's where I was sketching when Anne snapped the above picture of me. You can see the same tower in the upper-middle.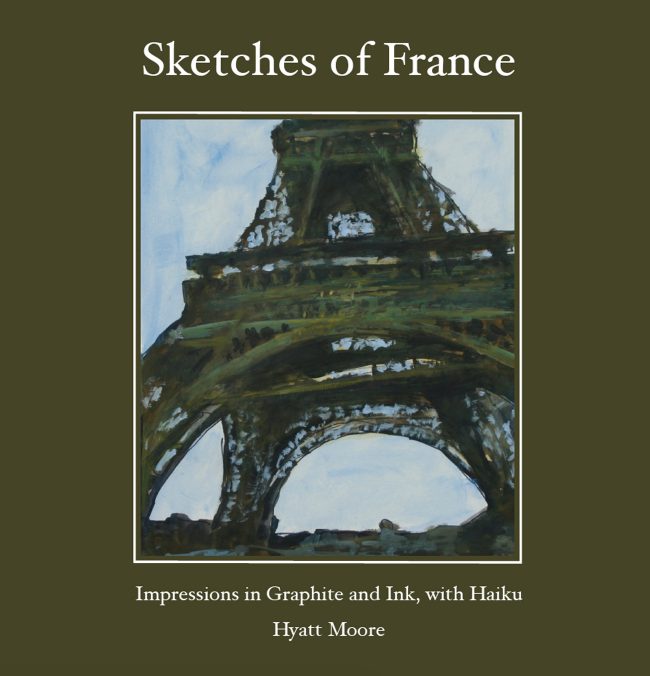 Here's the result of the efforts, another in the series of my 8 1/4″ square books. Following are some sample spreads.
As with all of these, click to enlarge.
A great many of the sketches were done in museums, like this detail of one by Paul Cezanne (left), from a life size photo of Claude Monet, and of one of his landscapes (seascapes?).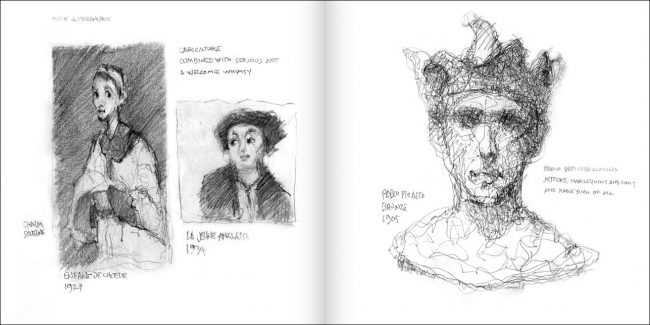 I sketched what struck my fancy . . . like these big eyed caricature paintings by Chaim Soutine and this bronze bust by Picasso.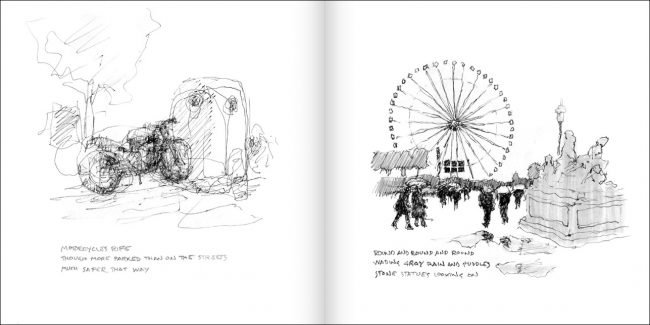 Sometimes the sketches were of the environment, like this parked motorcycle (of which there were droves) or this Paris center scene with all of us hurrying through the rain.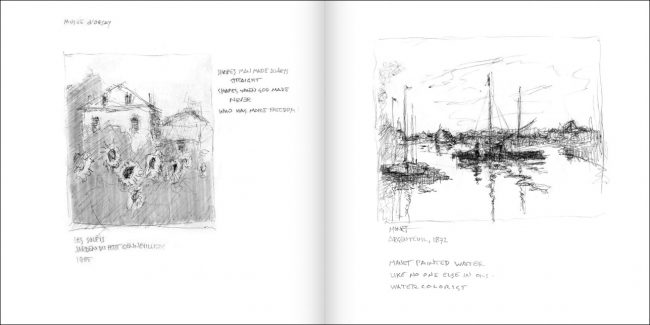 Some of these drawings really need color to show their beauty, particularly those of Monet, but I stayed with line, and their art still translates strong.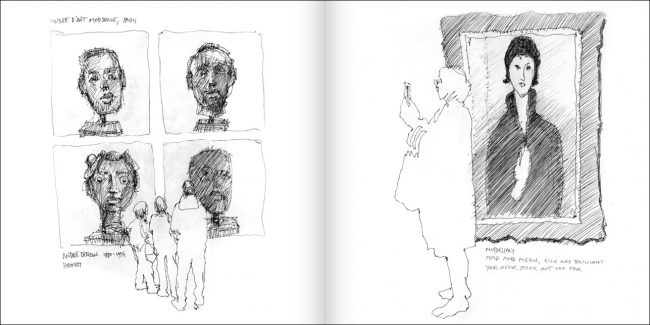 Often the people in the museums are as interesting to watch as the art. The held up pocket camera was a scene as ubiquitous as . . . well, iPhones.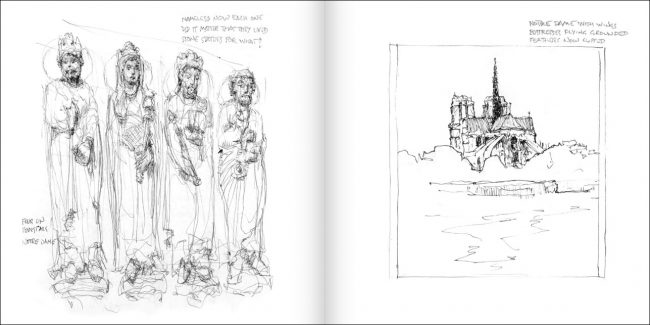 Notre Dame was not to be missed, something Anne and I took in on a free day in Paris. On one page (not shown), I drew it while inching along the line to get in.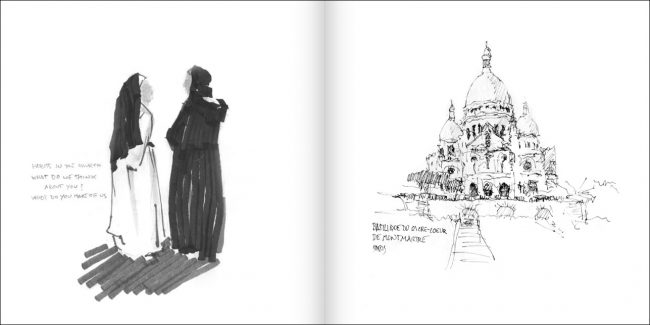 Being a magazine and book designer in earlier days, my pages typically have some sort of unity. Those two chatting nuns, for example, were part of that Montmartre church, overlooking Paris.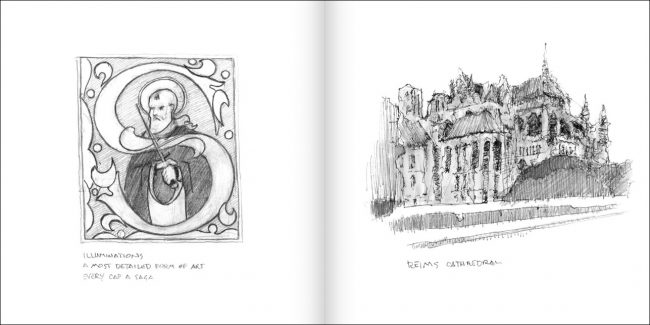 My drawing doesn't do justice to this and other book illuminations we saw . . . books being a major carrier of the culture through the ages. I didn't do much justice to the Reims Cathedral either, but hey, these are only sketches.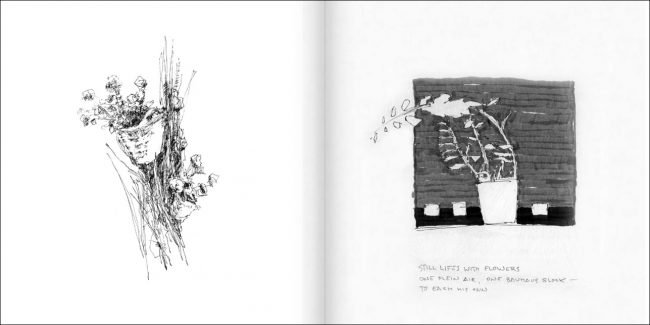 As illustrated here, I used multiple drawing styles. I also used various media: pencil, ball point, felt tip and even "marker." It was all to keep it interesting.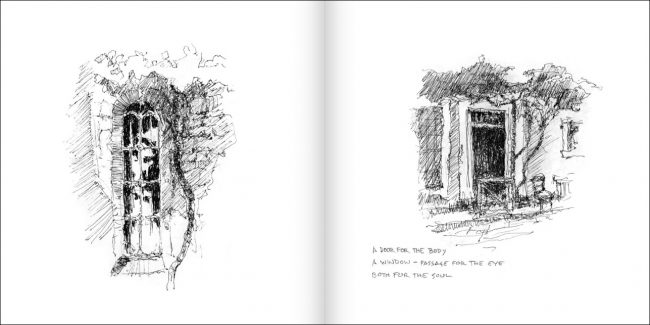 The haiku came late. It was Charlie, one of the students, who mentioned that his mother is a poet of such. It's the classic Japanese form of three lines and measured syllable count: five, seven, five. I don't know if that's Japanese syllables or English. No matter, mine were mostly close.
(Again, click on each image to read the poems.)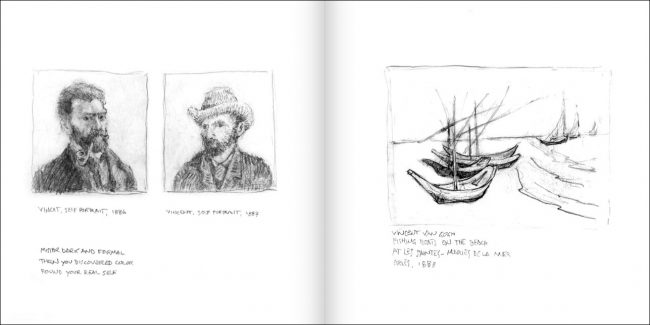 One more, from a special exhibit of Van Gogh we saw in Arles, where he did most of his famous work. Once again, color is needed, particularly for that highly expressive self portrait at right. It was just a year earlier he'd done the more formal version of the left, dark and looking older. Then he changed. He saw new light. Got younger. Took more risks. Maybe there's hope for all of us.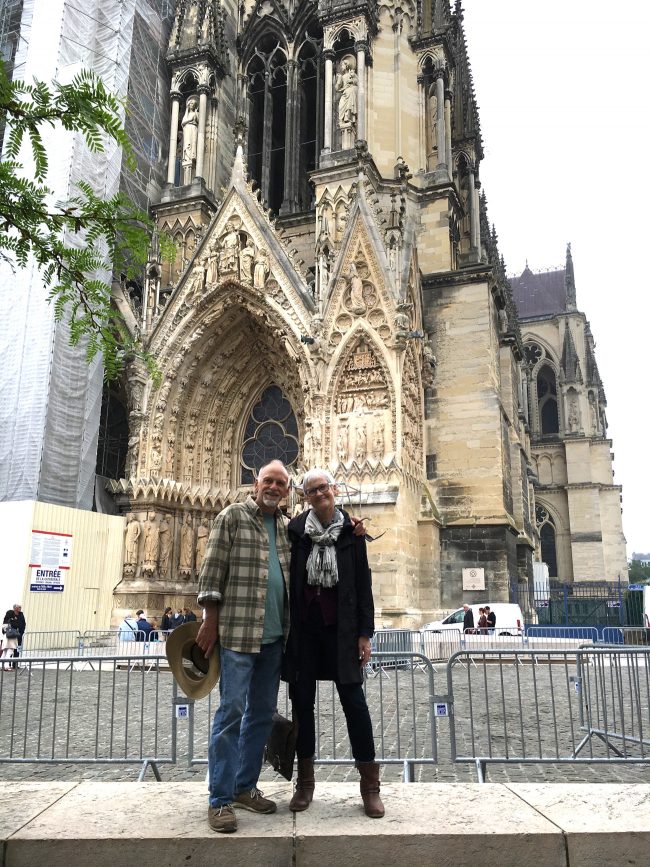 Okay, one more. Anne and me as we traveled light, sketch book temporarily set aside, camera in pocket, i-pad in purse, on a cool day in front of the ever-being-restored Reims Cathedral.
How to love France? Take love with you.
We did.
.
AVAILABLE NOW
.
SKETCHES OF FRANCE
Impressions in Graphite and Ink, with Haiku

An impressive little art book, 235 drawings in various styles and media, with thoughtful haiku to further arrest the mind. Cream paper, 8 1/4″ square, 166 pages. Great for the art enthusiast, the France fan, or anybody who likes beautiful and interesting things. Also great for gifts. Just $14.95.
For more information and how to order, click here.