Opening  tomorrow evening, during Art Walk and running for a month, the Sandstone Gallery in Laguna Beach will be featuring a show of my work. As Sandstone carries mostly abstract art, it's that variety that I display there. The hours are 6:00 till 9:00, August 4, and every afternoon for the rest of the month (except Tuesdays).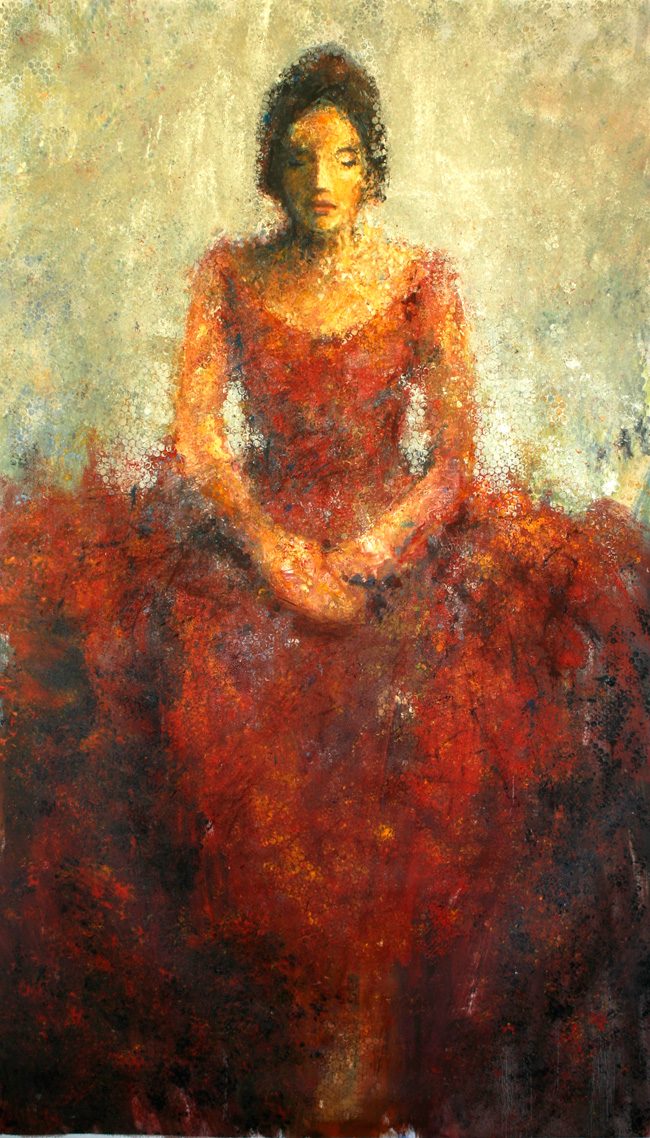 Red Repose, oil on canvas, 72×41
Here is a fairly new painting, just returned from a gallery in San Francisco. Viewers are intrigued with the honeycomb effect (paint applied with bubble wrap) as well as the drama of its large size, the expansive color areas, and the mood. For me it was a big experiment that worked.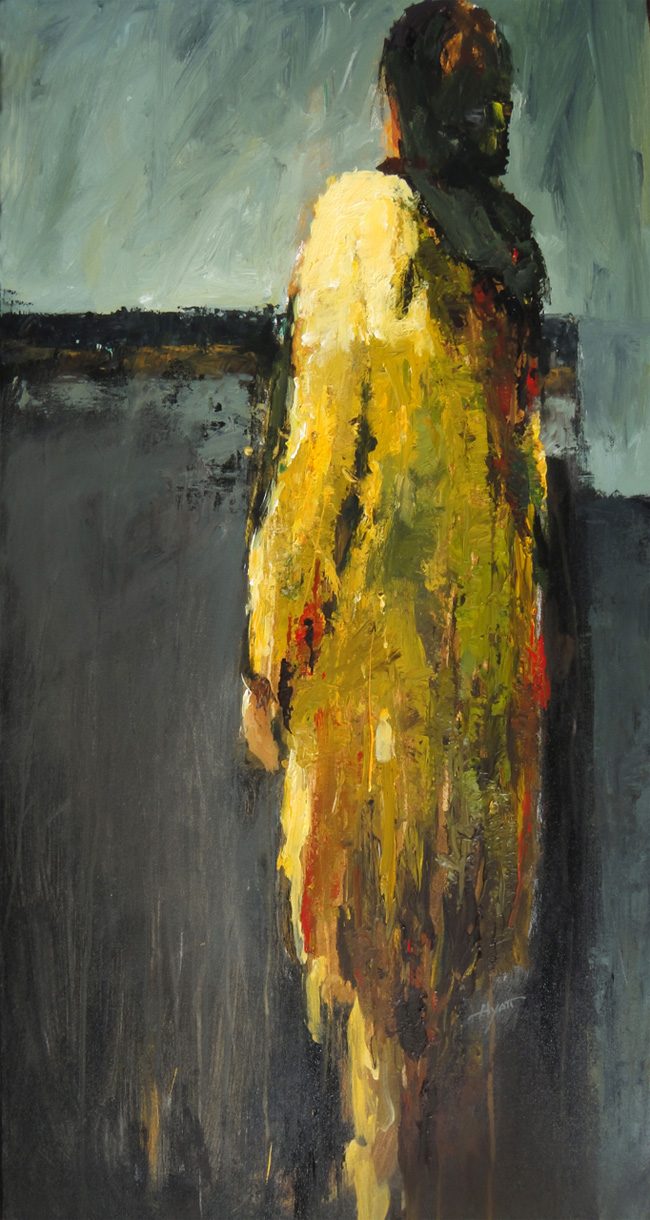 Dream Crossing, acrylic on canvas, 48×24
Among my figurative abstracts some lean further toward the latter. This one is all about design: strong shapes, strong direction, and strong color. The brushwork adds. Lately, one viewer who acted like a connoisseur stood in front of it for a long time and told me it was the best piece of art in Laguna. Always nice to here. But others will prefer another.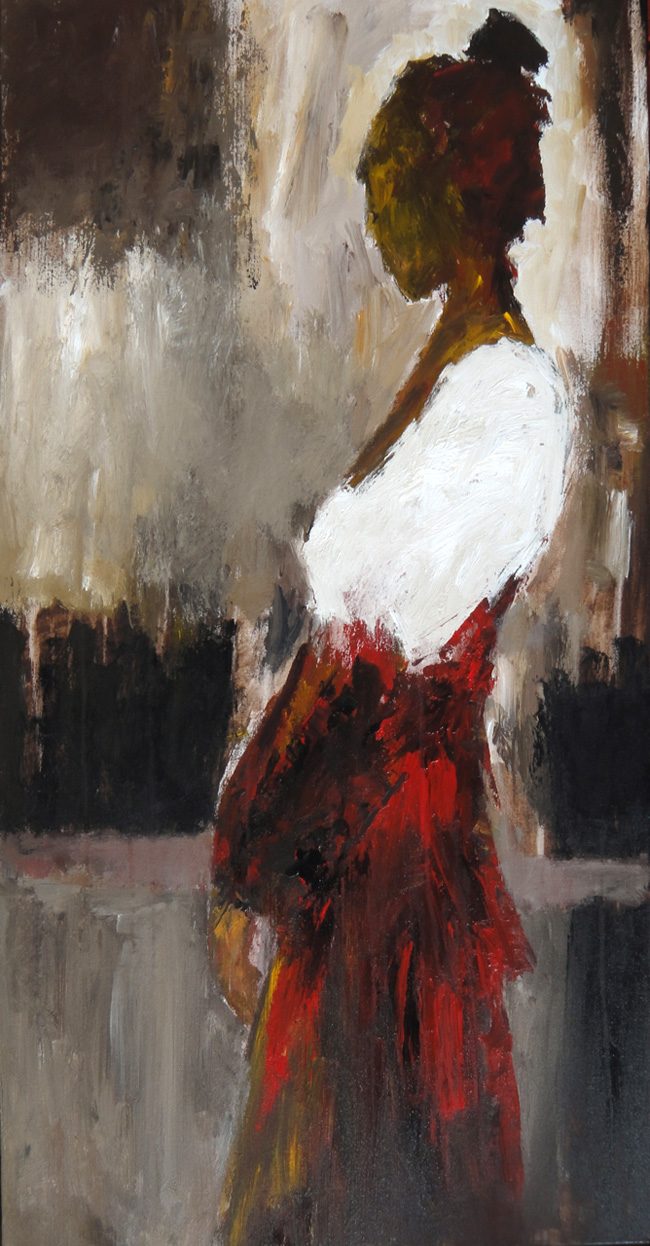 Day Dreaming, acrylic on canvas, 48×24
Here's another that's been a favorite for some. I did the two "dreaming" paintings in series. Again this one is about design; though unlike the first, for this I had a photo reference. Don't remember what, likely something in a fashion magazine. From there I took liberties.
Simply Elegant, acrylic on canvas, 32×26
Here's another that's arrested the view of many. It's my most understated figurative work. That blouse, for example, was done zen-like in three strokes (with a house painting brush). Any more detail would have changed the kind of painting I wanted. Note also hints of printmaking technique applied in the background. I also made a similar painting at the same time, but the other has been sold (at a gallery in Palm Desert).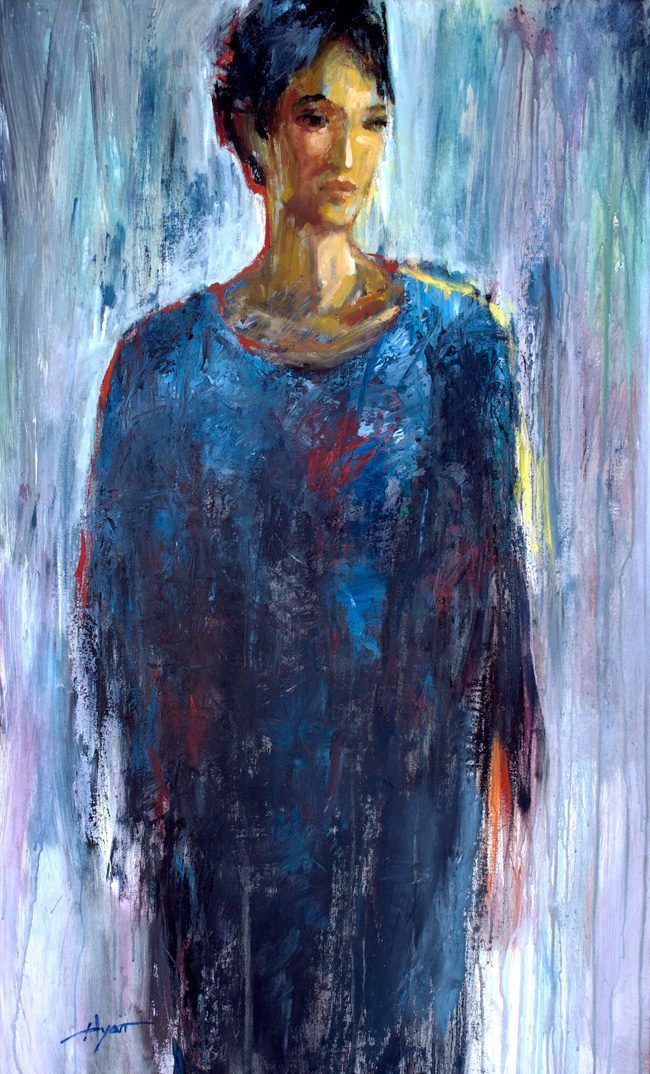 Blue Smock, acrylic and oil on canvas, 47×28
Here's a piece I painted some time back with one of my students. She's brought a photo and wanted to see how I'd approach it.  I used my technique of acrylic background first, complete with wonderful and random drips, then an oil painted face and figure. Some have said I was painting wife Anne but I wasn't (at least not intentionally).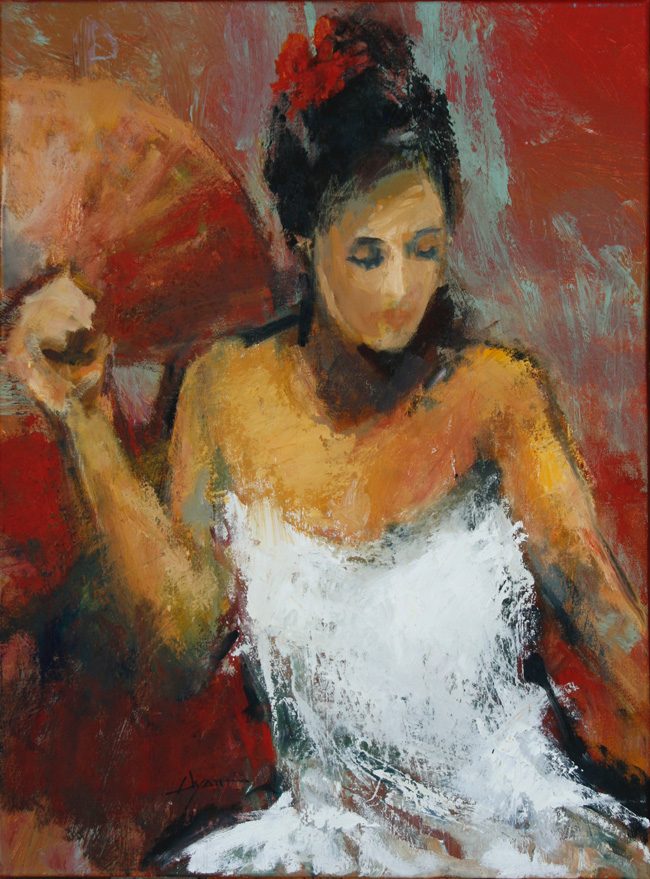 Cool Fan, oil on canvas, 27×60
I originally painted this from a live model in a polkadot dress but I never particularly loved it. So recently, rummaging around for something to work on, I pulled it out of storage and hit it again. She now has evocative bare shoulders, a special white dress, and a whole new look on her face. And why not, women are so changeable.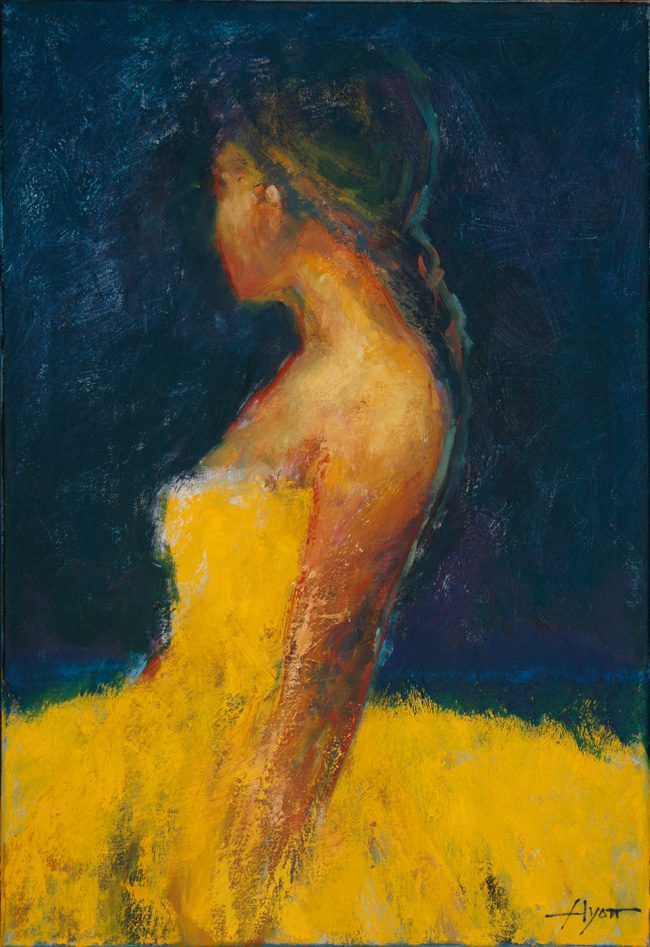 Firefly, oil on canvas, 28×19
Here's another that I recently "refreshed" after having painted it some years back. In this case the figure was made up, not from a model. Now I don't even remember what she was wearing, but not that brilliant yellow gown. Besides that, her face was in side view profile; now she's looking away. It's much more mysterious that way.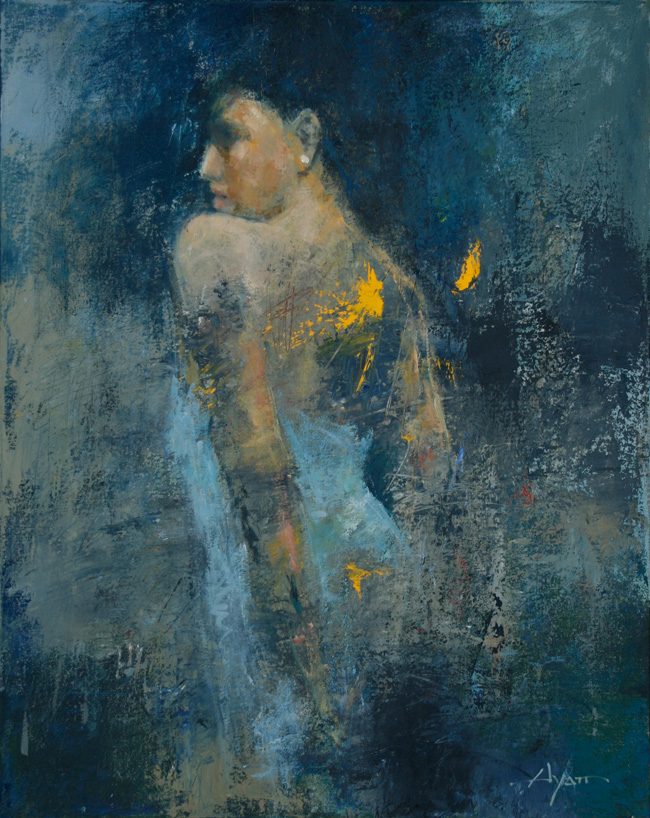 Veiled in Mystery 2, oil on canvas, 30×24
Speaking of being mysterious, here's one with that right in the title. I call it "Number 2" because "Number 1" was also painted over. That was also a figure coming out of an abstract background. Some people liked it, but I didn't; so after a year or so I put back on the easel. It then went through a number of iterations, including being for a time completely abstract without a figure, and finally this. I like it now. (The bits of yellow just happened along the way, but there they stay.)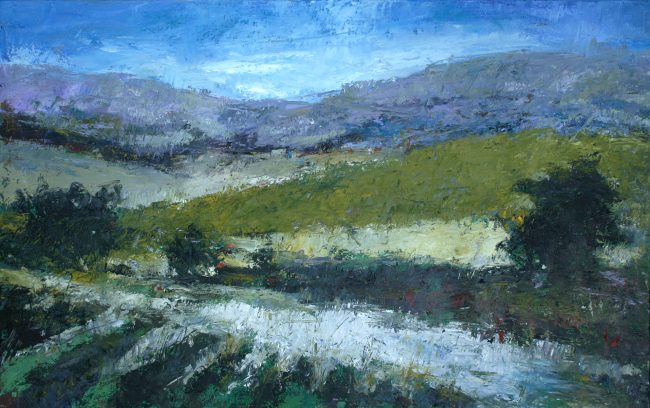 California Vineyard 2, oil on canvas, 30×48
(click to enlarge)
Just to keep things from being too predictable, I've also included one landscape in the show. As you'll see, it's also done with an abstracted approach, with lots of thick paint, succumbed layers and palette knife work. Click on it for a larger view . . . though it's really best in person. Come to the show (address below).
.
All these works, with prices, are viewable on my website on the "Sandstone Gallery" page.
.
Sandstone Gallery Show

For the month of April my work will be featured at the Sandstone Gallery. The opening is during Laguna's Art Walk, Thursday evening, April 7th, 6:00-9:00.
384 A North Coast Highway, Laguna Beach.  One block north of the Laguna Art Museum, near the corner of Coast Highway and Jasmine.