Faces. A story in every one of them. A personality looking out. A visage to be looked upon, possibly understood, maybe even loved. And I do love to paint faces. For some time I've thought of doing a series in grand scale, monumental, Gulliver-esque. But where to show them? Then the famous Crystal Cathedral offered space for a show in company with an invitation to be interviewed on air and an evening's speaking at the church. That put me to work and I produced five for the show, and hung 50 others.
The girl from Cameroon is the first I attempted. That was before I got the idea for a series. I'd painted her before, small, but I always thought those lips needed further exploration, a revealing of their true glory. What landscape can compare with lips close up? She wears no lipstick but every color in the catalog is hers naturally. And the eyes, glistening wet, reflecting what she is looking upon. In my photo reference the eyes were so clear you could see the photographer. But I thought a cross more fitting for her gaze. Good for the Easter season. Or any time.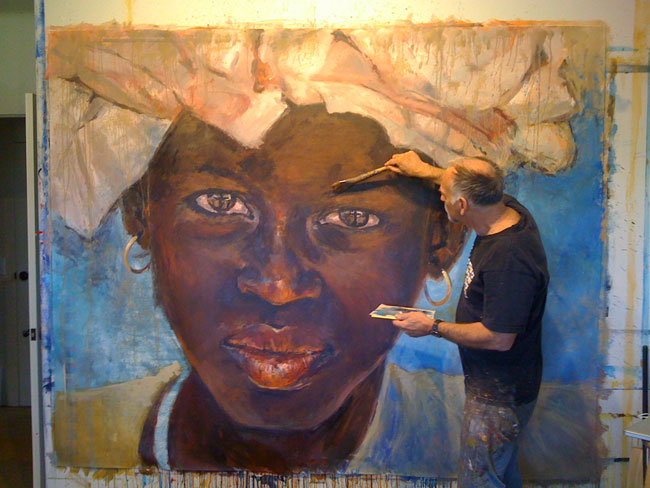 These pieces are just short of eight feet wide and six feet tall. The "in process" photos are to give a sense of perspective. A lot of paint is required, a lot of canvas, and a lot of space. And it can be messy, my clothes even taking on the look of a painting.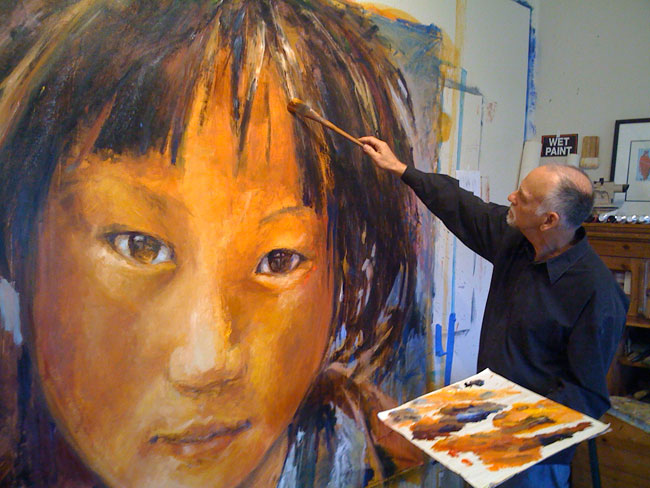 All of these are from photos I've had for some time, waiting for the right occasion. Putting a reflected cross in each eye, sometimes very subtly, further established a theme. Each is painted with a slightly different style. Note the different colors on each side of the brush, handy for slapping in different areas at virtually the same time.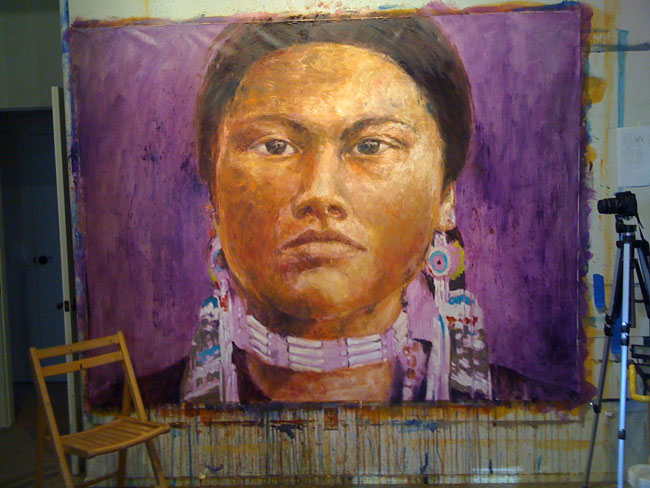 Click on the picture and you'll see that this one ended up a different than it was at this stage. I decided a darker background was needed. Then I wasn't sure but it was late to go back. So I hit it again with some palette-like texture and called it done. Another thing you can't really see here is the thick paint. I finished this one up with a lot of palette knife work.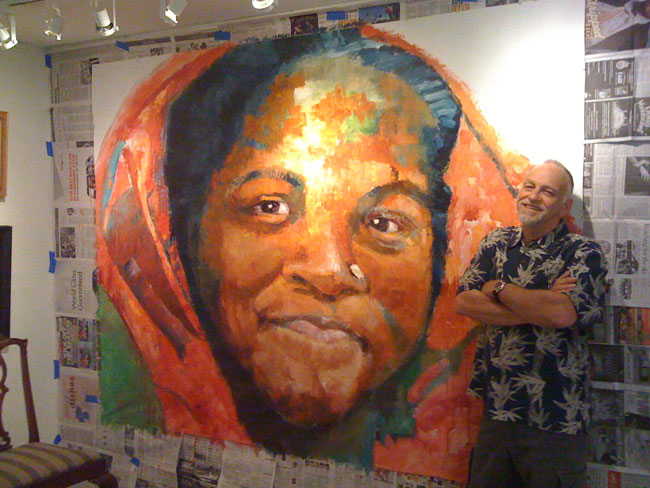 I completed this one in a different location, thus the newspaper masking the wall, and done completely in acrylic…because I needed to move it immediately after completion. Capturing that restrained smile was this one's challenge, some five or six times larger than mine.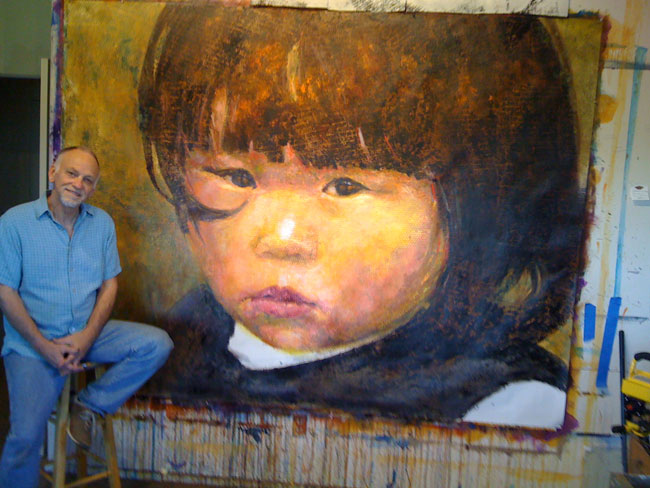 Okay, so here's another done in acrylic only, but for other reasons. I was experimenting with a new style altogether. I've often thought that, as I live and work with a printmaker (Anne) I should let some of her techniques influence me.  So for the hair I used one of Anne's hand-carved linoleum plates, slathering it with paint and pressing it on the canvas. For the face I did the same but used scraps of bubble wrap. Worked great, don't you think?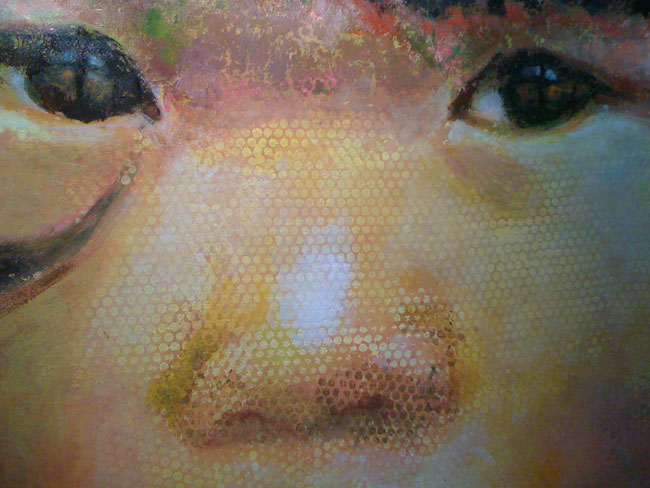 A detail of the same little girl all rendered in dots from the bubble wrap. As I always say, "A painter isn't a painter because he uses a brush; he is a painter because he uses paint." You can get the paint on in any way that works.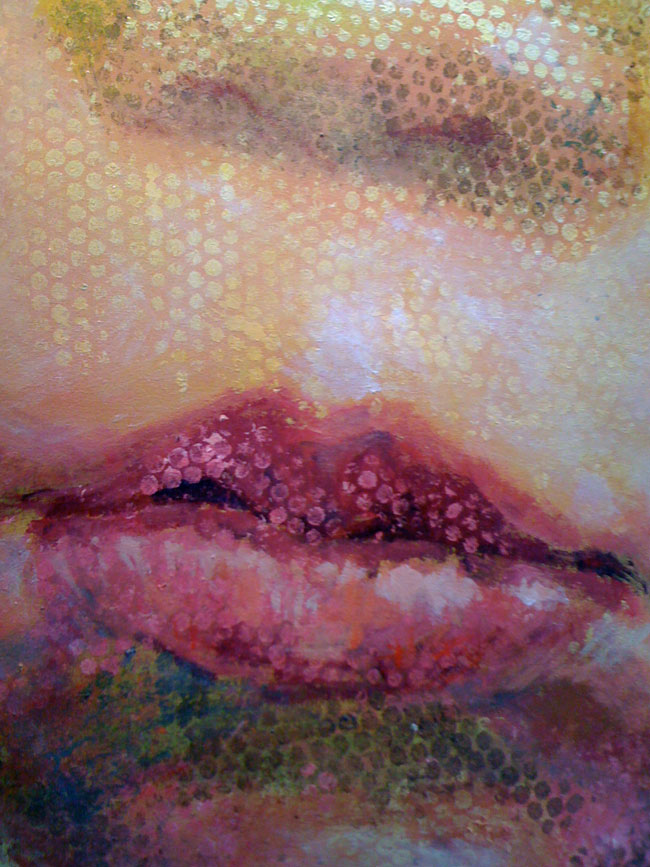 Another thing I always say is that the lips are more challenging than even the eyes. And getting them right is all the more rewarding. In this case, it was as much happy accident as anything, what with the hard-to-control bubble wrap as painting tool.
One of the walls in the Crystal Cathedral show, in their architecturally stunning visitor's center. It's a museum-like space and perfect for a show of big pieces. Click on this photo and the following for better views.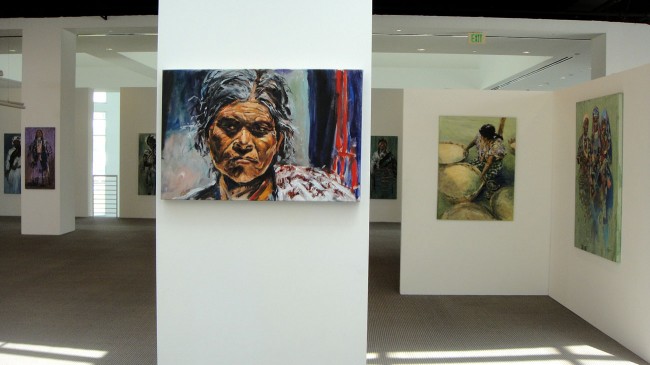 Just a couple more photos of the space with the art hanging. I'd rather moved on from doing so many ethnic types, market forces being what they are. Still, for this show, such is the theme. Fifty-five pieces are up, plus the popular "Last Supper with Twelve Tribes" for a rare extended showing.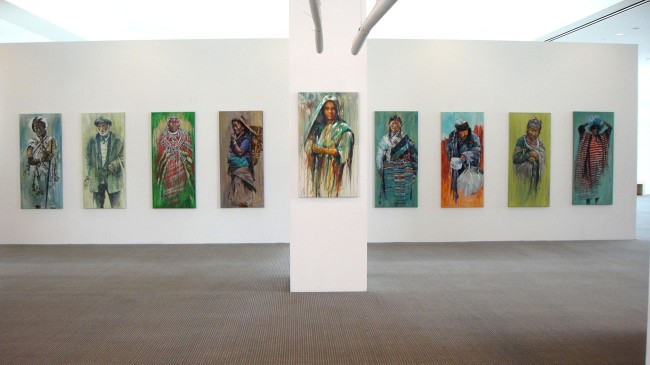 Included is an array of some 20 standing portraits. To fill the show out I borrowed some from the Evangelical Christian Credit Union and Biola University.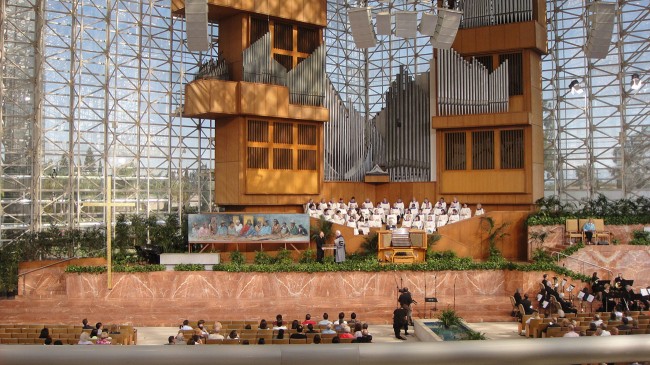 You really need to click on this one to see what's going on. This was the Palm Sunday service at the Crystal Cathedral with me being interviewed by Dr. Schuller and the original of the Last Supper painting on display. By the way, that service will be aired on April 11 on their "Hour of Power." The show will be up through April 27, 9:00 to 6:00 daily.
Current and Upcoming Shows and Events

In addition to the above, the date is fast approaching for our seasonal studio show and open house. Anne will have some superb new work available and on display, and there will be plenty of paintings, all subjects and sizes, with some very good prices. So mark your calendars for the Christmas eve and Christmas day of April. The 24th and 25th. Further details below:
Studio Show and Open House, April 24-25

Saturday evening and Sunday afternoon
33752 Big Sur
Dana Point, California 92629
949-240-4642
Crystal Cathedral Visitors Center

12141 Lewis Street, Garden Grove, California
Open daily, 9:00 am to 6:00 pm
Until April 27
Orange Art Association, Lecture/Demonstration

by Hyatt Moore
another after the well received presentation last month in Huntington Beach
April 12, 7:30 pm
393 South Tustin Avenue
Orange, California
Open to all
Loosen Up Workshop
"A great workshop, a must for painters to experience."
The next is scheduled for July 10–11 in San Clemente, California
To make an early reservation, call (949) 369-6603
Semi-Private Coaching for Painters
in Hyatt Moore studio
Mondays in Dana Point
Call for your two-hour slot, 949-290-8643
Printmaking Classes
in Anne Moore studio
Call for info, 949-240-4642