Sorry, I couldn't resist that title. The women here are not loose at all, at least not necessarily; but the paintings are done in a loose style, and they are of women predominantly. I've recently done a number of floral still lifes with the same loose approach. But for this time, it'll be the women.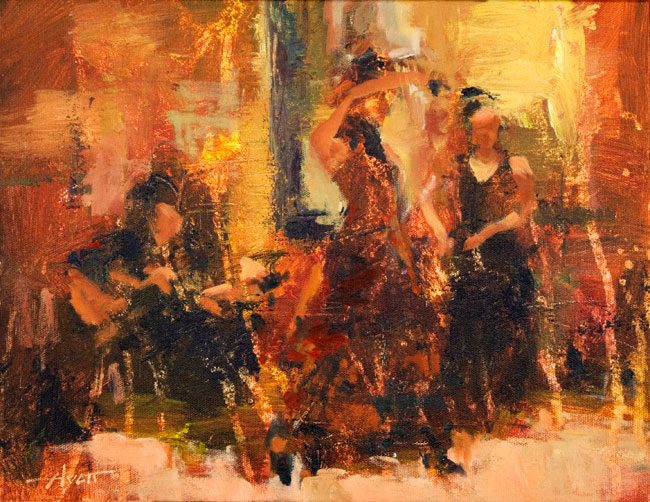 For Flamenco Fiesta (above) I used a photographic image I took a couple of years ago and have painted from a number of times. Each has it's own style and is very much an original. This one is perhaps the most original of all. Figures are "suggested" at best, they're all there, the two dancers, the guitarist and even the frame of the painting on the wall. The approach is to draw no hard lines, go after the rhythm, and stop early.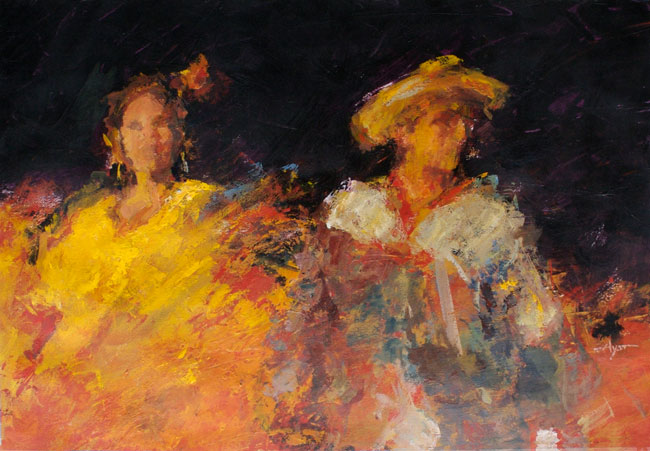 We featured Folclorico Duo in an earlier e-gallery but I like it so I'm showing it again. And it's a perfect example of the vitality that is inherent in the loose approach.  My resource was an out-of-focus photograph, something I once would have discarded as useless, but not so much anymore. In this one the man is as loose as the woman, making them indeed a good pair.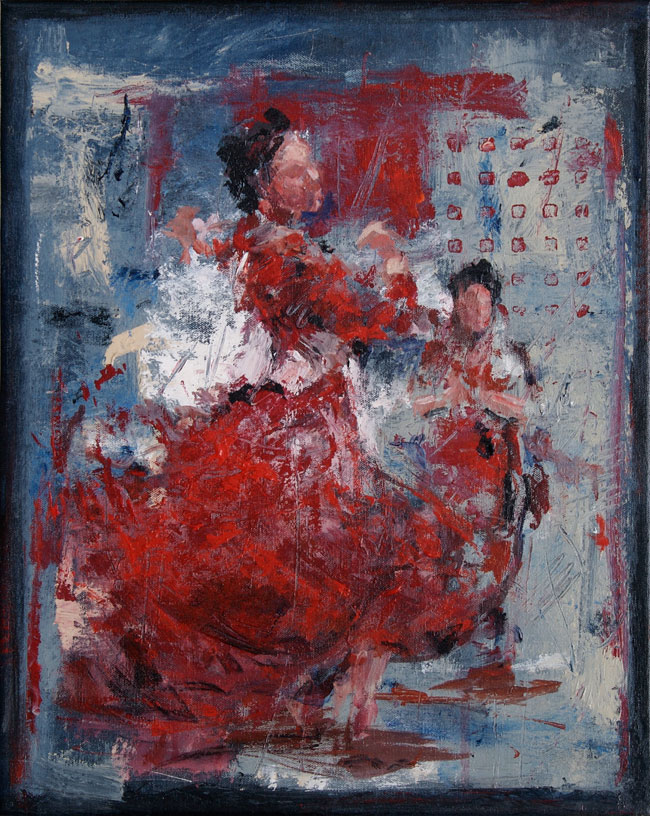 Here's one I did some time back, again from the same photo session as the top one. Here I took an approach I sometimes do when I look over at the pile of wonderful art Anne has half finished on her side of the studio. The patterns on her prints are so inviting, both as they are and to do something else with. In this case I basically copied her design, in acrylic, even using the same piece of plastic packing material as a "plate" (see upper right), then I brushed in a couple of dancers. It's the kind of approach I keep thinking I should do more of . . . having this wonderful resource as partner. She thinks it's a good idea too. But there are so many good ideas, so I move on.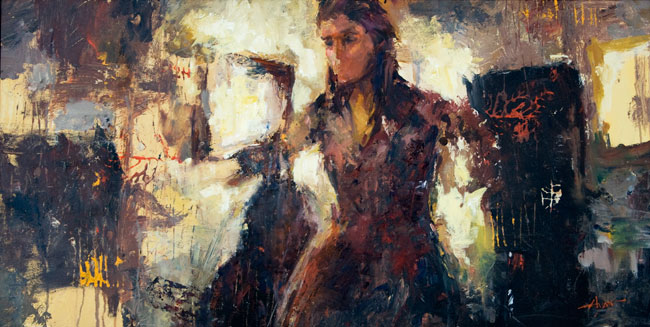 Here we are verging on the abstract, with the extremities even disappearing in the intense movement. The guitarist is part of the title so the viewer will know to look for him, being barely recognizable, but still important as a design element. Once again I included print-making technique, "inking" plates with acyclic paint and laying them on in strategic places. This and the two following are considerably larger than those above and make a statement partly just by their size.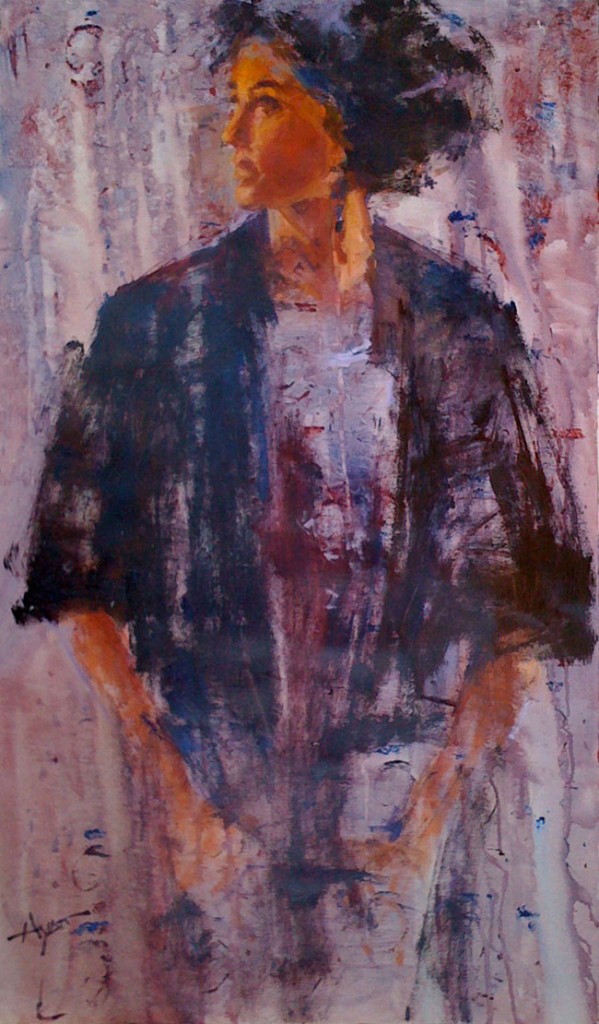 This one started out as a demo in one of my "Loosen Up" workshops.  You can see how it fits the criteria, thin acrylic applied with abandon, not really knowing what will happen in the underpainting. Then, the oil paint goes on, as tight or loose as one wants. I worked on it again back in the studio, but I rather liked as it was so stopped pretty early. Finally I signed it, meaning (usually) I'm done.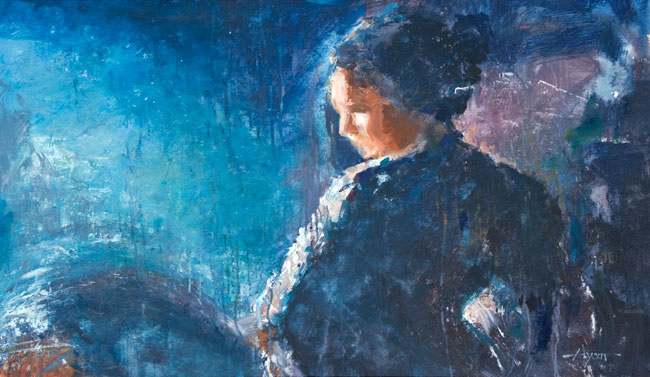 Blue Figure is the last of the loose women, at least for this edition. I just liked the design of the photo and thought it would make a nice painting. As much as anything it's about the application of paint, the drips, the daubs and the stokes. But then, a painting should, in part, be record of the process. At least that's how I like them. I hope you like them too.
Upcoming Events
Southwest Arts Festival, Indio, California
We'll  be there occupying two adjacent booths, along with a whole lot of other artists and craftspeople. If you know anybody in the area, let them know. And come with them.
January 29, 30, and 31, 2010
Empire Polo Club, Indio
Loosen Up Workshop
Two days of hands-on stimulation for painters led by Hyatt Moore
February 13-14, 2010
San Clemente Center for the Arts
1531 N. El Camino Real
San Clemente, California 92672
To sign up, call (949) 369-6603
Semi-Private Coaching for Painters
in Hyatt Moore studio
Mondays in Dana Point
Call for your two-hour slot, 949-290-8643
Printmaking Classes
in Anne Moore studio
Call for info, 949-240-4642