Painting is always happening around this house and studio, but the subject matter and style can differ from week to week. Or day to day. Sometimes the motivation is internal, sometimes external. I get my own ideas, or directions are suggested to me. A gallery or client can be a significant force in the latter. In the work that follows, it was the occasion of being accepted at a new gallery, one that deals with the interior design trade exclusively. As such, color harmonies become paramount, and the usefulness of painting in themes. For this reason, my most recent paintings have been in series. And for this moment, acrylic on paper.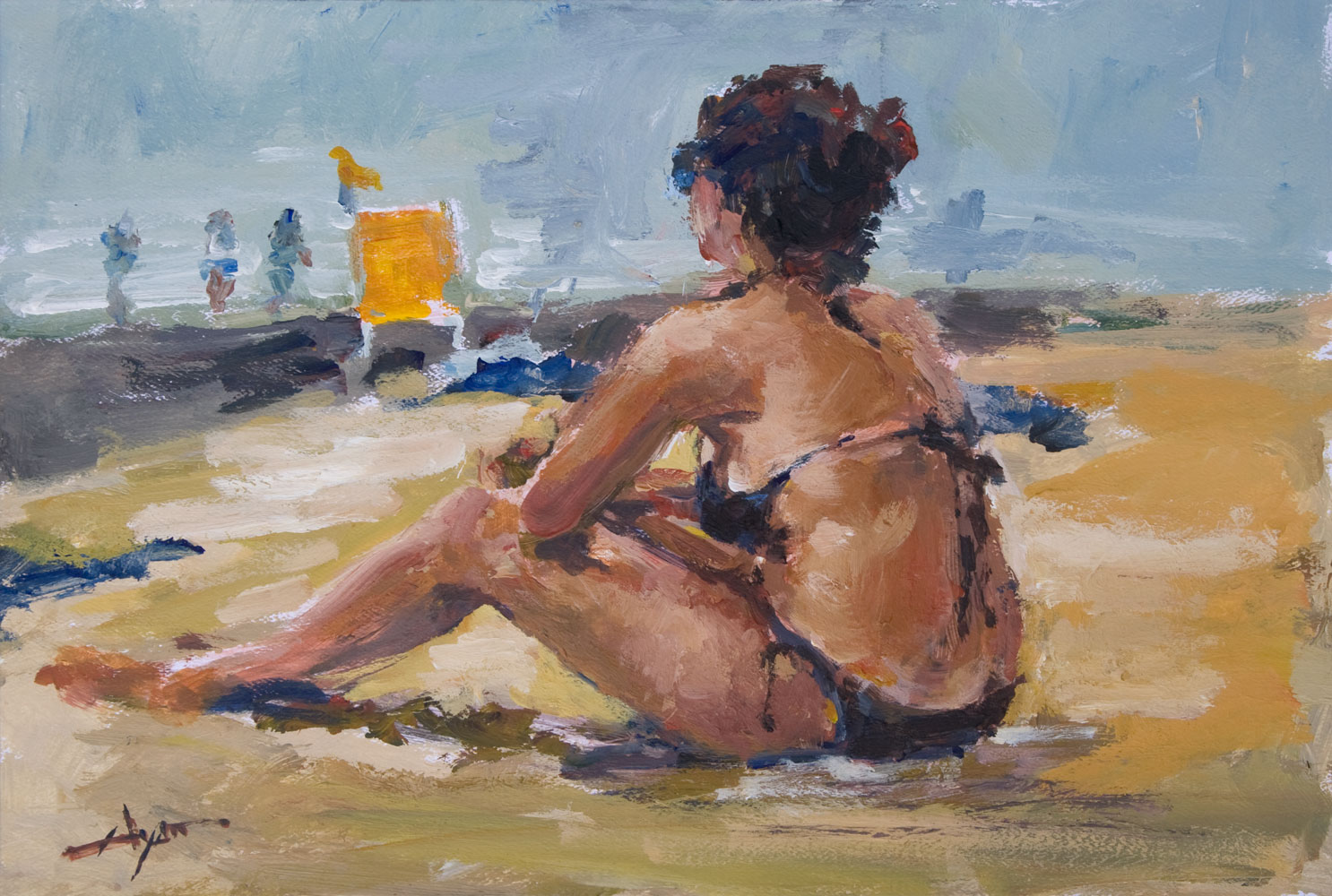 Yellow Sign, Acrylic on Paper, 11×16 (Click on images for larger view)
You may remember this one. I did it with a number of others last fall and shared them in an e-gallery (see Works on Paper in the "Recent Posts" section at right). It attracted the gallery owner's eye and she requested more along the theme.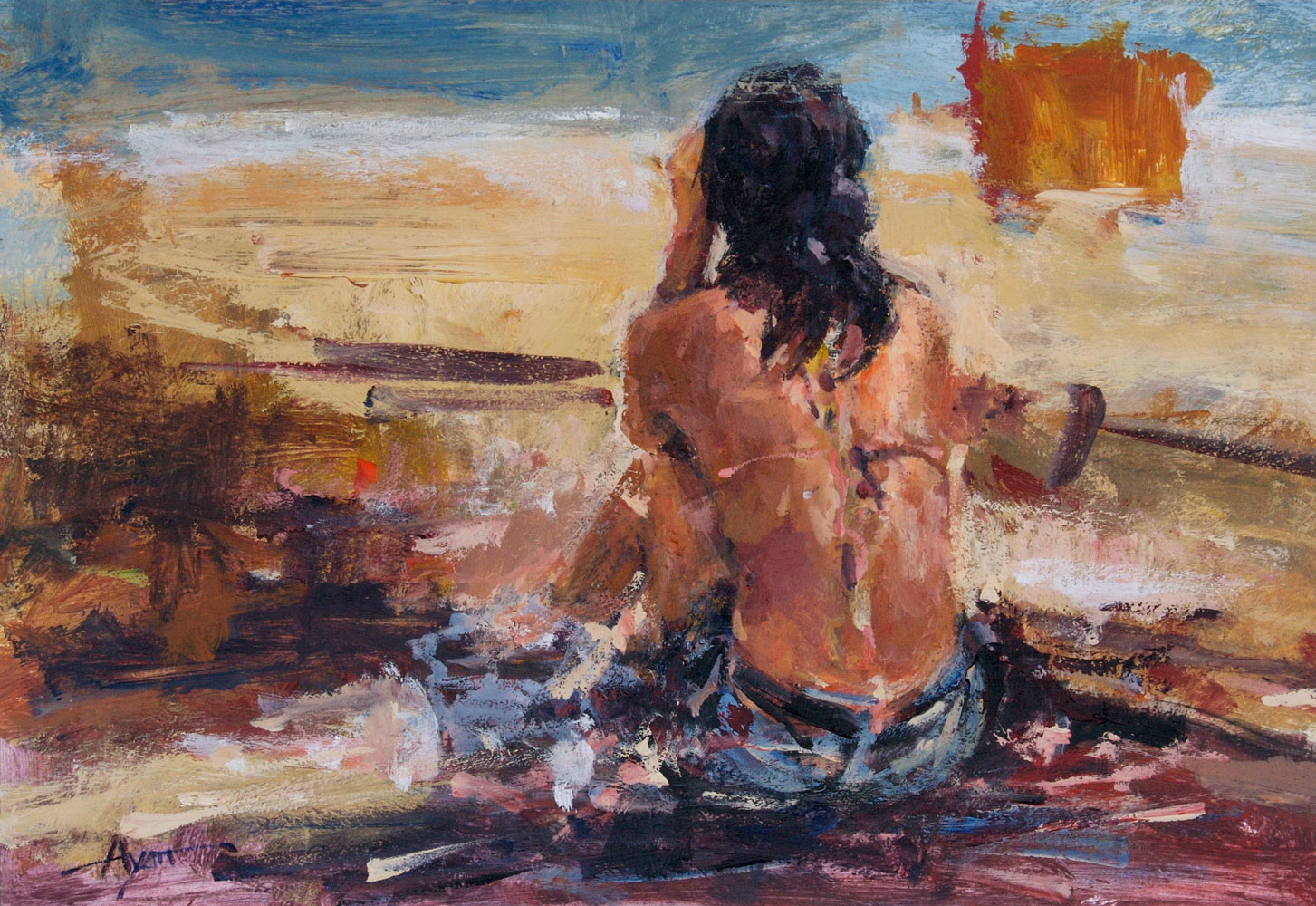 Short Jeans, Acrylic on Paper, 11×16
It's only May but summer will be here soon enough to enjoy a few beach scenes. For the one above there was a good deal I had to make up. In the photo, it was just the girl and a whole lot of sand. A little empty, composition-wise. So, the rest is abstracted in. Is that that same yellow sign from the first painting? Maybe. And all that other stuff is just that, other stuff.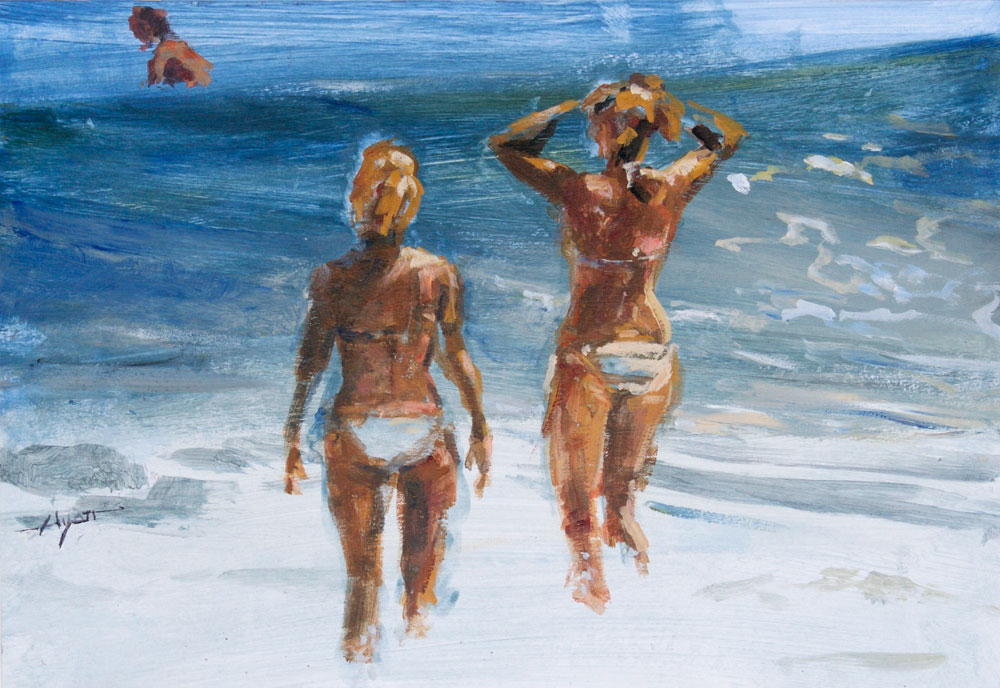 Lookers and a Surfer, Acrylic on Paper, 11×16
The challenge in a painting like this one is the multiple figures. Each one of them is basically a "life drawing" challenge, getting all the proportions right. Putting two together in a painting is a risk. While one can be right, the other can be wrong. Or the wrong size for the perspective. Or, or, or. In my photo the surfer was on the right but I moved him over to the left for the composition, and to give the girls something to look at. Thus, they're "lookers."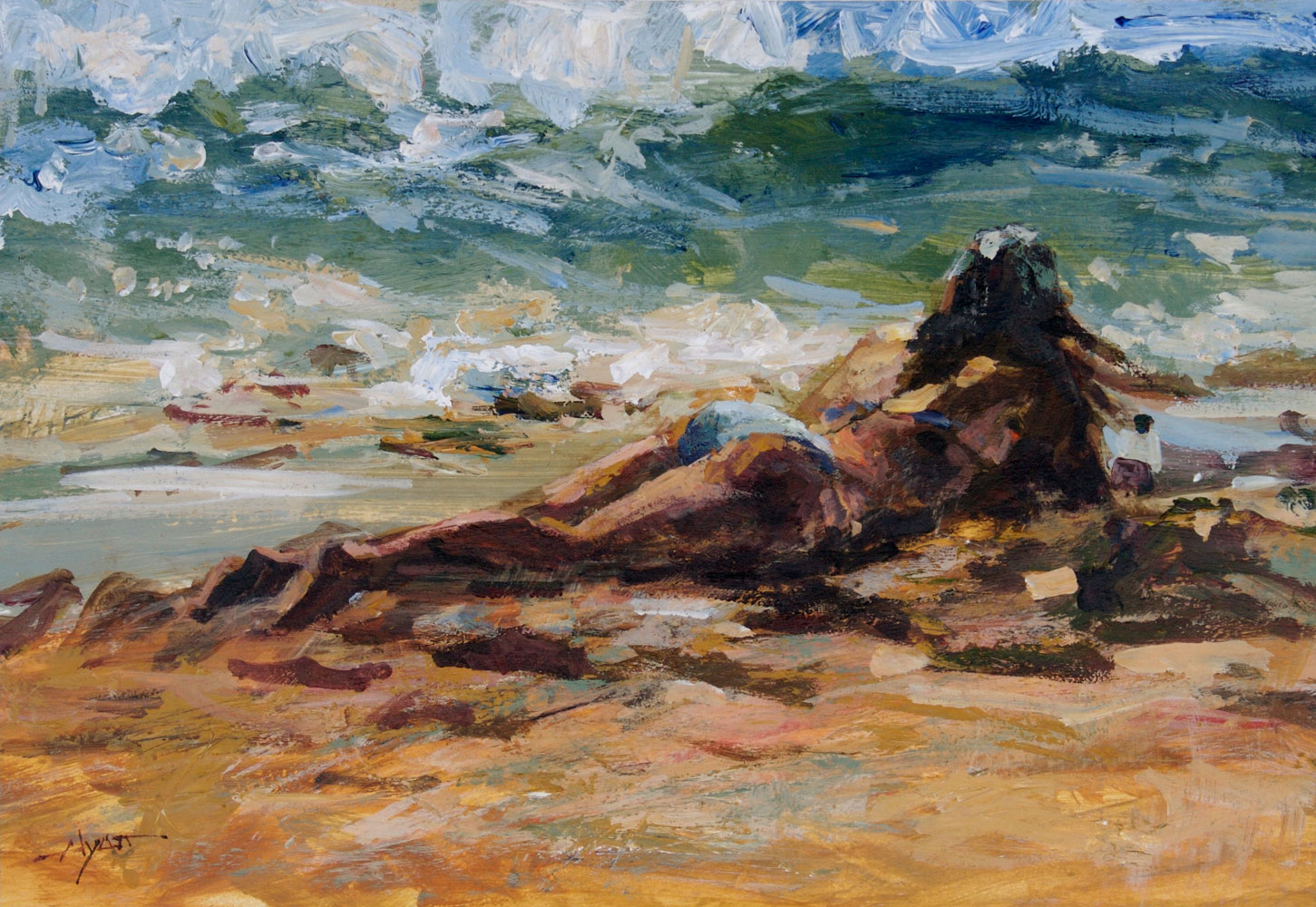 Organic Beach, Acrylic on Paper, 11×16
Here's a study of earth and water, with the person between the elements being a combination of both. The photo was from an Hawaiian beach break, with a lot of energy right at the shore. The girl, chameleon like, is almost part of the sand. Thus the title: Organic Beach.
Ballerina 1, Acrylic on Paper, 15×11
Then, with the same creative burst, I returned to the dancer theme, though ballerinas this time instead of my more typical flamencos. My photo resources had them all in blue settings, and sometimes with other things going on. But selecting and adding and changing is part of the painter's prerogative. Each needs to work within itself, or within its theme.
Ballerina 2, Acrylic on Paper, 15×11
The fast drying acrylic paint affords a scumbling effect (paint brushed lightly over another color) that can be quite delightful. And the slightly textured paper has a nice tooth for the drag of the brush. Not sure "drag" is the best word there, as it all happens with quick spontaneity.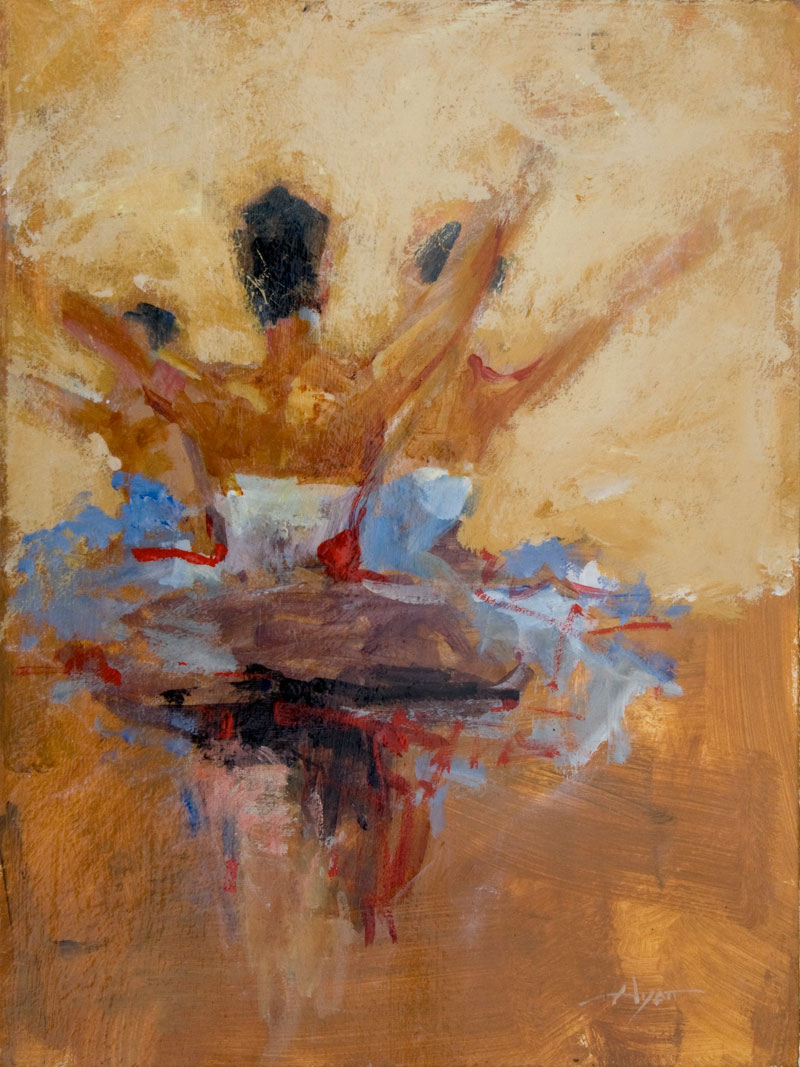 Ballerina 3, Acrylic on Paper, 15×11
In this one, my photo had a full forest of dancers. Really quite impressive, but in order to read it, I selected just three. The trick is in emphasizing certain things, de-emphasizing others. The red is added just because. There's not enough red in the world so I'm doing my part.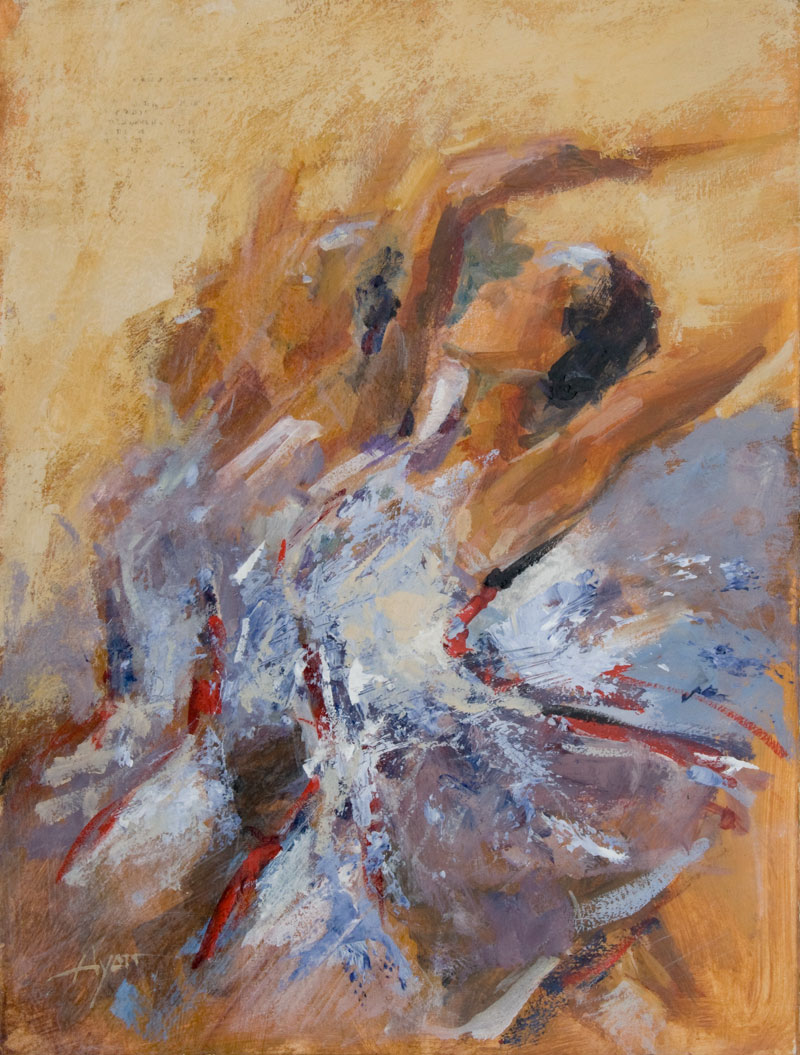 Ballerina 4, Acrylic on Paper, 15×11
This line of dancers trailed off to the stage door but for me, these were enough. And even then, those in the background are just suggested. These paintings should have the look of having been easy to do. And in a sense they were…the first time, and maybe the second time, or the third.
I've also been doing a series of abstracts for this new gallery…just studies in color and design. We'll feature those in some future e-gallery.  Meantime, thanks for taking a look at this one. May your day be like the art: full of freedom, color, and even elegant movement.
Upcoming Events

In a week I'll go to Paraguay, right in the middle of South America. The occasion is a number of commissions I'll be painting for Su Rufugio, an extended complex to include an orphanage, a church, a feeding center, a sports complex and more. I've already done the first painting, shown here in miniature (click to enlarge). At 6 by 7.5 feet, it's too big to ship. I'll be hand-carrying it down on a bolt to stretch it on location. This trip is part for that, to present it publically, and do photography for future paintings.