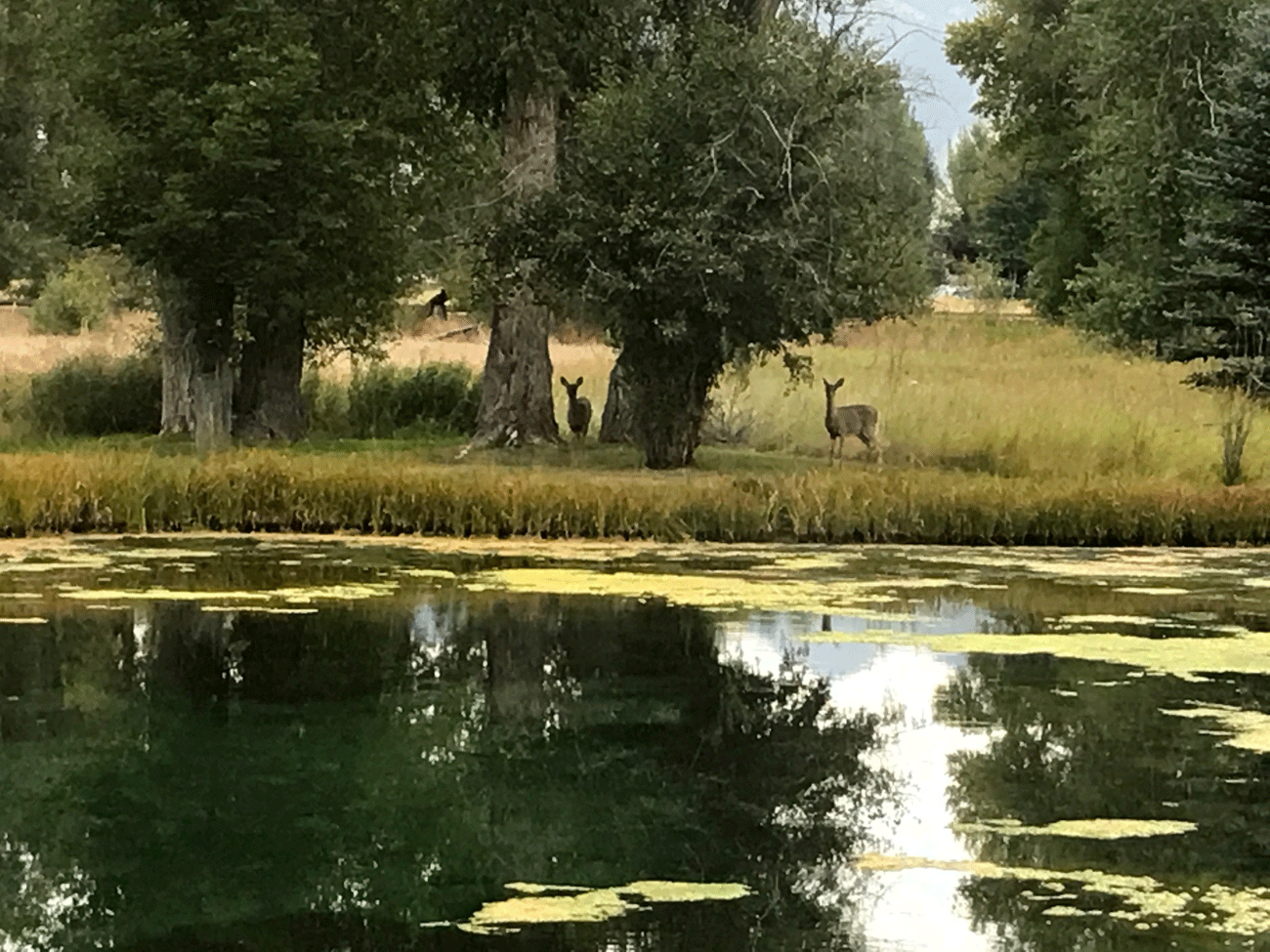 This morning's view out the window. Lovely deer watching us watching them, before they ran off. Now there's an animal that knows both, how to slow down and hurry up.
Once again we're at one of our at least annual trips away for making art. After the long and stimulating summer at the Festival of Arts in Laguna, where Anne spent almost every evening and I did half, the break was called for. Besides, Anne wanted to augment her inventory after the satisfying sales. And me, I wanted some concerted time to explore a new direction in my painting.
We're in Idaho, Swan Valley, in the wonderful log home of friends Jeff and Michelle Aleixo. We've converted their great room into a dual studio, one side for Anne, the other for me. We have music, books, books on tape; we watch an occasional video, we take a daily walk. It's supremely quiet when we want it to be. We see no one.  Mostly we work all day, just the way we love to spend our "vacations."
It's what everybody needs, time to explore what's inside and give a chance for it to come out. It's contemplative and desultory. At least that's one idea. At the same time it's being ever aware of the time, of how few days there are left, right from the beginning. Just this morning Anne commented that it was already 10:00 o-clock, "The day's half gone!"
Casting about for inspiration, I came across the work of painter Saul Leiter. I liked his approach to strong color and the almost frenetic line work in his figure studies. On further investigation, I found that he was also, in fact mainly, a photographer. He worked in New York shooting black and white fashion and journalism at a high level. But what wasn't discovered until a decade or so before he died (at 89) was that since the 40's and 50's he'd been experimenting with the creative use of color. Watching a YouTube video or so I came to find how, once discovered, he made a real mark in the field, influencing many others.
He had been doing all this work "on the side," and "just for his own satisfaction." Most of his life, as he says, he was "an unknown."
Another thing he says about himself was that he was "lazy." That term was easily decried with expansive museum shows of his work in his later years, both painting and photography. But it was how he saw himself. He took time with things, didn't hurry, let his mind do work that can't happen when it's always pushed.
And there it is: Slow down, you'll do better work.  And: Hurry up, there's only so much time.
That's where we live . . . somewhere between those two. It's a balance. As the writer of Ecclesiastes might have said, There's a time for everything: a time to go, and a time to stop going.
Right now, we're doing both. Don't forget to do the same.
_______
P.S.  You can check out Saul Leiter on line, including a film about him, In No Great Hurry, which I plan to get.
P.P.S. Next Thursday's Blank Canvas blog will show a little more of this Idaho hideaway and some results of our work.