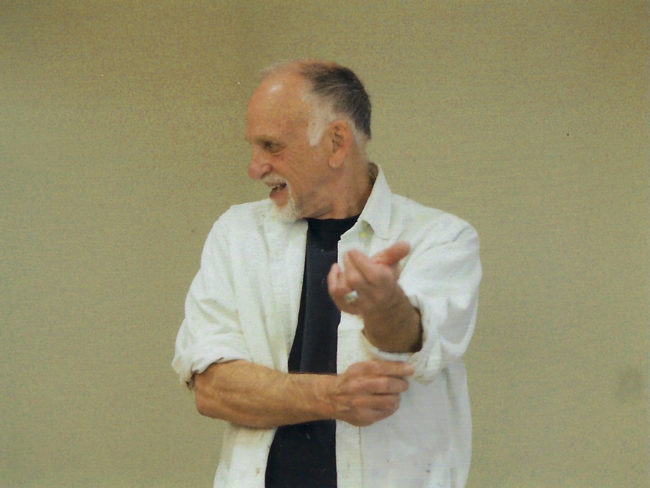 A photo taken this year by a participant at the Huntington Beach Art League. I'd just given my lecture and was heading into my demonstration. Seems the caption could be "rarin' to go." A good statement for this time of life.
It's the 1st of September, my personal New Year's Day. It's when I take pause and look back and look ahead. As the years increase, there's more to look back on than ahead to, but that's not how we're made. It's hope that keeps us going.
Looking back on this particular year, I'm satisfied. Not that there haven't been blunders, things that should not have been said but were, things that should have been done but weren't. But there were plenty of accomplishments, travels, words written, paintings painted, family nurtured, relationships formed or deepened. I've even composed a partial list, thinking I'd share it, but no real reason.  It's all past.  It's now and tomorrow I'm all about.  Just like you.
At this point in time, I'm grappling with which of my many interests to zero in on painting-wise. I'd like to say that's new, but it's not. I just came across this quote that heartened, by Marc Chagall:
"The dignity of the artist lies in his duty of keeping awake the sense of wonder in the world. In this long vigil he often has to vary his methods of stimulation; but in this long vigil he is also himself striving against a continual tendency to sleep."
To keep awake the sense of wonder in the world . . . a duty!
I'll take that.
Here's a story:
Some years ago, while living in British Columbia, I was strolling with a friend in his garden. He was a retired medical doctor, a devoted Christian, old to the point of needing a cane, his face a road map of wrinkles. At one point he stopped, looked at me and said, "It's a great time of life."
I'll take that too.
Onto the next year!
For all of us.
______________
PS  This really happened. I was just now reading (again) a text on mediaeval history and came to this sentence: "Yet, as an old man of 74, Boniface still longed for a fresh world to conquer . . . "
What a coincidence: my age today, and my sentiment exactly.