It was one year ago today that Vernon died.* I thought I'd say just a few things about Allison.
You'll remember the trial of it all, if you've heard bits now and then. Many have followed Allison's blog, and have been impressed with her honesty and insights and strength, not to mention her prowess with the pen. Reading through it you can't help but think there's a book in the making . . . and maybe so . . . but Allison keeps having new ideas. It's part of what keeps her going.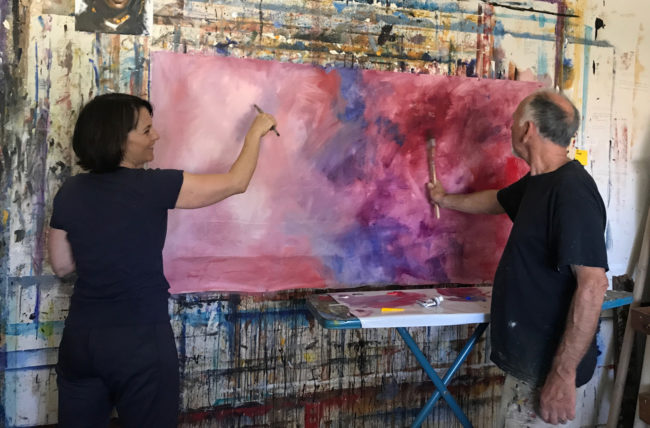 You know, if you know her at all, she's a person with multiple talents. Her photography shows an eye and skill of staging that many professionals could envy. Maybe it comes out of her CalArts degree in theater, who knows? Check it out here: allisonmoorephoto.com.
Then she paints. Have you seen the recent series she calls "Ground Breaking Girls"? It's portraits of women through history who have made a difference. She accompanies them with brief bios. There should be a book there too, and maybe will be.
Lately she's been inspired with abstract painting. The photo above was the day of that birth, just a month or so ago. I wanted to paint but had no ideas so just put a blank canvas up on the studio wall and invited Allison to join me. Below are a couple of photos of how it evolved.
I could brag, with equal substance, about each of our children, and maybe I will someday. But today it seemed right to say just a few things about how this one is surviving, even thriving, one year into her widowhood.
Not mentioned are the real occupations, her two children . . . Vernon's son Maki, and their daughter Justine. Tonight we'll take them all to dinner. We'll acknowledge the past, particularly this past year. But mostly, I think, we'll talk about the future, the plans, the hopes, and all the ideas yet to pursue.
It's what keeps us all going.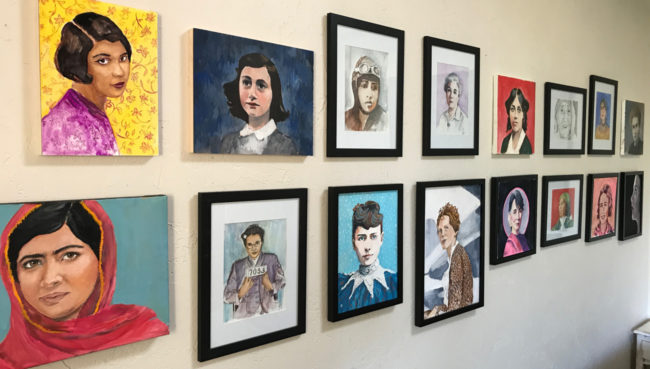 Here is just one of the walls Allison filled with her "Ground Breaking Girls" at our last show at the house. (As with all, click to enlarge.)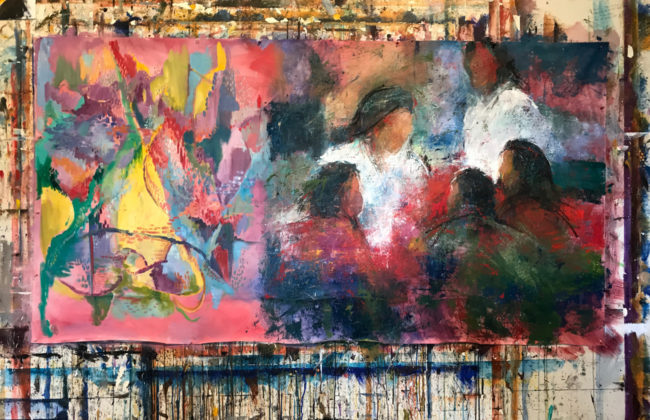 Here's how our shared canvas looked after a couple of days. You'll see we went in completely different directions . . . her's following whims, mine a take on Jesus and the children . . . which didn't last.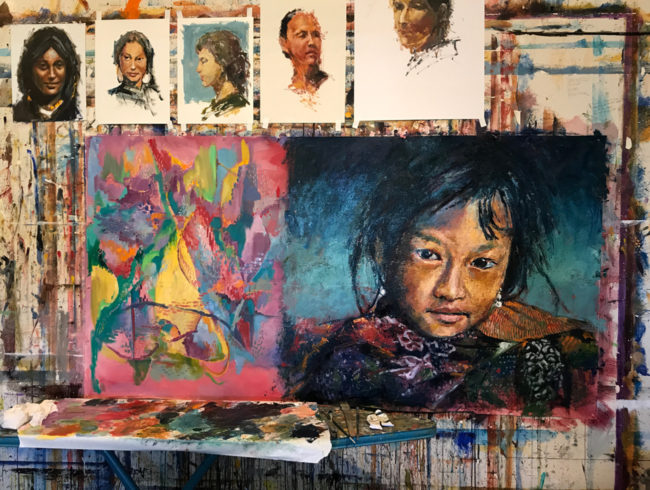 As Allison says in her blog, "the artist has very little say in where the painting will go, how it will emerge, or if she'll even like the thing when it's finished." I decided I didn't like mine and went over it with a whole new idea. In the end we cut the canvas in two. Happily both paintings have found new homes.
For more on Allison's abstract paintings, and her state of mind as of yesterday, check out her latest blog, here.
________
* Vernon suffered a tragic motor scooter accident with a truck. He was in hospital two and a half years, never fully recovering, then died.)