I've sometimes wondered why they call today Good Friday and the big shopping day after Thanksgiving Black Friday. Seems to me the titles should be reversed. Aren't all the sales intended to be great? So great that stores open before dawn, with lines already formed? Isn't that the inaugural day of shopping for Christmas? Isn't it a good Friday for shoppers and sellers alike. Why it's called "black" is a mystery.
On the other hand, why do we call this day, "good," when history's most innocent man was subjected a gruesome, public death. I don't get it.
The Roman governor couldn't find anything in him worthy of death . . . or worthy of any punishment at all. So instead he just flogged him within an inch of his life. For that we call the day "good"?
What about the mock trial, conducted by an advanced society that knew all about justice—illegally conducted at night, with "witnesses" whose accusations didn't match or make sense, and a fist to the face against the accused without recourse? What was "good" about that?
What about the desertion and denial of his closest friends at the moment of greatest need? Was that "good"? I think not.
There's more: like the cynicism of the purple robe—appropriate for a king, but that's not how they meant it. And what about that crown of thorns jammed down on his head, likely of the one- and two-inch variety. I wonder if that sadistic weaver punctured his own fingers. Would he have called that a good Friday?
Speaking of that, forehead wounds, with the myriad of tiny veins just below the skin, make for a face completely covered in blood. Not a pretty picture. Certainly not "good."
There's more: like being crucified naked, a public shame. "Good"?
And crucified! . . . an expression that rolls across the tongue as casually as hot cross buns on a stick. Loathsome spikes pounded through muscle and bone and with the weight of the body hung out to die. Thirsty under scorching sun with only vinegar offered to quench? What kind of day is this? Not "good."
Then just to be sure he died they pierced his side. It was finished, and they called it "good."
Why'd it happen? Why did everything go wrong that could? Because, they said, he claimed to be the Son of God. They didn't like that. They put him away for "good."
But the skies went dark, ominous and fearful, convincing the centurion he was who he said. It's another reason, those dark skies, that this Friday should not be called "good," but "black."
It's a mystery, these reversals of terms. In the end, reality also reversed. Two days later the tomb was empty and the sightings began. A whole new reality came to be with us, and has never left.
What could we call that but "good"!!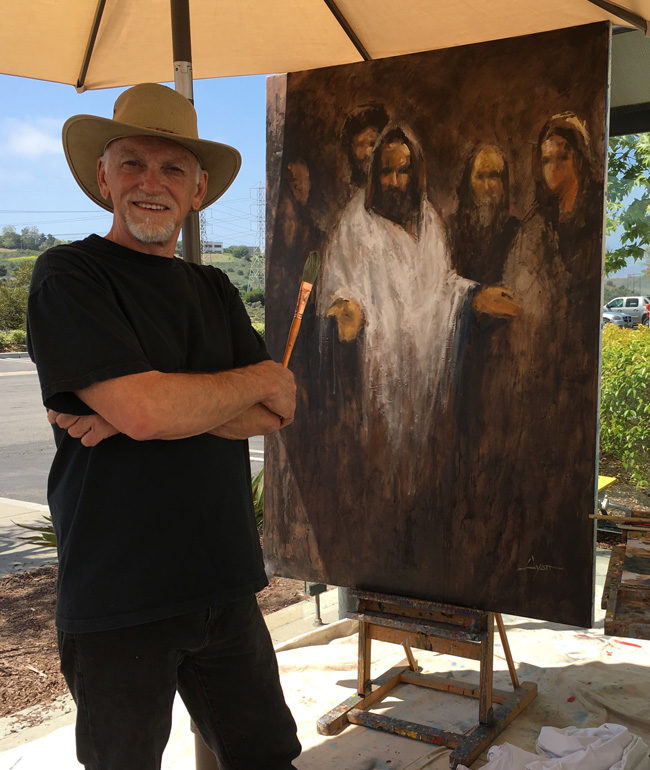 PS Here I am a year ago Easter, painting live at Saddleback Church, San Clemente. I call it Easter Night, on the day that really should be called "good." Click on it for details.