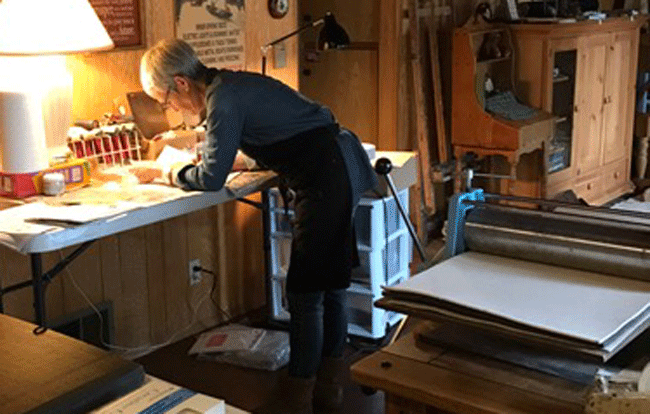 Anne, just setting up, her press behind her. Who knows what creativity will follow? Meantime, it's a life.
Anne and I are in Crestline. It's in the same mountain cabin, two hours from home, that we had the use of last year. Once again we've moved in with all of our art-making materials, rearranged the space into a double studio–for painting and printmaking–and have two weeks set aside for just work. It's work we like, making it really play. Same thing. It's life as we've designed it. How long it will go, who knows?
As we were setting up, spreading out protective newspaper on table tops Anne got to reading content. It's just like her . . . in the middle of all the activity everything stops while she ponders something she's come across. This time she happened to be in the obituaries.
It was a double-column piece about four inches long . . . a lot, it seemed for a death notice. Actually it was among others about the same size. Later I got to reading them too, retrieving the paper from the trash, by then used and blotched with printing ink.
I must say they were all fascinating, particularly when well written by a loving fan (family or friend). The one that first caught Anne's attention was of a woman, a world traveler, event and reunion organizer, collector of interesting things, photographer, and on and on and on. We found it all quite inspiring.
Another was of a man with many credentials, military, board positions and CEO of more than one company. Also described was his fun spirit, family involvement, "love of the Lord," and a mentor of his children and others."
There were more details, and more people, and of course much more that could have been said for each. I got to thinking that the obituaries is the most inspirational section in the whole newspaper.
By coincidence, just this morning I'd read a line in one of my favorite books: The day of death is better than the day of birth.* That's because once a life is lived there's something to say . . . unlike at the beginning. And if a life has been lived well, there's lots to say.
Who will do the saying, and how well, is beyond our control. What isn't, however, is the content and meaning we put into it before then.
It got us thinking again today about how we're living our lives now, and how we want to ongoingly.
It's good for all us to do. Who knows, maybe there will be something to inspire another someday as they spread their newspapers around?
____________
* Ecclesiastes 7:1 More on this in It's About Life, available here.